These blueberry sourdough scones are light and flaky with crispy crumbly edges, juicy blueberries, and fresh thyme.
They make a delicious breakfast treat or pair beautifully with your favorite tea.
My herb garden is exploding so I am experimenting with pairing fresh herbs with different fruits. One of my favorite pairings is thyme and blueberries. Thyme helps to make these scones unique. Thyme also pairs well with cherries, citrus, peaches, figs, honeydew, and cranberries.
This page may contain affiliate links. I only recommend products that I would use myself. I may earn a small commission when you make purchases through these links at no additional cost to you. Thank you. As an Amazon Affiliate, I earn from qualifying purchases. For more information please read my Disclosure Policy.
These sourdough blueberry and thyme scones are one of my favorite ways to use up my sourdough discard. They are so quick and easy to make.
Other great ways to use up sourdough discard include:
Ingredients
Most of the ingredients in this are pretty standard for scones: flour, granulated sugar, baking powder, kosher salt, butter, and heavy cream.
For the flakiest scones, make sure the butter and heavy cream are chilled. Keeping the scone dough as cold as possible prevents over-spreading and preserves the scone's flakiness.
The addition of an egg yolk is nontraditional. But I think it adds richness and creates a lighter less dense scone. The additional fat will also help stop the scones from drying out.
Blueberries: Fresh or frozen blueberries can be used interchangeably in this recipe. If using frozen blueberries, do not thaw them before adding them to the scone dough.
Thyme: You can use fresh or dried thyme.
Equipment
Kitchen scale: Kitchen scales make baking faster and neater. Accuracy matters in baking. Scales are more precise than measuring cups. Too much flour or not enough sugar can dramatically change a recipe. The most accurate way to bake is to measure your ingredients by weight rather than volume.
A kitchen scale also reduces the number of dishes you will need to wash because you are measuring each ingredient directly from the container into the mixing bowl without the use of measuring cups.
This scale from OXO is the one I use after it was recommended by Alton Brown. What makes this scale great is the display pulls out to make viewing measurements easier when using a large bowl.
You could cut the butter into the dry ingredients using a pastry blender, but I prefer to use a food processor. It is much faster and creates a finer more even mixture. Just be careful to not overwork the dough.
Mixing Bowls: These are some of my favorite mixing bowls. They come in a huge range of sizes, nest together for easy storage, and are easy to clean.
You could shape the dough into one round blob and cut it into triangles like a pie, but I prefer to cut it with a circle biscuit cutter or this fluted circle cutter when I am feeling fancy.
When baking items like scones or cookies, I love these AirBake baking sheets. My cookies and scones bake evenly every time I use these pans. AirBake baking sheets have two aluminum layers with a layer of air in between them. The layer of air decreases the temperature of the top layer of metal, preventing the bottom of the cookie or scone from browning too quickly. These pans are also really easy to clean. Just wipe them clean with a little soap and hot water. It is not recommended to fully submerge these pans in water or place them in a dishwasher.
Pastry Brush: I am partial to silicone pastry brushes because they are heat resistant and dishwasher safe. I like them over bristled brushes because I don't have to worry about them leaving stray bristles behind.
Directions
Mix the dry ingredients together. Add the flour, granulated sugar, baking powder, thyme, and kosher salt to the bowl of your food processor.
Cut in the cold butter. Cut the butter into 4 pieces and added it to the food processor. Pulse a few times to chop and incorporate the butter into the dry ingredients. Continue processing until the butter pieces are the size of peas.
Whisk the wet ingredients together. In a large bowl whisk together the sourdough discard, heavy cream, and egg yolk.
Mix wet ingredients and dry ingredients. Pour the dry ingredients into the wet ingredients and add the blueberries. Fold together being careful to not over mix the dough or crush the blueberries.
Knead and shape the dough. Pour the dough onto the counter and lightly flour it. Knead the dough a few times until it begins to come together and smoothes out a bit. Flatten the dough and fold it into thirds like you would a letter. Give the dough a quarter turn and repeat this flattening and folding process two more times.
By folding the dough you will literally be creating layers of flour and butter, creating flakey layers, and encouraging the scones to rise. The dough will be a bit sticky, do not add extra flour. The moist dough gives the scones a soft texture and helps them to rise. Pat into a disc approximately 1 inch thick and cut into circles using a 2.5″ cutter. You can reshape the scraps and cut out additional scones but they won't be as flaky.
Freeze for at least 30 minutes. To prevent the scones from spreading chill in the freezer for 30 minutes.
Preheat the oven. Preheat the oven to 425 degrees F. Line a baking pan with parchment paper or a silicon baking mat.
Brush tops with heavy cream. Brushing with heavy creams will encourage browning.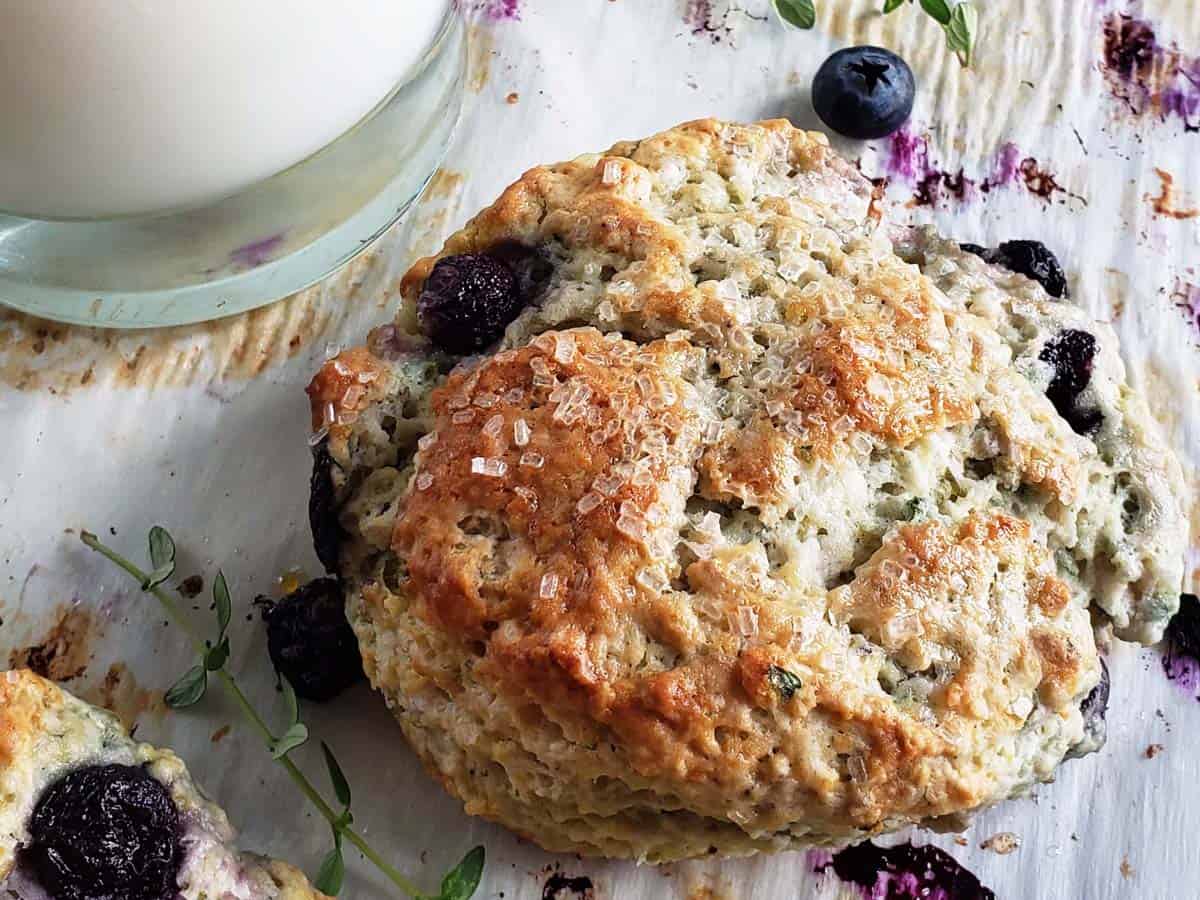 Bake until golden brown. Bake for 15-20 minutes.
Tips
Bonus Tip: I store extra butter in the freezer at all times. Which means I always have frozen butter ready to be used in scones or pie crusts. Butter can be frozen for up to six months.
Frequently Asked Questions
Can I use frozen blueberries in scones?
Frozen blueberries are a great substitute. Frozen blueberries can be added directly to the batter while they are still frozen.
Why did my scones not rise?
There are a few reasons why your scones may not have risen.

Check your baking powder. For maximum efficacy, the baking powder should be used within six months of opening. To test your baking powder, drop a small amount into hot water. Look for bubbles and fizzing. If a reaction occurs it's still good to use.

Kneading the dough for too long will make them tough, dense, and shorter.

Using too much flour will make the dough too stiff to rise to its full potential. I recommend using a kitchen scale to measure your ingredients by weight rather than volume. Accuracy matters particularly when baking.
Can scones be made ahead?
Yes scones can be in advance and frozen either before or after baking. See below for additional instructions on how to make and save scones made in advance.
Can you freeze scones?
Scones are best the day they are baked.

Leftover scones can be stored in an air-tight container at room temperature for up to four days.

To freeze baked scones, let them cool completely and then wrap tightly in plastic wrap and place in a zip-top bag labeled with the date and contents. Freeze scones for up to 3 months.
Thaw on the counter for a few hours, and then warmed in the oven to get the best texture.

To freeze unbaked scones, cut the scones out and arrange them on a baking sheet lined with parchment paper. Freeze them until solid and then transfer them to a zip-top bag labeled with the date and contents. Scones can be frozen for up to 3 months.

To bake frozen scones, bake the scones directly from frozen adding an extra 2-3 minutes baking time.
Thanks for Reading!
I publish new recipes every week! Sign up for my email newsletter to be the first to know when new recipes are published.
You can also follow along on Instagram, Pinterest, and Facebook for more recipe updates.
If you try this recipe, let me know! Leave a comment and rate it below! You can also snap a picture and post it on Facebook be sure to tag me @RaspberriesandKohlrabi.
Blueberry thyme sourdough scones