Roasting vegetables until they caramelize intensifies their flavor and adds an additional layer of rich flavor to this Creamy Roasted Cauliflower Leek Potato Soup.
Cauliflower and potatoes are pretty bland on their own. This browning process, called the Maillard Reaction, concentrates the natural sugars in the vegetables softening the sharp flavor of the garlic and adding a toasted nutty flavor to the other vegetables.
Remember: Browning = Flavor
By substituting cauliflower for some of the potatoes you end up with a lighter but still delicious version of classic potato soup.
If you love soup as much as I do you might also be interested in these recipes for Roasted Tomato and Herb Soup, Cream Free Leek and Potato Soup, Pork Black Bean and Pumpkin Stew, or Dutch Oven Beef Stew.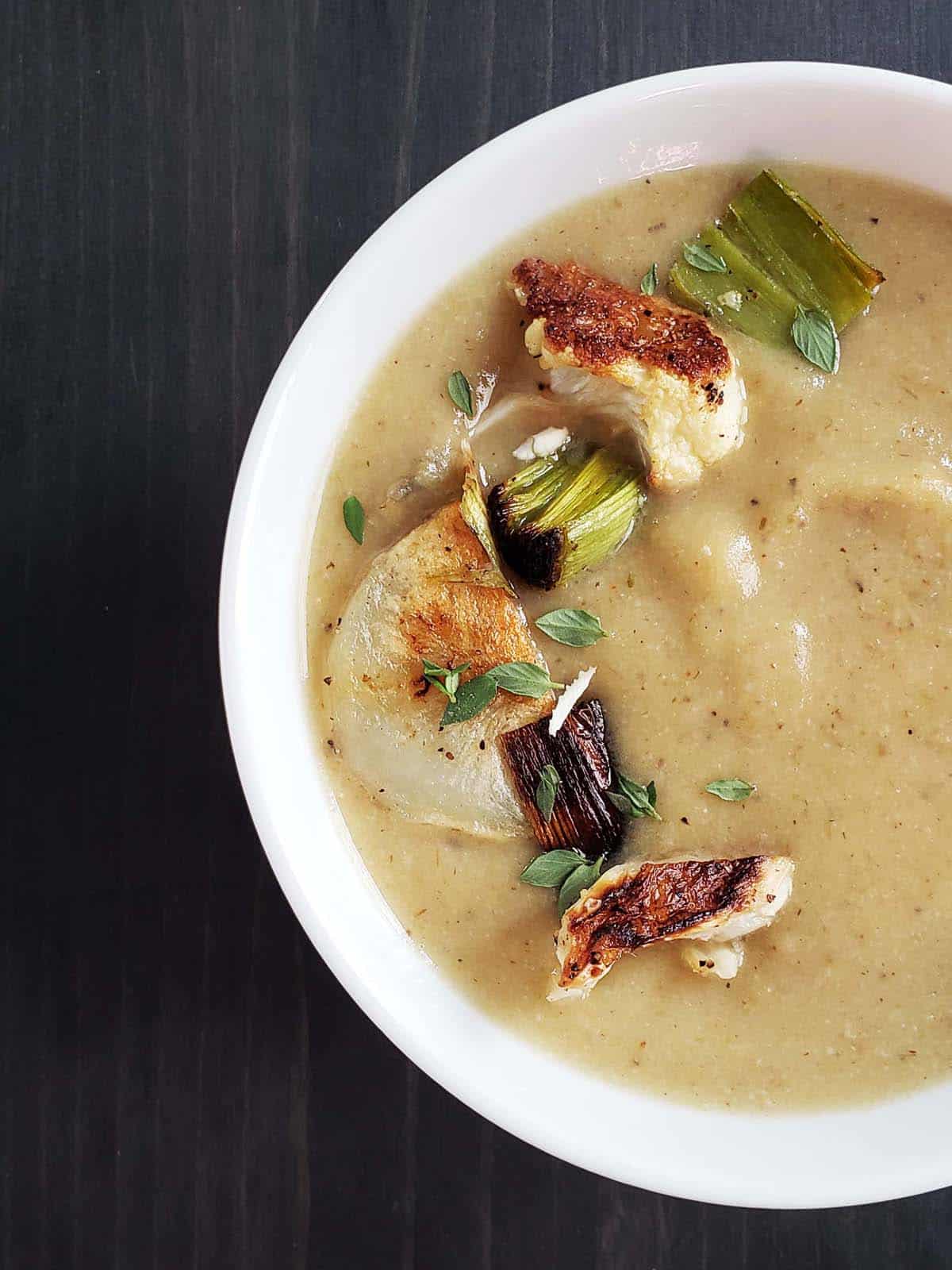 This page may contain affiliate links. I only recommend products that I would use myself. I may earn a small commission when you make purchases through these links at no additional cost to you. Thank you. As an Amazon Affiliate, I earn from qualifying purchases. For more information please read my Disclosure Policy.
Jump to:
Why You Will Love This Recipe
This recipe is easy to double or triple and freezes really well for an even quicker meal later.
I love making this creamy cauliflower leek soup as a weeknight meal. It does take an hour to make but the best part is so much of that time is pretty hands-off. Once the vegetables are chopped and in the oven, you are free to relax.
This rich creamy soup is made without heavy cream which helps cut down the calories.
Ingredients
With just a few simple ingredients, this soup delivers an amazing flavor.
Potatoes: When making a creamy soup I prefer to use starchy potatoes like russet potatoes. Unlike other waxier potatoes, they don't hold their shape when they are cooked, making the soup nice a creamy without having to add cream.
Cauliflower: Cauliflower is delicious and so versatile. It is basically a blank canvas and for that reason, it is also having a popularity surge right now.
It can be found year-round in the grocery store and kept in your refrigerator for up to two weeks making it a great fresh vegetable option for the end of your weekly meal plan.
Leeks: Leeks look like overgrown green onions. When purchasing leeks look for ones that are about an inch in diameter and have a long white to the pale green shaft.
Leeks have a mild, onion-like taste. Typically just the white and light green parts of a leek are eaten. The darker green parts have plenty of flavors and are great for making homemade stock.
As leeks grow, the soil is piled up around them, so that more of the leek is hidden from the sun, and therefore lighter in color and more tender. But this also results in sand and dirt being lodged within the layers inside the leek.
How to clean leeks:
Rinse the leeks under water to remove visible dirt or sand.
Cut off the roots and the dark green tops of the leeks and slice the leeks in half lengthwise.
Chop the leek halves into semi-circles.
Rinse the chopped leeks in a bowl of cold water. Use your hands to agitate the leeks and dislodge any dirt or sand that may be clinging to them.
Pour the leeks into a colander to drain.
If you don't have any leeks, you can substitute white or yellow sweet onion.
Celery
Garlic: Chopping garlic is one of my least favorite kitchen tasks. For this soup, whole cloves of garlic are roasted and then pureed, with no chopping necessary.
Olive Oil: Coating the vegetables in olive oil before roasting them will help to encourage browning.
White Wine: White wine like other acids helps to brighten the flavor of this soup.
Chicken Broth: To make this soup vegetarian substitute vegetable broth for chicken broth.
Butter: Adding butter right before blending the soup will make it creamier and richer tasting. To make this soup vegan substitute olive oil for the butter.
Fresh Herbs: Because potatoes and cauliflower are pretty bland on their own feel free to use whichever fresh herbs you have in your refrigerator.
Equipment
Rimmed Baking Sheet: I like these baking sheets because they come with their own cooling racks.
Large Pot: I love simmering soups in my enamel-coated cast iron dutch oven. The thick bottom helps to keep the soup from scorching.
Immersion Blender: This is my favorite stick blender and it is available here on Amazon. They really do make blending recipes like this soup easier because I don't have to worry about transferring the soup to a blender or food processor.
Once you are done blending just place the end in a bowl of soapy water and blend for a few seconds to easily clean the stick blender.
Directions
There are basically four steps to make this soup: roast, simmer, blend, and my favorite serve.
Roast the vegetables. Preheat the oven to 425 degrees Fahrenheit. Line a sheet pan with parchment paper. In a large bowl toss the potatoes, cauliflower florets, leeks, celery, and garlic with olive oil. Season with salt and black pepper to taste. Arrange the vegetables on the baking sheet in a single layer.
Bake until the vegetables are caramelized and golden brown. Approximately 25 to 35 minutes, tossing halfway to ensure even browning.Reserve ¼ of the vegetables for topping the finished soup.
To learn more about roasting vegetables read this post "Tips for Perfectly Roasted Vegetables."
Simmer the soup. Transfer the remaining vegetables to a large soup pot and add the wine. Simmer for 2-3 minutes over medium-low heat. Add the chicken broth and dried sage and simmer for an additional 10 minutes.
Blend the soup. Add the butter and blend the soup with an immersion blender or transfer to a blender and puree in small batches. If the soup is too thick add additional chicken stock until you reach your desired consistency. Taste and adjust the seasoning, if necessary.
Serve the soup. Serve immediately garnished with reserved vegetables, fresh herbs, and grated Parmesan cheese.
Serving Suggestions
This soup is very customizable, make it your own by varying the toppings you choose. Some of my favorites include:
Crispy Bacon
Diced Green Onions
Fresh Parsley
Shredded Cheese: Cheddar and Parmesan are my favorites.
Dollop of Sour Cream
Croutons
I also like to serve this soup with crusty bread, garlic bread, or rolls to sop up every last bit and a crispy side salad.
Storage
Refrigerator
If you have leftover soup, allow the soup to come to room temperature and then store it in an airtight container in the refrigerator for 3-4 days.
Freezer
This soup freezes really well. As a bonus, because there is no dairy you don't have to worry about the cream separating when frozen.
Allow the soup to come to room temperature and then transfer it to an airtight container or zip-top bag. Label the container with the contents and date. Then freeze the soup for up to three months.
Sometimes there is a little separation in soup once you freeze and defrost it. If this happens, just purée the soup again until smooth.
Reheating
If you are in a hurry, you could simply microwave a bowl of this soup for a couple of minutes.
But for the best results, especially if I am reheating more than one serving, I prefer to heat this soup on the stovetop in a saucepan over medium heat.
Frequently Asked Questions
Are brown spots on cauliflower bad?
Cauliflower will last in the refrigerator for two weeks. If you see brown spots on your cauliflower they are a sign it is going bad and you need to use it soon. You can trim the brown spots off if there are only a few but the longer you wait the more they will spread, changing the texture of the cauliflower.
Do you steam or boil cauliflower before roasting?
Nope. To get the best caramelization you want your cauliflower to be dry before roasting it in the oven.
How do you thicken cauliflower soup?
Adjust the amount of chicken stock. If you prefer a thicker soup use less chicken stock. If you prefer a thinner soup add a little more. If you accidentally add too much chicken stock, make a slurry of two parts liquid to one part cornstarch. Stir the slurry into the soup and allow it to simmer until it thickens.
Tips
To make this soup vegetarian, replace the chicken stock with vegetable stock.
If you don't have an immersion/stick blender you can also puree the soup in a blender. If you're using a blender, purée the soup in batches. Don't fill the blender past the maximum fill line, the volume of the soup will expand as you blend, and open the vent to allow the steam to escape.
I think the liquid-to-vegetable ratio in this soup is pretty perfect. If you prefer a thicker soup reduce the amount of chicken stock. If you prefer a thinner soup increase the amount of chicken stock.
I have a massive sweet tooth. To me, no meal is complete without a little dessert at the end. Here are a couple of cookie recipes you might want to try.
Let me know what you thought of this easy soup recipe in the comments below. What are your favorite toppings?
Thanks for Reading!
You can also follow along on Instagram, Pinterest, and Facebook for more recipe updates.
If you try this recipe, let me know! Leave a comment and rate it below! You can also snap a picture and post it on Facebook be sure to tag me @RaspberriesandKohlrabi.