Banana bread is the best way to use up too-ripe bananas. But can bananas be too ripe to use for a loaf of banana bread?
Banana bread is often one of the first baking projects a new baker tries. Often they are desperate to use up mushy bananas before the fruit flies start swarming.
As a bunch of green bananas ripens, the starch in the fruit turns into sugar. Ripe fruit is sweeter. The riper the banana is the sweeter your banana bread will be.
For the best banana bread recipe, you will want brown and almost black bananas. Ripe bananas add great flavor.
The mushiness of overripe bananas also makes them easier to incorporate into the batter and adds moistness to the bread.
This page may contain affiliate links. I only recommend products that I would use myself. I may earn a small commission when you make purchases through these links at no additional cost to you. Thank you. As an Amazon Affiliate, I earn from qualifying purchases. For more information please read my Disclosure Policy.
Jump to:
Perfect banana bread tastes best when made with riper bananas. Ripe bananas should have started to form brown spots on the skin and begun to soften.
Letting your bananas ripen even longer, until the skins are mostly brown and the fruit falls apart when you peel it, will give your bread an even stronger banana flavor.
How to Ripen Bananas Quickly
You don't want to use unripe bananas from the grocery store to make banana bread. They are not sweet enough and their banana flavor isn't very strong.
If you must use green fresh bananas you will need to increase the amount of sugar in the banana bread recipe.
Don't let not having ripe bananas mess up your baking plans.
If you really want to make banana bread but don't have any ripe bananas you can speed up the ripening process by using one of these two methods.
How to Ripen Bananas in the Oven
One of the best options for ripening bananas quickly is to bake them in the oven. Place bananas still in their peel on a baking sheet and bake at 250˚F for 15 to 20 minutes depending on the initial ripeness of the bananas.
How to Ripen Bananas on the Counter
Another great idea for ripening bananas is to place them in a bag.
Place under-ripe bananas in a brown paper bag, seal the bag, and leave the closed paper bag at room temperature for a couple of days.
Placing the bananas in a bag increases the amount of ethylene gas trapped within the bag. The ethylene gas emitted by the bananas in a paper bag will cause the bananas to ripen more quickly.
Can Bananas be Too Ripe for Sourdough Banana Bread?
In my opinion no. The riper the banana the sweeter and more intense the banana flavor is. You can even use black bananas that have no yellow skin left.
Of course, you should toss or compost any bananas that are moldy, have a strange odor, or have any kind of liquid leaking out of them.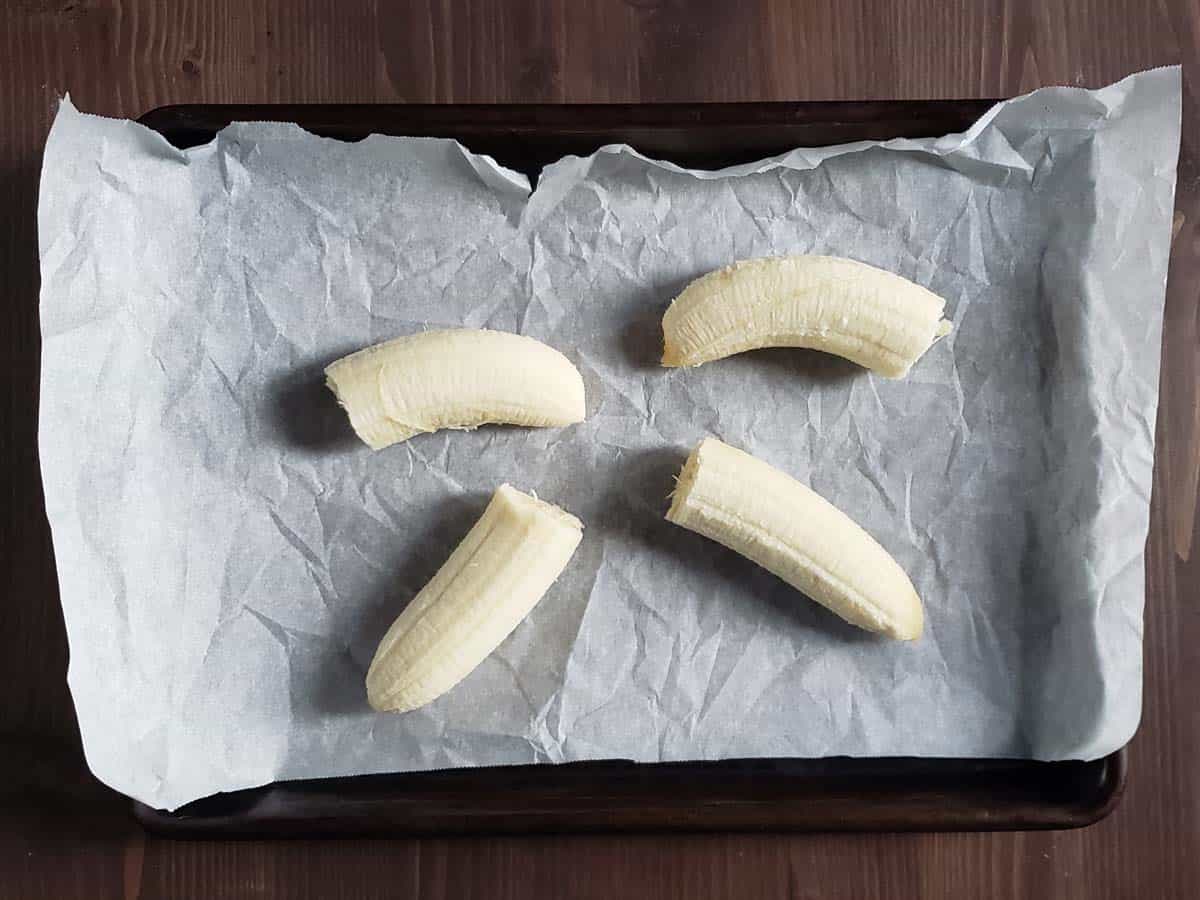 How to Freeze Ripe Bananas
If you have ripe bananas but aren't ready to use an easy way to save them is to freeze them for later.
My family is pretty picky when it comes to bananas. If they are completely yellow with no green they are too ripe for us. Because of this, I am always tossing brown bananas in the freezer to use for smoothies or banana bread.
One of the Best Ways to Freeze Bananas:
Remove the banana peel and break the bananas into large chunks.
Place the unpeeled bananas on a parchment-lined baking sheet and freeze for one hour.
Transfer the bananas to a freezer bag or an airtight container and label it with the date and contents.
For more information about freezing bananas check out this video from The Recipe Rebel.
When you are ready to use your frozen bananas let them sit at room temperature to thaw before making banana bread. You can also thaw them in the microwave.
Thawed bananas can become watery. This is perfectly normal. Go ahead and use the bananas and liquid in your banana bread recipe.
Now that you know which are the best bananas for banana bread, here are a few of my favorite homemade banana bread recipes.
When you do bake your next loaf of banana bread read my post: How to Tell When Banana Bread is Done to learn all of my tips for making sure your quick breads are fully baked.
If you don't want to bake your banana bread right away, check out this post on freezing banana bread batter.
More Kitchen Tips