This Easy Sourdough Discard Chocolate Banana Bread is an easy way to use up overripe bananas, sourdough discard, and get your chocolate fix.
Not a fan of chocolate? I also have a plain sourdough banana bread recipe.
If you don't have a sourdough starter I also have this recipe for one-bowl browned butter banana bread.
If you are worried the sourdough discard will make this moist banana bread too tangy, don't be. The ripe bananas, sugar, and chocolate completely mask the sourdough flavor.
It makes a delicious breakfast with a cup of coffee or tea. I also love having a slice of this sourdough chocolate banana bread for dessert. It's like having a slice of chocolate cake but slightly healthier. And if you decide to add a scoop of ice cream, I won't tell.
This page may contain affiliate links. I only recommend products that I would use myself. I may earn a small commission when you make purchases through these links at no additional cost to you. Thank you. As an Amazon Affiliate, I earn from qualifying purchases. For more information please read my Disclosure Policy.
Jump to:
Why You Will Love This Recipe
Nothing smells better than freshly baked bread. And because this is considered a quick bread it is super easy to make.
This rich chocolaty bread is loaded with ripe banana flavor. It's moist without being dense.
Not only is the sourdough chocolate banana bread easy to make it stays moist for days and makes a thoughtful and delicious gift.
What's great about this sourdough banana bread is it won't take hours to make and doesn't need any additional yeast. This is not a traditional "sourdough" bread. It is simply a quick bread that just happens to include a cup of sourdough discard.
I hate tossing away portions of my sourdough starter (Baby Doughda). I've worked hard to feed him every day and don't want to waste a drop of his natural yeasty goodness.
If you are looking for more simple ways to use your sourdough discard, try these sourdough crackers, some sourdough flatbread, sourdough waffles, or this sourdough snickerdoodle cookie recipe.
Sourdough Tip: Keep a glass jar in your refrigerator to store your sourdough discard. Continue adding to it until you have enough to make your chosen sourdough discard recipe.
What are the best containers for storing sourdough starter and discard?
How long does sourdough discard last?
What is the difference between sourdough starter and sourdough discard?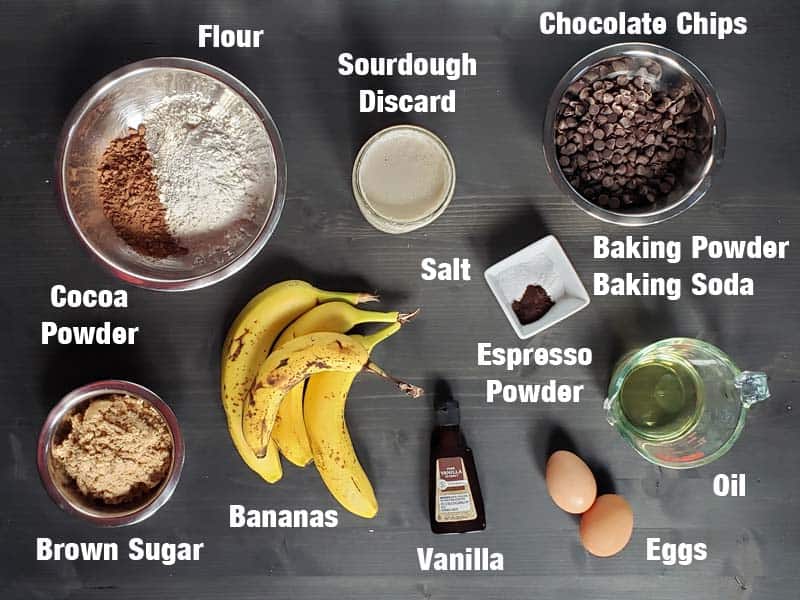 Ingredients
All-purpose flour: For a nuttier flavor swap up to half of the AP flour for whole wheat flour.
Cocoa Powder: Cocoa powder adds chocolaty flavor throughout the banana bread. You can use natural or Dutch-process cocoa powder. Dutch-process cocoa powder will give your loaf a darker color.
Baking soda: Quickbread uses chemical leaveners such as baking soda or baking powder to rise.
Espresso Powder: This banana bread won't taste like coffee. Espresso powder just helps to intensify the chocolate flavor.
Salt: Salt helps to boost the flavors in baked goods.
Ripe bananas: You can use frozen bananas instead of fresh ones. Thaw them at room temperature and drain off any excess liquid before using them in the recipe.
How Ripe Should Bananas Be To Make Banana Bread?
Brown sugar: Brown sugar contains more moisture and adds a deep caramel flavor. Feel free to substitute the same amount of regular white granulated sugar for the brown sugar although the bread may not be as moist. You can also reduce the amount of sugar if you prefer your banana bread less sweet.
Neutral oil: (canola oil, vegetable oil, etc.) Swap the oil for the same amount of softened unsalted butter.
Large eggs: Room temperature eggs are easier to incorporate. Be sure to fully incorporate each egg before adding the next egg.
Sourdough discard (fed or unfed): If you don't have any sourdough discard, you can substitute sour cream, yogurt, unsweetened applesauce, or even canned pumpkin puree.
Learn how to create and maintain a small sourdough starter.
Vanilla extract: Make sure to use pure vanilla extract not imitation. The flavor will be much better.
Chocolate Chips: Not only are their chocolate chips stirred into the loaf there are additional chocolate chips on top. Substituting peanut butter chips or white chocolate chips would be a tasty addition as well.
Equipment
Kitchen scale: Kitchen scales make baking faster and neater. Accuracy matters in baking. Scales are more precise than measuring cups. Too much flour or not enough sugar can dramatically change a recipe. The most accurate way to bake is to measure your ingredients by weight rather than volume.
A kitchen scale also reduces the number of dishes you will need to wash because you are measuring each ingredient directly from the container into the mixing bowl without the use of measuring cups.
This scale from OXO is the one I use after it was recommended by Alton Brown. What makes this scale great is the display pulls out to make viewing measurements easier when using a large bowl.
Stand Mixer: I have a stand mixer from KitchenAid. My mom and brother bought it for me for my birthday almost 15 years ago. I use it weekly and it still works just like it did when it was brand new. It makes so many kitchen tasks easier and comes with a variety of attachments.
If you don't have a mixer you can use a potato masher to mash the bananas and mix the batter by hand.
Loaf pan: These are my favorite loaf pans. They are heavy duty which means they won't warp and they distribute heat evenly. Plus they are non-stick which makes removing loaves of bread really easy. I hand wash mine to keep them looking their best. Don't worry the non-stick coating also makes clean-up a breeze.
Cooling rack: Cooling racks are essential for cooling baked goods quickly and preventing soggy bottoms. I really like these cooling racks from the Checkered Chef. They are recommended by Cook's Illustrated, are very sturdy, and are free from coatings which means they are safe to use in the oven as well.
If you're in the market for new sheet pans as well they also sell them as sets in both half sheet pan and quarter sheet pan sizes.
Directions
Move the oven rack to the middle position and preheat the oven to 350 degrees Fahrenheit. Grease a 9x5-inch loaf pan with butter or nonstick cooking spray.
Whisk the flour, cocoa powder, baking soda, espresso powder, salt, and baking powder together in a large bowl. Set aside.
In a second large bowl using a handheld or stand mixer fitted with a paddle or whisk attachment mix the bananas on low, gradually increasing the speed to medium-high. Continue mixing until the bananas have broken down and look like lumpy baby food.
Add the brown sugar and oil and mix until smooth and creamy, approximately two minutes. At medium speed, add the eggs one at a time, mixing until each egg is fully incorporated. Mix in the sourdough discard and vanilla extract on medium speed until combined.
With the mixer running at low speed, slowly mix the flour mixture into the wet ingredients until no flour clumps remain. Do not overmix. Use a rubber spatula to fold in one cup of the chocolate chips.
Pour the batter into the prepared loaf pan and sprinkle the remaining ¼ cup of chocolate chips across the top of the loaf. Bake for 60 to 70 minutes. The banana bread is done when a toothpick inserted into the center of the loaf comes out clean.
Remove from the oven and allow the bread to cool in the pan for 15 minutes. Remove the bread from the pan and cool completely on a wire rack.
What if I Don't Have a Loaf Pan?
If you don't have a loaf pan, there are a variety of other ways you could bake sourdough banana bread.
Mini loaves: Pour the batter into three mini loaf pans and bake for 45 minutes.
Muffins: Use this chocolate sourdough discard banana bread recipe to make 18 banana muffins. Pour the batter into lined or greased muffin pans and bake for 5 minutes at 425°F then reduce the oven temperature to 350°F and bake for an additional 8-12 minutes or until a toothpick inserted into the center comes out clean. The total bake time is about 13-17 minutes.
Cake pan: Nearly any cake pan will work. Cake pans come in a variety of sizes so baking time will vary. As a general rule, the larger the pan, the thinner the bread will be, the shorter the baking time needs to be.
Pancakes or Waffles: I haven't tried it yet but I suspect this batter would also make pretty good chocolate banana pancakes or waffles.
How do You Know When Sourdough Chocolate Banana Bread is Done?
Baking times for all recipes are only suggestions. The actual baking time will vary depending upon your oven. It is helpful to know your oven and worth purchasing an inexpensive oven thermometer. Oven temperatures can vary as much as 50 degrees plus or minus.
There are a few clues to look for to tell when your chocolate sourdough banana bread is done. Most quickbread will crack on top when they are fully baked. This happens because the crust sets before the loaf has finished rising.
You can also gently poke the top with your finger. If it leaves an indent bake for a few minutes longer. If it springs back your bread is probably done.
Use a toothpick or cake tester inserted into the center of the loaf to check for doneness. If it comes out clean or with just a crumb or two sticking to it your banana bread is done. If there is uncooked batter on the toothpick bake the banana bread for a few minutes longer.
Alternatively, you can check your banana bread with an instant-read thermometer. This one from ThermoWorks is my favorite. Once the center of the loaf has reached 200 - 205 degrees Fahrenheit the loaf is done.
For even more information about baking laves of quick bread check out this post on How to Know When Banana Bread is Done.
How Long Should I Let Banana Bread Cool?
When you first remove the pan from the oven place it on a cooling rack to cool for 15-20 minutes. After the bread has cooled for a bit in the pan, carefully invert the pan and remove the bread. If the bread is allowed to cool completely in the pan the bottom can become soggy from trapped condensation.
If the bread sticks to the pan run a knife around the outer edges of the pan to loosen it.
Place the banana bread on a wire rack to cool completely. This will take a couple of hours.
Make sure the banana bread has cooled completely before slicing or storing. If you place warm bread in a sealed container, condensation will form and make your bread soggy.
Frequently Asked Questions
What if you don't have any sourdough?
While this recipe was created to use up excess sourdough discard, you can easily substitute the same amount of sour cream, yogurt, unsweetened applesauce, or even canned pumpkin puree if you don't have any sourdough discard.
How ripe should the bananas be to make banana bread?
As a banana ripens, the starch in the fruit turns to sugar. The riper the banana the sweeter the banana is.

Banana bread tastes best when made with really ripe bananas. Ripe bananas should have started to form brown spots on the skin and begun to soften.

Letting your bananas ripen even longer, until the skins are mostly brown and the fruit falls apart when you peel it, will give your bread an even stronger banana flavor.
How do you ripen bananas quickly?
If you really want to make banana bread but don't have any ripe bananas you can help bananas ripen more quickly using one of these two methods.

Oven: Place under-ripe bananas still in their peel on a baking sheet and bake at 250˚F for 15 to 20 minutes depending on the initial ripeness of the bananas.

Paper Bag: Place under-ripe bananas in a paper bag, seal them, and leave them at room temperature for a couple of days. Trapping the ethylene gas emitted by the bananas in a paper bag will cause the bananas to ripen more quickly.
Can you use frozen bananas?
Yep! I always have a zip-top bag full of frozen bananas stashed in my freezer. Allow the bananas to thaw at room temperature for about 30 minutes before mashing them.
Why did my loaf of quick bread fall?
Check the date on your baking soda to make sure it isn't expired and make sure you are adding the correct amount of baking soda. Adding too much will cause the bread to rise too high with too many internal air pockets which will cause it to collapse as it cools.

Don't over-mix the batter. Over-mixing incorporates too much air into the batter and can cause it to collapse.

Use the correct size pan and do not overfill it. If your pan is too full, there will not be enough support from the sides of the pan as the bread rises.

When banana bread and all quick breads bake they rise and the sugar caramelizes to form an outer crust, which darkens and crisps as the bread bakes. The bread can look fully baked even though it isn't. If you remove the bread from the oven too soon before the middle has had enough time to fully bake and set it will not have enough structure to support the crust.

If the top of your banana bread is browning too quickly check your oven temperature it may be too hot. You could also cover the top of the bread with a piece of foil for the last few minutes of baking to reduce the risk of the bread burning.
How do you keep quick bread from sticking to the pan?
Grease your pan well. I usually use a nonstick spray but you could also use shortening, softened butter, or oil.

Line the pan with parchment paper. Leave two of the sides long to create a sling which makes removing the loaf of banana bread from the pan a breeze.

Allow the bread to cool in the pan for at least ten minutes. As the bread cools, steam will condense along the edges and help the bread release more easily.

If the bread does stick, run a thin knife around the outer edges of the pan to loosen it.
Storage
Should you Refrigerate Sourdough Chocolate Banana Bread?
No. The refrigerator is a very dry environment. When baked goods like brownies, cake, or this banana bread are refrigerated they dry out quickly.
Banana bread is best when stored at room temperature. Wrapped in plastic wrap it will keep for 4-5 days. Any longer, especially when temperatures are warmer, it will start to have a fermented flavor.
How to Gift Wrap Banana Bread
Banana bread and other quick breads make wonderful home-baked gifts. While my brother was away at college I used to mail him a loaf of banana bread every couple of months. I heard they made him very popular.
For gift wrapping ideas visit this post from In My Own Style.
How to Freeze
Banana bread freezes really well. Having a couple of frozen loaves or slices in your freezer means you always have a quick and easy breakfast or snack ready.
Once the banana bread has cooled completely, tightly wrap the whole loaf or slices (individually or grouped) in 2-3 layers of plastic wrap or aluminum foil.
Place the wrapped banana bread in a large freezer zip-top bag or reusable container.
Label with the date and contents and freeze for up to 6 months.
To thaw, place the frozen banana bread on the counter. It will thaw in about 30 minutes if it's sliced or about two to four hours if it's a full or partial loaf.
If you are new to sourdough starters, I've created a sourdough gift guide that lists all of my favorite sourdough products.
More Sourdough Discard Recipes
Thanks for Reading!
You can also follow along on Instagram, Pinterest, and Facebook for more recipe updates.
If you try this recipe, let me know! Leave a comment and rate it below! You can also snap a picture and post it on Facebook be sure to tag me @RaspberriesandKohlrabi.