Here are several ways to use sourdough discard.
I don't know about you by I hate throwing away my sourdough starter discard. Many see this excess as "waste" but I like to think of it as opportunities to try new recipes. Instead of tossing it use your excess starter in these sourdough discard recipes.
This page may contain affiliate links. I only recommend products that I would use myself. I may earn a small commission when you make purchases through these links at no additional cost to you. Thank you. As an Amazon Affiliate, I earn from qualifying purchases. For more information please read my Disclosure Policy.
What is sourdough?
Sourdough is a leavening method typically used for sourdough bread. Sourdough relies on the naturally occurring yeast and bacteria in flour to leaven baked goods.
There are several tutorials online that will teach you how to create and care for a sourdough starter. Some of my favorites can be found at King Arthur Flour or Feasting at Home.
If you have questions about maintaining your sourdough starter, watch this super helpful video from Baker Bettie.
---
If you're feeling nervous about starting your sourdough journey and wish you had someone to walk you through the process step by step, I urge you to try these courses from Heather at Leavenly.com.
Don't work your life around sourdough… Make sourdough work for you!
Through my new love for sourdough bread baking, I developed the flexible and customizable Leavenly Process to help other busy moms avoid the common pitfalls and challenges plaguing home bakers. The Leavenly Process allowed me to adapt any sourdough recipe to fit my climate, my ingredients, my life. I was no longer intimidated by sourdough. I said goodbye to unrealistic Instagram expectations. I was free of frustration! – Heather from Leavenly.com
This course includes:
10 Days of written step-by-step easy to follow instructions
Troubleshooting tips
Bonus video links, additional free resources, & community support
30-day money-back satisfaction guarantee 
And more…
This course includes:
A how-to video guide from start to finish
Scheduling tips and guidelines
Starter issues, like feedings and smell
Common challenges and troubleshooting for both your starter and your bread
Scoring methods and designs
Shaping techniques for boules and batards
Benefits of cold-proofing your dough
Thorough explanation of hydration, and why it matters
Adding different ingredients to your dough
---
As you get to know your starter you can adjust your process to suit your routine. Because I wanted to reduce the amount of discard I generate I have actually converted my starter to a micro starter which you can read more about at Cooks Illustrated.
If you're growing tired of feeding your starter you can dry your starter and store it in the pantry. Check out How to Dry (and Revive) Your Sourdough Starter for Long-Term Storage for step-by-step instructions on both drying and reviving your starter.
What is sourdough starter discard?
Sourdough discard is the part of your sourdough starter that you usually throw away when you feed it. I feel guilty about throwing away food and am always looking for ways to reduce food waste.
Sourdough starter discard adds tons of incredible flavor to baked goods. The lactic acid bacteria found in sourdough discard adds flavor and tenderizes wheat proteins.
A fluffy loaf of sourdough bread needs well-fed, active starter that will impart flavor, fermentation, and leavening. But there are other recipes, that do well with unfed discarded starter. Waffles, pancakes, biscuits, crackers, pizza crust, and brownies are just a few examples.
Sourdough discard is not always strong enough to leaven baked goods on its own, so sourdough discard recipes usually need additional leavening in the form of baking soda, baking powder, or yeast. Most quick bread recipes can easily be turned into sourdough discard recipes.
Most sourdough starters are kept at 100% hydration meaning they are fed with equal amounts of water and flour. If you keep your starter at a different hydration level, you might need to adjust the flour our liquid amounts accordingly.
How to store sourdough discard
In the refrigerator: Keep a sealed glass jar in your refrigerator to store your sourdough discard. Continue adding to it until you have enough to make one of these sourdough discard recipes.
In the freezer: Sourdough discard can be frozen in small amounts in an airtight container and defrosted overnight in the refrigerator.
How long does sourdough discard last?
It is best to use your judgement, if your discard doesn't smell or look right, don't use it.
Room-temperature: Sourdough discard stored at room-temperature should be used within one to two days. It won't necessarily go bad but the longer it sits at room temperature the more acidic it becomes.
Refrigerated: Sourdough discard can be kept in the refrigerator for a week or two.
Frozen: Sourdough discard can also be frozen in the freezer for up to one year. Know that freezing your sourdough discard will kill it and eliminate all of its natural rising ability.
What is the grayish liquid on top of the sourdough discard?
The liquid is called 'hooch' and it's a sign that the starter needs to be fed. But since you're not feeding the discard, just ignore it and stir it back in or pour it off the top.
What to do with sourdough discard?
Add sourdough discard to your compost.
Gift some to a friend so they have their own starter to bake with.
Use it to flavor other baked goods. For more information, check out the recipes below.
How to substitute sourdough discard in recipes
Most recipes can be modified to use some sourdough discard. Your sourdough discard is equal parts flour and water. So you will want to reduce the flour and the liquid in the recipe to accommodate for this.
Certain recipes are easier to convert into sourdough discard recipes. Quick bread items like muffins, pancakes, and waffles are more successful because of the added baking powder and/or baking soda for added lift. You can also add some of your sourdough discard into a bread recipe that is leavened with store-bought dried yeast.
Avoid substituting your sourdough discard for liquids that contribute additional attributes to the baked good's texture, e.x., vegetable oil, which is mainly fat; or honey, which is mainly sugar. Don't substitute sourdough discard for liquid sweeteners or liquid fats.
Typically I will sub in about 1 cup (240 g) of sourdough discard into a recipe. This means I need to reduce my flour by 1/2 cup (120 g) and my liquid by 1/2 cup (120 g).
Don't be afraid to experiment! Embrace the element of surprise. Play around with recipes until you are happy with them.
What if I don't have enough discard for the recipe?
Sourdough discard is just a mixture of equal parts flour and water. If you don't quite have enough to bake with, just mix equal weights of flour and water to make up the difference.
Recipes using discarded sourdough starter
If you're anything like me you are always looking for a way to use up your sourdough discard.
These recipes are divided into two categories: sweet and savory to make it easier to find your perfect recipe.
Bake with me as I make my way through this huge list of sourdough discard recipes. I will be updating often as I discover new favorite recipes.
Sweet Recipes
Sourdough banana bread is delicious, moist, and simple to make. The sourdough starter adds extra flavor without making the banana bread taste like sourdough bread. It makes a great breakfast topped with creamy butter and served with a cup of coffee or a great afternoon snack.
These soft delicate doughnuts are fried in coconut oil and then coated with cinnamon and sugar.
These pancakes are so quick and easy to make. In fact, your blender will do all of the work, no additional bowls necessary. Place all of the ingredients in the blender, blend until smooth, rest for 10 minutes, fry the pancakes in butter, and enjoy.
Sourdough snickerdoodle cookies are buttery and soft with crispy edges. They have a slight tang from the cream of tartar with a hint of vanilla and lots of cinnamon.
Using up sourdough discard + chocolate? Sounds like a perfect recipe to me!
This sourdough discard pumpkin bread is a fall favorite packed with cinnamon, nutmeg, and an entire can of pumpkin flavor.
These tangy sourdough waffles are crunchy and golden on the outside and soft and fluffy on the inside.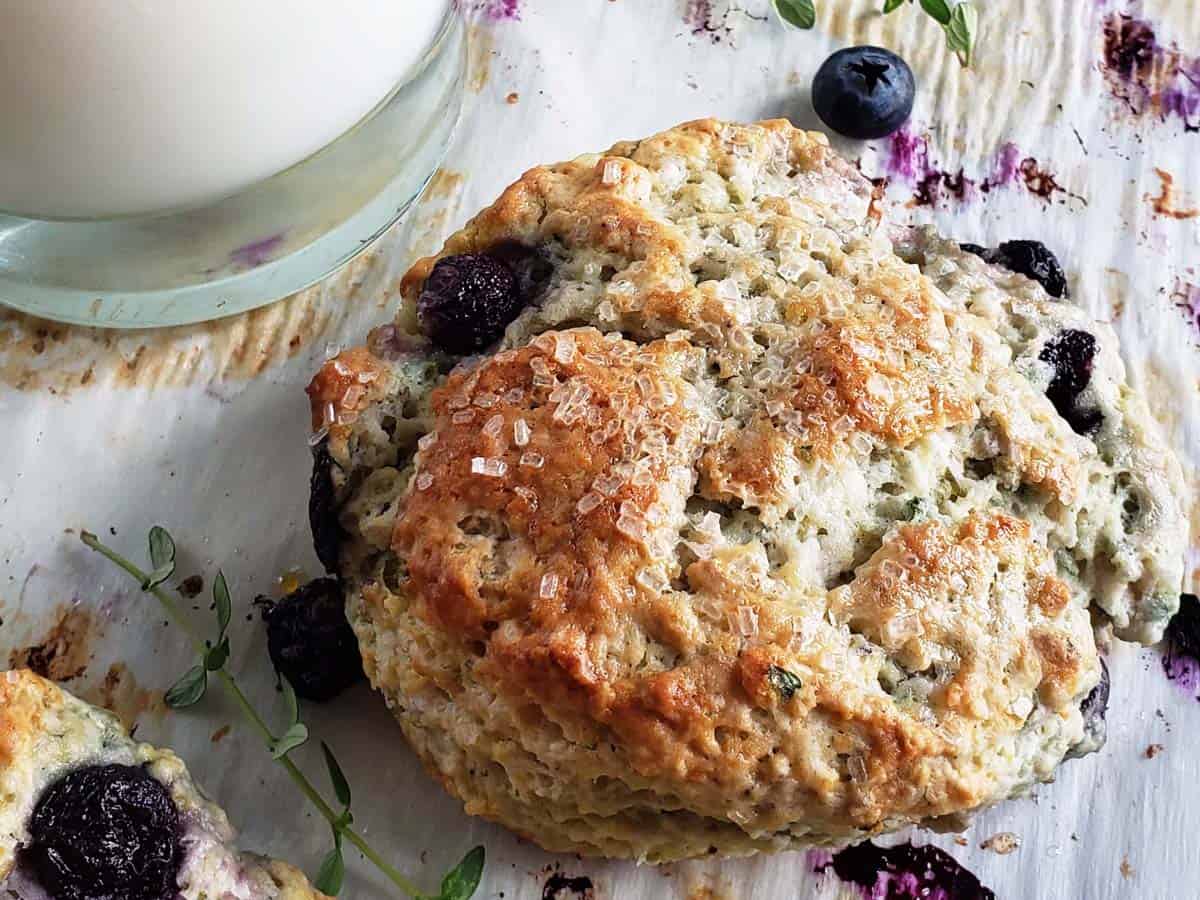 Moist and perfectly sweet with just the right amount of lemon flavor.
These oatmeal sourdough muffins are on the healthier side of the breakfast/muffin spectrum, but you'd never know it from tasting them. They are lightly sweet, really soft and the oatmeal almost melts right in.
These white chocolate cherry sourdough muffins are so easy to make. The slight sourdough tang is the perfect complement to the sweet white chocolate and cherry jam.
Extra sourdough discard lying around? These Sourdough Whole Wheat Blueberry Muffins are a healthy, easy way to put it to use with some fresh (or frozen) blueberries!
These sourdough orange cardamom muffins are flavorful and perfectly sweet. They also make a great on the go breakfast. Plus they only take 45 minutes from start to finish.
These pancakes were soft, light, and fluffy with just a touch of sourdough twang. These pancakes took me just five minutes to mix together and cooked in just two batches on my griddle.
Need a last minute dessert? This sourdough cobbler is perfect and can be made with almost any fruit you have on hand.
This is a delicious basic muffin base that can easily be customized by folding in a variety of add-ins after the batter has been stirred together. For this version, I folded in some chopped peaches and topped them with peach buttercream icing.
A moist and tender cake with a caramel pecan topping that's a great way to use up sourdough discard. It's good for breakfast, snacks, and even dessert!
These brownies are so rich, moist, and fudgy with an intense dark chocolate flavor.
This pie crust is tender, flaky, and tastes amazing.
Lavender Sourdough Scones are easy to make and delicious! The floral lavender flavor and lemon glaze make them perfect for a party or an everyday treat!
These sourdough discard oatmeal cookies have a sweet rich buttery flavor with crispy edges and a soft center.
Savory Recipes
Sourdough discard flatbread couldn't be easier to make. All you need are six simple ingredients, one bowl, and one pan to make this versatile flatbread.
In just 45 minutes (30 minutes of which is inactive time) you can have homemade flour tortillas which are perfect for your next taco night.
These pancakes are crisp, light, fluffy, and filled with fresh chives. These easy to make one bowl pancakes use just a handful of basic ingredients. Chive pancakes are a popular street food served in China for breakfast or as a snack.
These pretzels are chewy, tender, and baked to a beautiful golden brown color. They are topped with classic crunchy pretzel salt and toasted sesame seeds.
These sourdough crackers are perfectly crisp and slightly tangy. Feel free to add a variety of herbs and spices to customize them.
Have you ever tried to make your own puff pastry? It isn't as difficult as you might thing. You just need a little patience.
These chicken strips are tender, juicy, and crispy. They have just a slight tang from the sourdough discard.
Light and fluffy delicious English muffins are the perfect way to use up your sourdough discard.
Healthier than deep-fried with delicious sourdough flavor, these juicy and crispy baked sourdough chicken tenders are sure to become a family favorite.
This sourdough Dutch baby has a crispy outer crust and a soft custardy middle with a slight sourdough tang. Sourdough Dutch babies make a quick easy breakfast and can be customized with a variety of toppings.
They may take a little time to make but the flavor is better than anything you have ever purchased from the grocery store.
Sourdough discard gives this pizza crust a subtle tang. The crust is thin and crispy with just enough chew. Pizza is one of my favorite ways to use up random leftovers in the refrigerator.
Wonderfully flaky sourdough biscuits baked in a cast iron skillet. Serve them with gravy or topped with butter and your favorite jam.
Sourdough crescent rolls are soft, ever so slightly sweet with a nicely rounded sourdough flavor. They are the perfect accompaniment to your next dinner!
This sourdough pita bread recipe is so easy to make and requires just a few basic ingredients that you probably already have on hand.
Thanks for Reading!
I publish new recipes every week! Sign up for my email newsletter to be the first to know when new recipes are published.
You can also follow along on Instagram, Pinterest, and Facebook for more recipe updates.
If you try this recipe, let me know! Leave a comment and rate it below! You can also snap a picture and post it on Facebook be sure to tag me @RaspberriesandKohlrabi.
More recipes from Raspberries and Kohlrabi
What to make with sourdough discard?