It seems like almost everyone has a sourdough starter now. Here is a list of the best gifts for sourdough bread bakers.
If you are not familiar with sourdough baking, shopping for the baker in your life may seem intimidating. There are so many different brands and items to choose from. Use this guide to help you sift through your many options.
There aren't many tools that are specific to just sourdough baking. In fact, most types of bread bakers would be happy to receive any of the items on this list.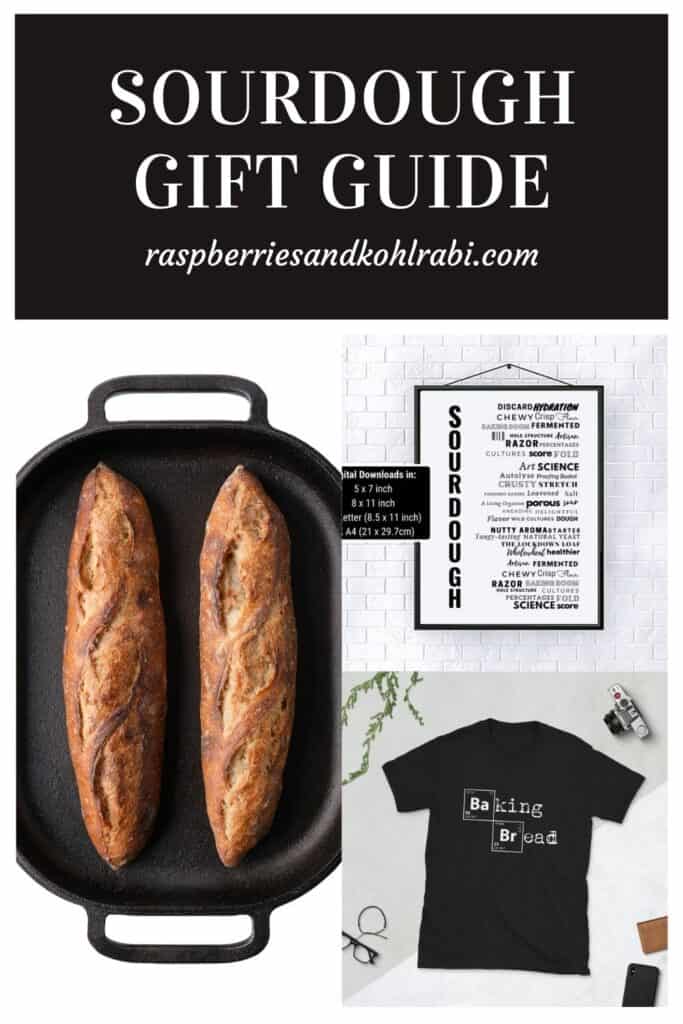 This page may contain affiliate links. I only recommend products that I would use myself. I may earn a small commission when you make purchases through these links at no additional cost to you. Thank you. As an Amazon Affiliate, I earn from qualifying purchases. For more information please read my Disclosure Policy.
To keep things simple I've divided this list by price point. Use the table of contents below to quickly navigate to your desired price range.
Jump to:
Gifts Under $25
Bread Knife
The serrated teeth on a bread knife are a must for easily slicing through a loaf of bread's crisp crust without smooshing the loaf. This knife from Mercer Culinary Store has received over 14,000 ratings on Amazon, 90% of which have been five stars.
Bread Lame
Most home bread makers start out by scoring their loaves of bread with a sharp knife or cheap razor blade. A bread lame allows bakers to make both functional and decorative scoring with ease. This beautiful lame from Saint Germain Bakery has a hand-crafted wooden handle, a replaceable stainless steel blade, and a leather cover for safe storage.
Sourdough Log Book
The best way to become a better baker is to take notes every time you bake. This sourdough log book is specifically geared towards the sourdough baker with places to record the type of flour and hydration, proofing times, scoring patterns, method of baking, and more.
Printable Sourdough Log
Easily record and track changes to your sourdough bread baking. Learn what worked and what didn't work and how you can improve next time. Learn how to create your perfect loaf of sourdough bread.
Bench Scraper
Bread dough, particularly sourdough, can be very wet and hard to work with. A bench scraper makes the folding and transferring dough easier. This bench scraper is made from heavy-duty stainless steel and is dishwasher-safe.
Bowl Scraper
Flexible bowl scrapers mold to the shape of your bowl allowing you to scrape every last bit of dough from the bowl.
Couche Proofing Cloth
A couche is a sturdy cloth that is used to shape the dough in long cylinders for baguettes. It can also be used for covering resting dough.
Flour Dredger
A flour dredger allows you to evenly sprinkle flour across your work surface and dough.
Dough Whisk
A dough whisk cuts into the dough scraping up the pockets of flour that like to hide at the bottom of the mixing bowl.
Oven Thermometer
Baking times for all recipes are only suggestions. The actual baking time will vary depending upon your oven. It is helpful to know your oven and worth purchasing an inexpensive oven thermometer. Oven temperatures can vary as much as 50 degrees plus or minus.
Sourdough Starter Jar
This sourdough starter jar includes a chalkboard marker where you can keep track of what type of flour you are using and when you last fed your starter. It also includes a bright red rubber band to help you track your sourdough starter's growth progress.
Bread Stencils
Use these stencils to create decorative shapes on top of loves of bread using flour or cocoa powder.
Cooling Rack
Cooling bread on a cooling rack rather than the countertop will keep the bottom of the bread from becoming soggy because of trapped condensation.
Jar Spatula
A jar spatula is a long narrow spatula perfect for scraping sourdough starter from its jar.
This shirt is available in a variety of colors and in sizes XS to 3XL.
This shirt is available in a variety of colors and in sizes XS to 3XL.
This shirt is available in a variety of colors and in sizes S to 3XL.
100% cotton tea towel screen-printed in the UK. The tea towel is 48 by 79 centimeters.
Digital print formatted to be printed as a 5x7, 8x11, 8.5x11, or UK A4.
Gifts Under $50
Printed on high-quality 240 g recycled acid-free paper. Available sizes include 21 × 29.7 cm (8¼ × 11¾ inches) and 30 x 40 cm (11¾ x 15¾ inches).
Baking Stone
This baking stone is 15" by 12" which makes it large enough to bake two loaves of bread at once. It is heat resistant up to 1450 degrees Farenheight.
Enameled Dutch Oven
Dutch ovens are one of the most common types of vessels used for baking bread. Not only does it bake a beautiful loaf of bread but it is also great for stews, casseroles, and braising.
The creme de la creme of Dutch ovens is made by Le Creuset. They are beautiful and very high quality but also have a high price tag to match.
If you are on a budget, I highly recommend buying a Dutch oven from Lodge. I have been cooking and baking bread in this one for years and absolutely love it!
Banneton
Bannetons or proofing baskets support dough during its final rise before baking. This basket holds up to 1000g of dough. Made from wood pulp these baskets are more eco-friendly than traditional rattan baskets.
Pullman Loaf Pan
Pullman tins are perfect for baking evenly shaped loaves of sandwich bread.
Bakers Scale
Measuring ingredients by weight is more accurate than measuring ingredients by volume. A baker's scale not only weighs ingredients but also helps you to calculate baker's percentages.
Bread Box
This cute large bread box is the perfect place to store a loaf or two of bread. Proper storage will keep freshly baked bread fresh for longer.
Bread Cutting Guide
Cut perfectly even slices of bread every time using this bread slicer cutting guide.
Gifts Under $100
Wooden Cutting Board
When I am researching a kitchen tool purchase one of my first stops is always America's Test Kitchen. This beautiful 24" by 18" cutting board from Teakhaus was their winner for the best wooden cutting board. Cutting boards give bakers a secure location to slice bread protecting both their counters and knives.
Apron
My favorite apron is made by Studiopatro in San Francisco, California. They are 100% linen and come in a variety of colors. The cross-back style is more comfortable and eliminates neck strain.
Digital Thermometer
A digital thermometer is a great way to check your bread for doneness and also measure the temperature of heated ingredients before adding them to your dough.
Gifts Under $200
Bread Cloche
Bread cloches are stoneware vessels specifically designed for baking bread. They come in a variety of shapes and sizes depending upon what type of bread you would like to bake. Baking bread enclosed in a stoneware vessel replicates the conditions found in a brick-lined oven. The stoneware wicks moisture away from the bread creating a crisp crust. Bread cloches from the brand Emile Henry have all received top ratings.
Brod & Taylor Temperature Controled Proofing Box
Proof your dough at a consistent temperature that you set, even as the temperature in your house fluctuates. The proofing box also folds down flat for easy storage.
Gifts Over $200
Stand Mixer
If purchasing a stand mixer to use mainly for bread making, I recommend purchasing one with a larger bowl and motor. Bread dough can be tough to mix and knead and can easily burn up smaller motors. This mixer from Kitchenaid is one of my favorites. I've had my Kitchenaid mixer for over 15 years, use it weekly, and it still works just as good as the day I first got it.
Sign up for KitchenAid's Newsletter to receive 10% off your next order!
Challenger Bread Pan
If you are ready to upgrade from baking in a dutch oven, this is the pan for you. Made out of thick cast iron this pan does a great job of absorbing and retaining heat creating crisp crusty bread. Its shape is also great for baking large oval loaves of bread.
Need more convincing? Check out this review from Cook's Illustrated.
Thanks for Reading!
You can also follow along on Instagram, Pinterest, and Facebook for more recipe updates.
If you try this recipe, let me know! Leave a comment and rate it below! You can also snap a picture and post it on Facebook be sure to tag me @RaspberriesandKohlrabi.