Creating and maintaining a small sourdough starter means less waste with the same great results. All you need is flour, water, and time.
Are you discouraged by the amount of wasted sourdough starter that is discarded every time you feed it?
Perhaps you are drowning in discarded sourdough starter and running out of recipes for using up sourdough discard or you are tired of just throwing away.
One solution is to switch your sourdough starter to a micro sourdough starter, which naturally produces less waste and only creates small amounts of discard.
This page may contain affiliate links. I only recommend products that I would use myself. I may earn a small commission when you make purchases through these links at no additional cost to you. Thank you. As an Amazon Affiliate, I earn from qualifying purchases. For more information please read my Disclosure Policy.
Jump to:
What is Sourdough Starter?
Simply put sourdough starter is a mixture of equal parts flour and water that is left at room temperature. Within this mixture wild yeast and bacteria, that are naturally present in the flour, are allowed to grow. These microbes metabolize the flour's natural sugars to produce carbon dioxide, ethanol, and lactic acid. Once matured this wild yeast and bacteria are capable of raising a loaf of bread and providing sourdough's signature tang.
The process of creating a new sourdough starter involves regularly discarding portions of the sourdough starter and feeding the remaining portion with fresh flour and water. It can take a few weeks before a sourdough starter is mature and strong enough to be used for baking.
As the balance of yeast and bacteria is established, the volume of the starter begins to increase for several hours after a feeding and then collapses as the cycle winds down.
It is important that after you feed your starter you pay attention to its behavior as it develops.
Like many, I began experimenting with sourdough baking in 2020 when commercial yeast became scarce at the grocery store. For just over a year I maintained my sourdough starter, nicknamed "Baby Doughda."
I enjoyed the ritual of daily feedings and experimenting with ways to utilize the neverending sourdough discard. But then summer came and life got busier. I started forgetting to feed my sourdough starter. Then one day I opened the jar and saw mold growing on top.
I had never taken the time to dry or freeze my sourdough starter and therefore my sourdough journey came to an end. At first, I was happy to be relieved of the responsibility of daily feedings and have enjoyed almost a year without my sourdough starter.
But now the weather is cold again and we are spending more time inside. The urge to bake sourdough bread is calling. So I decided it was time to jump back into the world of sourdough baking.
I thought I would document my process of recreating my sourdough starter and share the process and tips with you.
Note: If you decide to create your own sourdough starter your time frame may vary. How quickly a sourdough starter grows and moves from one stage to the next varies depending upon various factors including type of flour used and warmth of it's environment.

No two sourdough starters are the same. Once you get to know your starter you will get a feel for what your starter needs.
Equipment
Two small glass containers: I prefer to use ¼ pint glass canning jars.
Two large glass containers: I like to use 1-quart glass canning jars. One jar will be used to hold the flour mixture necessary for feeding your starter. The second jar will be used to collect the discard for sourdough discard recipes.
Small Rubber Spatula: Scaling down your sourdough starter to a smaller container means that smaller tools are necessary. I really like this jar spatula from OXO.
Digital Scale: When baking and creating a sourdough starter accurate measurements are important.
The absolute easiest way to maintain this ratio is to always use a digital kitchen scale to measure your ingredients. When starting and maintaining a sourdough starter accuracy matters. Weight measurements are more accurate than volume measurements.
This scale from OXO is the one I use after it was recommended by Alton Brown. What makes this scale great is the display pulls out to make viewing measurements easier when using a large bowl.
Rubber Band: A rubber band is useful for marking the height of your starter so you can keep track of how much it has risen since its last feeding.
For more information check out my blog post on choosing the best containers for storing sourdough starters.
I also have a sourdough gift guide that lists all of my favorite sourdough products.
What Type of Flour is Best for Creating a Sourdough Starter?
You will see the best results using organic unbleached flour. The bleaching process depletes the naturally occurring microbes we are trying to nurture in the flour.
When first creating a starter I use a combination of white and whole wheat flour. Whole wheat flour tends to be more active and has more nutrients than white flour and is more likely to contain the bacteria and yeast we want.
Once your starter is mature you can switch to feeding it with white nonorganic flour.
What Type of Water Should You Use?
Unchlorinated filtered water is best. Chlorine and chloramine which are commonly used to treat city water can stop the fermentation process. The purpose of adding these chemicals to water is to kill pathogens but they will also kill the beneficial bacteria and yeast in your starter.
If you must use city water, let it sit out overnight before adding it to your sourdough starter. This length of time should be sufficient to allow the chlorine to dissipate.
If your city uses chloramine, leaving the water out on the counter won't do much. It is best to stick with filtered water.
Once your starter is mature you can experiment with using your tap water by splitting your starter into two separate jars. Continue using filtered water on one starter and experiment to see the results of using tap water on the second starter. You may find that your starter is now strong enough to remain active while using plain tap water.
Adding warm water can help speed up the fermentation process if your house is chilly. But use caution. When adding water make sure it is not hotter than 110 degrees Fahrenheit. Water temperatures above 110 degrees Fahrenheit will kill your starter.
Day 1: Creating Your Mini Sourdough Starter
The most important guideline for creating and maintaining a smaller starter is to follow the 1:1:1 ratio. Meaning you always mix equal parts of sourdough starter, flour, and water together.
Consistent daily feeding of your starter is important. Try to get into a routine of feeding it at the same time each day.
Measure 1 cup (120 grams) of all-purpose flour and 1 cup (120 grams) whole wheat flour into a sealed container and shake to combine. I like to use a wide-mouth quart-size canning jar with a reusable lid.
Measure 10 grams of the flour mixture and 10 grams of water into one of the small jars. Stir to combine, cover loosely with the lid, and let sit at warm room temperature (70 to 80 degrees Fahrenheit).
If your house is chillier than 70 degrees, place the jar on top of your refrigerator or inside the oven with the light turned on. Both of these spaces are typically warmer.
Check the jar every 24 hours. You are looking for the mixture to be bubbly and wet-looking. It will also start to have a sour smell. If you don't see these signs of progression return it back to its warm spot and check again in another 24 hours.
Day 2
On day two there are a couple of bubbles visible and the top of the starter looks wet, which are both good signs. But the sourdough starter still has a sweet flour smell and we are looking for a bit more activity.
The starter isn't yet ready for its first feeding. I am looking for more bubbles and a slightly sour smell. I returned the sourdough starter to the top of the refrigerator and will check it again in 24 hours.
Day 3
My sourdough starter is showing signs of life! Notice the more prevalent bubbles? It also has a slightly sour smell and looser consistency. Now it is time to start regularly feeding the sourdough starter every 24 hours.
Stir the starter and transfer 10 grams to the second small jar. Add 10 grams of the flour mixture and 10 grams of water. Stir to combine.
I also added a rubber band around the jar to easily track how much the sourdough starter rises and falls.
Cover loosely with the lid and return it back to its warm spot.
Clean the original small jar for use tomorrow.
Days 4 Through 7
Repeat the feeding process every 24 hours. Throughout this time your starter may remain bubbly or it may go dormant. Don't worry. Continue to feed your starter every 24 hours eventually it will become very active.
Day 4: The starter was bubbly and had risen above the rubber band slightly. It was also the smelliest it has ever been.
Day 5: There are barely any bubbles today but the starter is smelly once again so I know there is activity happening. You might be tempted to give up at this point, but don't. Continue feeding your starter every 24 hours. Eventually, you will start to see more activity.
Day 6: Still not many bubbles and still very smelly. Pretty much the same as yesterday.
Day 7: A little more activity today. There are more bubbles and the sourdough starter rose slightly. It also smells a bit better. There is still the smell of acetone but there is also another smell. The smell you expect from sourdough is sour but also sweet.
Day 8
The starter still seemed very sluggish. More sluggish than it should have been. I suspect that it is just too cold in our house right now for it to thrive. Most starters like temperatures above 70 degrees Farenheight. During the winter our house is 68 degrees during the day and 65 degrees overnight.
To help the starter along I placed it in the oven with the oven light on and the door closed.
Out of curiosity I also placed my instant-read thermometer in the oven. With the oven light on the temperature inside the oven is 79 degrees Fahrenheit.
I also placed a post-it over the temperature controls to make sure no one accidentally baked my sourdough starter.
Heating the environment of the starter by just a few degrees made a big difference in its activity. There are more tiny bubbles throughout and it is starting to rise above the rubber band.
Days 9 and 10
Day 9: Moving the sourdough starter to a warmer environment was a good decision. It seems so much happier. The starter has almost doubled in size and is light and airy with lots of bubbles.
Day 10: My sourdough is still happily percolating away. It has a pleasant yeasty sourdough smell instead of the strong acetone smell it had earlier. It is still not doubling in less than 12 hours so I will continue feeding every 24 hours.
Day 11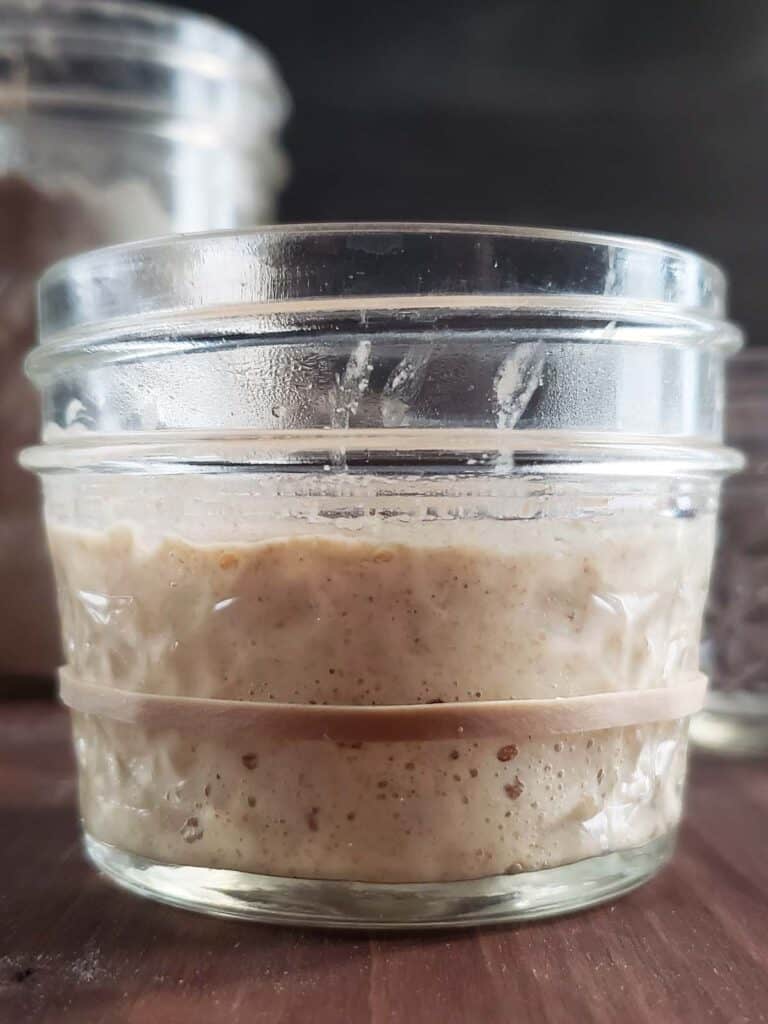 Last night I fed the starter at 8:30 pm. Here is how it looked in the morning when I woke up. It has doubled in size in less than 12 hours from the previous feeding! It also has a lovely yeasty bread smell. It is now time to start feeding the starter every 12 hours.
I fed the starter at 7:30 am and by 3:30 pm it had tripled in size.
At this point, you can start saving the leftover sourdough starter in a jar in your refrigerator to use for your favorite sourdough discard recipes like sourdough flatbread, sourdough discard blueberry thyme scones or sourdough discard banana bread.
Prior to your starter reaching this stage, I wouldn't worry about saving the discard. Because during the first 10 days bacteria and yeast were busy fighting it out and it generally smelled pretty gross and would have added some unpleasant flavors to any baked goods it was added to.
How long does sourdough discard last?
What is the difference between sourdough starter and sourdough discard?
If your starter's activity slows down or stops, return to feeding it once a day until it becomes active in less than 12 hours again.
I will now continue feeding my starter twice a day for a couple of days to build up its strength.
Days 12 Through 14
Day 12
9 AM: I fed my starter last night at 9 pm. Twelve hours later it has doubled in size, is bubbly, and smells pleasantly yeasty.
4 PM: By 4 pm my starter has doubled in size again, which is a great sign that the starter is healthy and happy. I will feed it again around 9 pm tonight.
Day 13
9 AM: I fed my starter last night at 9 pm. Twelve hours later it has doubled in size, is bubbly, and smells pleasantly yeasty.
5 PM: By 5 pm my starter has doubled in size again, which is a great sign that the starter is healthy and happy. I will feed it again around 9 pm tonight.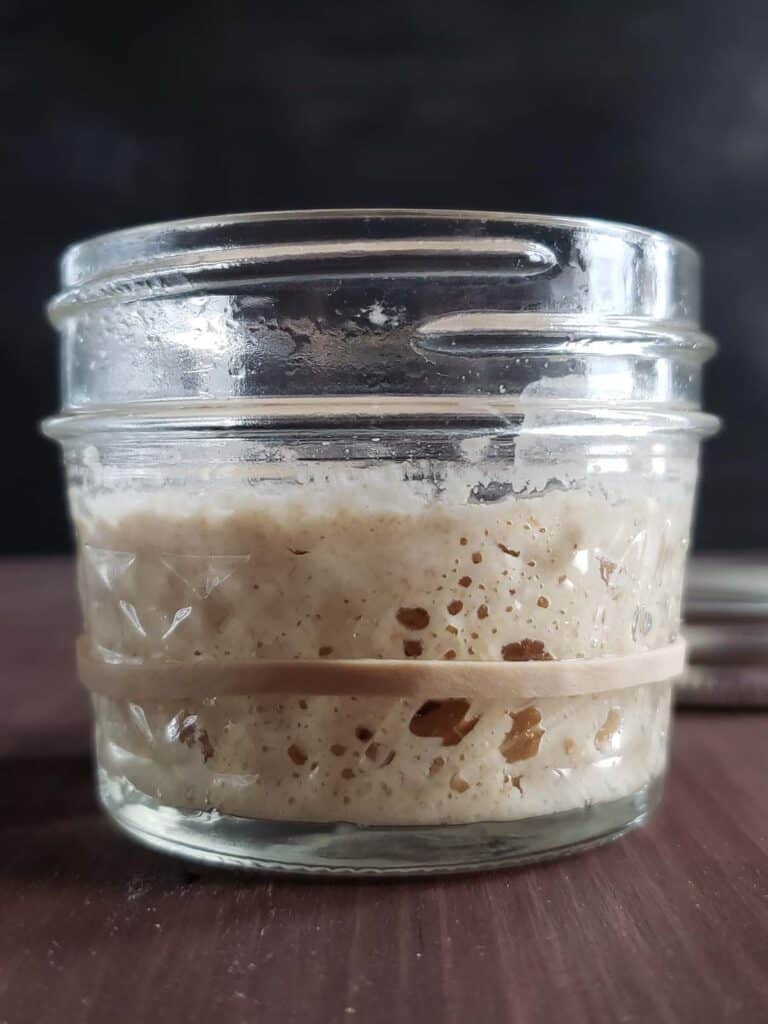 Day 14
My starter was bubbly and happy again this morning. It is also two weeks old.
I think it's time to try the float test and see if the starter is ready for bread-making.
How Do You Know When Sourdough Starter Is Ready To Bake With?
It is at least two weeks old.
A mature starter will double or triple in volume in less than 12 hours.
It has a domed bubbly surface.
When looking at the side of the jar the starter will have a sponge-like appearance with large bubbles.
It will also smell pleasantly yeasty and only a bit sour.
It passes the "float test."
What is the Float Test?
The float test is an easy way to test your sourdough starter to see if it is strong enough to use for baking.
When your starter is nice and bubbly a few hours after feeding it, place a blob of starter in a glass of room-temperature water. It is important that you do not stir the starter before adding it to the glass of water. Stirring the sourdough starter will pop all of the gas bubbles eliminating its ability to float.
If the starter floats it is ready to bake with. A starter that floats contains enough yeast and is producing and retaining plenty of carbon dioxide.
If the starter sinks continue the above feeding schedule for a few more days and then try the float test again.
Scaling Your Sourdough Starter Up: Preparing for Baking
Due to the small size of the starter, it will need to be scaled up for baking. The amount you need to scale up your starter will depend upon the recipe you want to make. As an example, let's say your recipe requires 200 g of sourdough starter.
Move your typical 10 grams of sourdough starter to a larger jar. Instead of adding an equal amount of flour and water you will want to add at least 100 grams of flour and 100 grams of water. You will then have 210 grams of sourdough starter. 200 grams of starter to use in the recipe once it is nice and bubbly and 10 grams of starter remaining for your next feeding.
Maintaining Sourdough Starter
For more frequent baking, your mature starter can continue to be stored and fed at room temperature.
For less frequent baking, feed your starter and then store it in the refrigerator. Continue feeding your starter once a week and place it back in the refrigerator.
When you are ready to bake, remove your starter from the refrigerator and give it a couple of room temperature feedings every twelve hours to wake it back up. Your starter should be ready to bake with within a few days.
Frequently Asked Questions
Do you have to discard sourdough starter every time you feed it?
Yes. When feeding your sourdough starter you want to retain the 1:1:1 ratio. If you don't discard any of your starter the volume will triple every time you feed it.
Can you stir sourdough starter with a metal spoon?
Yes. While it isn't recommended to store your starter in a metal container brief contact with a metal spoon while you stir it won't harm your starter.
Should sourdough starter be kept airtight?
No. The yeast in sourdough starter produces carbon dioxide gas as it feeds on the sugars in the flour. If the lid is too tight there is nowhere for that gas to escape to. Trapped gas may cause the jar to crack or break.
Is it ok if my sourdough starter smells like vinegar?
A vinegar or acetone smell is a sign that your sourdough starter is hungry and has produced lots of acetic acid. If your starter starts consistently smelling really sour it needs to be fed more often.
What does a healthy sourdough starter smell like?
Healthy sourdough smells fresh and yeasty with perhaps a slightly sour smell.
My starter looks dead. Do I need to start over?
Probably not. If you are still in the early stages of growing your sourdough starter it is completely normal for your starter to slow down and become quiet. Eventually, the activity should pick up again.

If your starter doesn't perk back up and you are in the feeding once-a-day stage, try adding a little additional flour at the 12-hour mark.

You could also try leaving the starter unfed for longer than 12 or 24 hours (depending upon what stage you are in). Wait to feed your starter again until it starts showing signs of activity.

The only time you start completely over is if you see any signs of mold.