There are just four simple ingredients in this Small Batch Blueberry Jam Without Pectin. It is so easy to make your own homemade jam.
This jam takes just 20 minutes from start to finish.
When I say this blueberry jam recipe makes a small batch of jam I really do mean a tiny batch. In fact, this recipe fills just one 4oz quarter pint mason jar. The perfect amount of homemade refrigerator jam for one.
If you want to make a larger batch of jam the recipe is really easy to scale up.
I look forward to blueberry season all year. Are you also a blueberry lover? Try these Jumbo Blueberry Muffins or these blueberry thyme sourdough scones.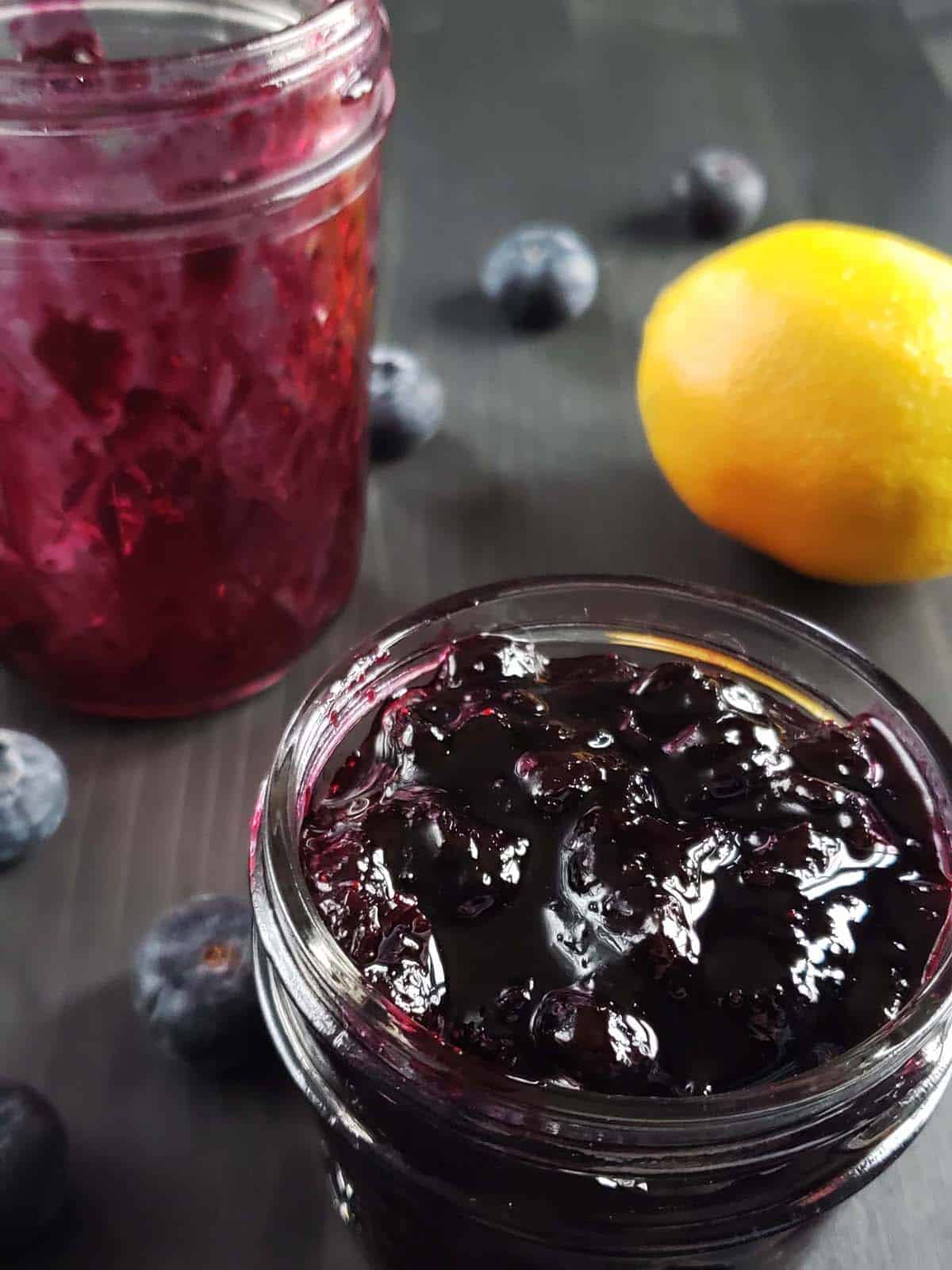 This page may contain affiliate links. I only recommend products that I would use myself. I may earn a small commission when you make purchases through these links at no additional cost to you. Thank you. As an Amazon Affiliate, I earn from qualifying purchases. For more information please read my Disclosure Policy.
Why You Will Love This Recipe
With only a couple of simple ingredients, the fresh sweet blueberry flavor really shines in this easy recipe for small-batch jam.
Making blueberry jam is one of the quickest ways to bottle up the last fresh berries of summer. This recipe takes just 20 minutes from start to finish.
No canning knowledge is necessary. This small-batch jam makes such a small batch there is no need to can the jam to save it for later.
There is no added pectin in this easy homemade blueberry jam. Just blueberries, sugar, lemon juice, and a pinch of salt.
What is Pectin?
When looking through jam recipes you will notice the word pectin comes up often. Pectin is a naturally occurring thickening agent that helps jams and jellies set up properly when they cool. Different fruits have varying amounts of naturally occurring pectin.
Blueberries happen to be naturally high in pectin which is why we don't have to add additional pectin to this simple jam recipe. When heated blueberries release their pectin. It then combines with the lemon juice to create a gel that thickens the jam as it cools.
How to Sterilize Glass Jars
While we aren't canning this small-batch jam, you still need to sterilize the jars that you will be putting your jam in. There are two ways to sterilize your jars.
Wash the jars hot water and soap or
Run them through a normal cycle in the dishwasher
Ingredients
Blueberries: You can use either fresh or frozen berries.
How do you find the best blueberries? Look for blueberries that are firm and have a deep rich purple-blue color. Avoid blueberries that are mushy or wrinkled.
Sugar: Nothing special here just plain granulated white sugar. I don't suggest using less sugar. The sugar helps the jam to set
Lemon Juice: When blueberries and sugar are heated together, the blueberries begin to release pectin. The lemon juice bonds with the pectin, creating a gel that thickens your jam.
This is one time when bottled lemon juice is better than fresh lemons. Bottled lemon juice has a consistent PH. Fresh lemons vary in ripeness and PH making them unsuitable for setting jams.
Lemon juice also helps to balance blueberries' natural sweetness.
If you don't have lemon juice you can substitute lime juice.
Kosher Salt: Kosher salt helps to bring out the natural sweetness in the blueberries.
Equipment
Small Saucepan: The cooking time for this recipe is based on using a small saucepan. Using a larger saucepan increases the surface area, decreases the cooking time, but increases the risk of burning the jam.
Quarter Pint Jars: You could also store this jam in a plastic storage container, but I love the way the rich jewel tones of this jam catch the light in a glass container.
Potato Masher: For the best results use a potato masher to smash the blueberries and encouraging them to break down. You could also use the back of a spoon.
Directions
Prep. Place a small plate in the freezer to use for testing the jam. Wash and drain blueberries in a colander.
Cook the jam. Place blueberries, sugar, lemon juice, and salt in a small saucepan.
Bring to a light boil over medium-high heat and allow the blueberries to simmer and thicken for about 10 minutes. If you notice the berries coming to a full rolling boil, lower the heat.
Gently smash the blueberries with the back of your spoon or a potato masher to encourage them to break down.
For an even smoother delicious blueberry jam, you could blend the blueberries with an immersion blender.
Test the jam. Take your frozen plate out of the freezer. Spread a small amount of hot jam across the frozen plate. The frozen plate will instantly cool the jam down so that you can determine how thick it is. Tilt the plate. If the jam slides across the plate quickly it needs to boil and thicken for longer. If the jam slides slowly it is done.
Pour the jam into a sterilized jar leaving an inch of headspace, cover, and allow it to cool to room temperature. Once cooled store the jar in the refrigerator for up to one month.
How do You Know When the Jam is Done?
As the jam cools it thickens. To test a small amount of jam use the frozen plate method.
The Frozen Plate Method
Spread a small amount of jam across the cold plate. The cold plate will instantly cool the jam down so that you can determine how thick it is.
Tilt the plate. If the jam slides across the plate quickly it needs to boil and thicken for longer. If the jam slides slowly it is done. If the jam doesn't move at all it is overcooked.
Use an Instant-Read Thermometer
You can also use an instant-read thermometer to test the doneness of your jam. The setting point for blueberry jam is 220 degrees Farenheight.
An instant-read probe thermometer is an essential kitchen tool. It's not only great for testing the doneness of meat but also works for checking the internal temperature of baked goods and testing jams like this one. This thermometer from ThermoWorks is my favorite. It is recommended by America's Test Kitchen and is super fast and accurate.
Frequently Asked Questions
Can frozen blueberries be used for jam?
Yes, but frozen blueberries may be more tart than fresh blueberries so you may need to add more sugar.

In fact, frozen fruit might be the better choice. The jam tastes best when it is made with high-quality fruit. Fruit that is used for commercial freezing is always picked at peak ripeness. If using frozen fruit there is no need to thaw it before making jam.
Why do you add lemon juice to jam?
As cooked blueberries release their natural pectin the lemon juice bonds with the pectin, creating a gel that thickens your jam. For more information, check out this post from Serious Eats.
Will my jam thicken as it cools?
Yes, as the jam cools it will continue to thicken, which is why using the frozen plate method mentioned above is helpful to tell when a jam has been fully cooked.
How do you sterilize glass jars?
Sterilizing jars is easy. Either was them in hot soapy water or run them through a dishwasher cycle.
How should you store leftover jam?
Allow the jam to cool to room temperature and then pour it into an airtight container. Store in the refrigerator for up to one month.
How long does homemade blueberry jam last?
Refrigerated jam should be good to eat for at least a month. Always use clean utensils to retrieve jam from the jar to avoid contamination. Signs of spoilage include mold or yeast growth, change in color, or any off odors like the smell of yeast, alcohol, or fermentation.
Tips
Don't overcook the fruit. The overcooked jam will be tough and rubbery. The mixture will seem too thin but will thicken up as it cools.
Boiling sugar can easily cause burns. Use caution and be careful to not splatter the mixture.
If you want to add fresh herbs to your jam, add them at the end of the cooking process to preserve their bright flavor.
Serving Suggestions
This small-batch blueberry jam recipe has so many uses beyond toast.
I love using this homemade blueberry jam as a topping for waffles and pancakes. It also tastes delicious on top of vanilla ice cream, and scones, and stirred into plain yogurt, oatmeal, or a smoothie. But my favorite way to use this fruit jam is at the bottom of this blueberry creme brulee.
More Fresh Fruit Sauces
Thanks for Reading!
You can also follow along on Instagram, Pinterest, and Facebook for more recipe updates.
If you try this recipe, let me know! Leave a comment and rate it below! You can also snap a picture and post it on Facebook be sure to tag me @RaspberriesandKohlrabi.