These mango blueberry muffins are bursting with blueberries and mango pieces. To make them even more delicious they are topped with a crunchy coconut streusel.
Here are a few other muffin recipes to try: Apple Raspberry Muffins, Sourdough Apple Cinnamon Muffins, or Jumbo Blueberry Muffins.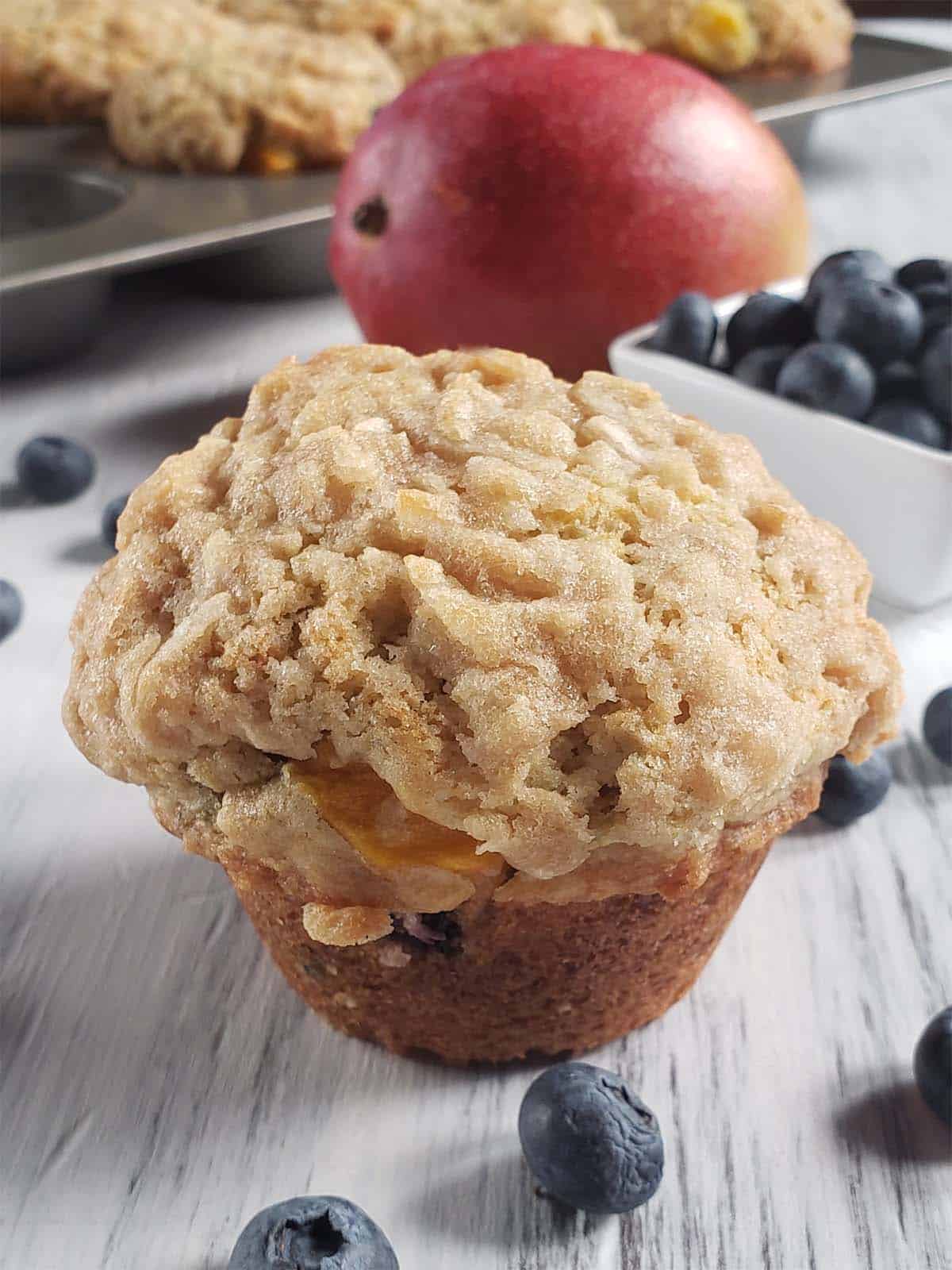 This page may contain affiliate links. I only recommend products that I would use myself. I may earn a small commission when you make purchases through these links at no additional cost to you. Thank you. As an Amazon Affiliate, I earn from qualifying purchases. For more information please read my Disclosure Policy.
Jump to:
Why You Will Love This Recipe
These mango blueberry muffins are so quick and easy to throw together.
Easily substitute frozen fruit when fresh fruit isn't in season.
They make a delicious breakfast or a great afternoon snack.
They are even sweet enough to eat for dessert.
How to Keep Blueberry Muffins From Turning Green
Sometimes frozen blueberries can turn your batter an odd greenish-blue color. According to this article from King Arthur Baking, the best way to prevent this is to give them a quick rinse under cold water.
After rinsing the blueberries, dry them using a couple of paper towels.
When adding blueberries to the batter fold them in gently being careful to not squish and release any of the blueberry juice.
Ingredients
Coconut: Add extra flavor my folding in sweetend shredded coconut into a traditional streusel topping..
Flour: This muffin recipe uses more than 3 cups of all-purpose flour. The batter is thick like cookie dough to keep the fruit from sinking to the bottom.
Baking Powder & Baking Soda: I really wanted a tall muffin top. So this recipe uses both types of leaveners.
Salt: I add at least a pinch of salt to all of my recipes. Salt complements and intensifies the other flavors. For all of my recipes, I use Morton Kosher Salt which is saltier than Diamond Crystal Kosher Salt. If you are using Diamond Crystal Kosher Salt you will want to double the amount of salt you add.
Mangoes and Blueberries: Use either fresh or frozen mangoes and blueberries.
Sugar: White sugar helps to produce a chewy crust while brown sugar keeps the interior moist.
Milk: Milk adds moisture and creates a tender crumb. I usually use whole milk, but other dairy milks should work just fine. I have not tested this recipe with non-dairy milks. If you give it a try please let me know how they turn out.
Oil: Oil produces moist tender muffins.
Eggs: Eggs add moisture and help bind everything together. The extra egg yolk provides additional fat which makes the muffins softer. It also produces muffins that are more golden in color.
Coarse Sprinkling Sugar: For that crunchy, sparkly muffin top, add a sprinkle of coarse sugar. You can also use Sugar in the Raw or Demerara sugar.
Equipment
Muffin Pan: My muffin pans are from Wilton. They have a non-stick coating which means they are easy to clean and muffins come out cleanly with or without muffin liners. They are dishwasher safe but to keep them in their best condition I prefer to hand wash them.
Kitchen scale: Kitchen scales make baking faster and neater. Accuracy matters in baking. Scales are more precise than measuring cups. Too much flour or not enough sugar can dramatically change a recipe. The most accurate way to bake is to measure your ingredients by weight rather than volume.
A kitchen scale also reduces the number of dishes you will need to wash because you are measuring each ingredient directly from the container into the mixing bowl without the use of measuring cups.
This scale from OXO is the one I use after it was recommended by Alton Brown. What makes this scale great is the display pulls out to make viewing measurements easier when using a large bowl.
Mixing Bowls: These are some of my favorite mixing bowls. They come in a huge range of sizes, nest together for easy storage, and are easy to clean.
Rubber spatula: For folding batters together, I prefer a stiffer spatula like this one from OXO. It fits comfortably in my hand, is dishwasher safe, and is heat-resistant up to 600 degrees Fahrenheit. Both the handle and head are silicone coated which makes it easy to clean and safe to use with my non-stick cookware and bakeware.
Cooling rack: Cooling racks are essential for cooling baked goods quickly and preventing soggy bottoms. I really like these cooling racks from the Checkered Chef. They are recommended by Cook's Illustrated, are very sturdy, and are free from coatings which means they are safe to use in the oven as well.
If you're in the market for new sheet pans as well they also sell them as sets in both half sheet pan and quarter sheet pan sizes.
Directions
To Make the Coconut Streusel:
In a small bowl, whisk together the flour, brown sugar, coconut, and salt. Stir in the melted butter. Set aside
To Make the Mango Blueberry Muffins:
Move the oven rack to the middle position. Preheat oven to 425°F. Grease one standard 12-count muffin pan with nonstick spray or line with muffin papers. Set aside.
In a large bowl, whisk together the flour, baking powder, baking soda, and salt.
Toss the mango and blueberries in the dry ingredients until they are well coated. This will prevent the fruit from sinking to the bottom of the muffins. Set aside.
In a medium bowl whisk together the sugars, yogurt, oil, eggs, egg yolk, and vanilla.
Pour the wet ingredients into the dry ingredients and fold them together gently with a spatula until just combined. Be careful to not crush the blueberries and do not over mix. The batter will be thick. Allow the batter to rest for 5 minutes.
Divide the batter between each muffin cup, filling all the way to the top. Sprinkle with the coconut streusel.
Bake the muffins at 425°F for 5 minutes, then, keeping the muffins in the oven, reduce the oven temperature to 350°F and continue to bake for 20-25 minutes until the tops are golden brown. Use a toothpick to test for doneness. Insert a toothpick into the center of a muffin, if it comes out clean, the muffins are done.
Allow the muffins to cool for several minutes in the muffin pan before transferring them to a wire rack to cool completely.
Frequently Asked Questions
Can I use frozen fruit?
When they are in season, there is nothing better than fresh mangoes and blueberries. But they can be expensive and hard to find in the middle of winter. Frozen fruit is a great substitute.

When chopped up small frozen fruit can be added directly to the batter while it is still frozen.
How do you stop fruit from sinking to the bottom of the muffins?
Coat the fruit in flour before adding it to the batter. The flour coating will help the fruit stick to the batter and keep it from sinking to the bottom.

The thick batter also helps ensure fruit stays evenly distributed rather than concentrated at the bottom of the muffin. The batter for these muffins is almost as thick as cookie dough.
Do you need muffin liners for baking?
Muffins can be baked with or without liners. If baked with liners they will have a softer outside texture. Muffins baked without liners will be slightly crispier and darker on the outside.
How do you make tall muffins?
To get a tall muffin, fill the muffin pan to the very top with batter and start baking your muffins at a higher temperature and then after about five minutes lower the temperature.

I start my muffins at 425°F and then lower the temperature to 350°F. Starting at a higher temperature gives the baking soda and baking powder a nice boost of heat that encourages rising.

It also allows the outside of the muffin to set quickly giving the inside the structure it needs to keep rising. This trick will only work with really thick muffin batters that have enough structure to support the muffin.
How do you know when the muffins are done?
Baking times for all recipes are only suggestions. The actual baking time will vary depending upon your oven. It is helpful to know your oven and worth purchasing an inexpensive oven thermometer. Oven temperatures can vary as much as 50 degrees plus or minus.

Insert a toothpick into the center of a muffin. If it comes out clean or with just a crumb or two sticking to it your muffins are done. If there is uncooked batter on the toothpick bake the muffins for a few minutes longer.

Alternatively, you can check your muffins with an instant-read thermometer. This one from ThermoWorks is my favorite. It is recommended by America's Test Kitchen and is super fast and accurate. Once the center of the muffins has reached 200 - 205 degrees Fahrenheit they are done.
Storing
These muffins will stay moist for a couple of days when stored at room temperature. Store them in an airtight container for 1-2 days. Any longer than that at room temperature and the fruit will start tasting fermented especially on warm days.
For longer storage keep them in the refrigerator for up to a week.
They can also be frozen for up to 3 months. Wrap each muffin in plastic wrap and place them in a zip-top bag. Thaw muffins at room temperature.
Tips
Muffins bake best on the middle rack of the oven. Too low and the bottoms will burn, too high and the tops will brown too quickly.
If you use frozen berries, rinse them under cold water several times and pat dry. This will help prevent the color from bleeding into the muffin batter.
When stirring be careful to not crush any of the fruit.
Don't over-mix the batter. A few lumps are fine. Overmixing will create too much gluten causing your muffins to be tough.
The muffin batter will be very thick, almost like cookie dough. This prevents the fruit from sinking to the bottom and helps to give the muffins a tall muffin top.
Variations
Loaf Pans: Muffins and quickbreads are very similar.

Pour the batter into the 2 greased 9x5 loaf pans and bake at 350°F for 60 to 65 minutes. The apple raspberry bread is done when a toothpick inserted into the center of the loaf comes out clean.
Remove from the oven and allow the bread to cool in the pan for 15 minutes. Remove the bread from the pan and cool completely on a wire rack.

Mini Muffins:

Divide the batter between the cups of a mini muffin pan.
bake at 350°F for 11-13 minutes. Yields about 24 mini muffins.
More Muffin Recipes