These fresh peach oatmeal bars with oatmeal and almond crumble are so easy to make and are the perfect combination of soft but chewy.
This is one of my favorite desserts to make during peach season.
Peach crumble bars are the perfect way to use up extra peaches before they spoil. Serve them warm, cold, or at room temperature. Top them with ice cream or whipped cream for an easy summer dessert.
Looking for more peach desserts? Try this peach creme brulee.
This page may contain affiliate links. I only recommend products that I would use myself. I may earn a small commission when you make purchases through these links at no additional cost to you. Thank you. As an Amazon Affiliate, I earn from qualifying purchases. For more information please read my Disclosure Policy.
Jump to:
Why You Will Love This Recipe
These peach bars use the same dough for both the top and bottom crust making them super simple to make.
Fresh juicy peaches and wholesome crisp oats are the perfect combination.
These bars are easily adaptable by swapping in your favorite fresh fruit. Modify the peach mixture by using strawberries, blueberries, apricots, or raspberries instead of peaches.
How to Choose the Best Peaches
Choose peaches with golden yellow skin and no tinges of green that feel heavy for their size. The stem cavity of a peach should be yellow and not green.
Ripe fruit should yield to gentle pressure and is intensely fragrant. There have been many times I have been walking through the produce section of the grocery store and have stopped to follow my nose to some delicious peaches.
The Best Way to Store Fresh Peaches
If your peaches need a few more days to ripen, the best place to store them is on the counter at room temperature. Place then stem-side down in a single layer to avoid bruising.
Once peaches are perfectly ripe they should be stored in the refrigerator. The cold air will dramatically slow down the ripening process. Peaches will usually keep in the refrigerator for five days.
For more information about peaches check out my Guide to Buying, Storing, and Cooking Fresh Peaches.
Ingredients
Old Fashioned Oats: Do not use instant or steel-cut oats. Old-fashioned oats are the perfect size and texture for these bars.
Unsalted Butter: It is important to use cold butter so that your topping is crumbly rather than smooth like cookie dough.
Corn Starch: Cornstarch is used to thicken the plumb juice while the bars bake. It does not need to be dissolved in additional liquid and can be sprinkled over the fruit before adding the final layer.
Fresh Peaches: Peeled or unpeeled the choice is up to you. Leaving the peel on is easier and I don't notice the peel once the peaches are baked. If you decide to peel the peaches when peeling a large number of peaches I prefer to blanch them first. If you only need to peel a couple of peaches you can do so with a paring knife no blanching is necessary.
You could also substitute peach butter/jam, thawed frozen peaches, or drained canned peaches.
Equipment
Kitchen scale: Kitchen scales make baking faster and neater. Accuracy matters in baking. Scales are more precise than measuring cups. Too much flour or not enough sugar can dramatically change a recipe. The most accurate way to bake is to measure your ingredients by weight rather than volume.
A kitchen scale also reduces the number of dishes you will need to wash because you are measuring each ingredient directly from the container into the mixing bowl without the use of measuring cups.
This scale from OXO is the one I use after it was recommended by Alton Brown. What makes this scale great is the display pulls out to make viewing measurements easier when using a large bowl.
Mixing Bowls: These are some of my favorite mixing bowls. They come in a huge range of sizes, nest together for easy storage, and are easy to clean.
Cutting Board: This is my favorite cutting board from OXO. It has a rubber edge that keeps the board from sliding around along with a channel around the edge to catch juice keeping my counters clean.
Rubber spatula: For folding batters together, I prefer a stiffer spatula like this one from OXO. It fits comfortably in my hand, is dishwasher safe, and is heat-resistant up to 600 degrees Fahrenheit. Both the handle and head are silicone coated, making it easy to clean and safe to use with my non-stick cookware and bakeware.
9x9 metal baking pan: I prefer light-colored metal pans for baking. Glass or dark-colored metal pans heat unevenly and can cause the edges to overbake or even burn.
Parchment Paper: Line your baking pan with parchment paper allowing the ends to extend beyond the pan on two sides. This will create a sling, allowing you to easily lift the bars from the pan and cut the bars into even squares easily.
Large serrated knife: A large serrated knife makes cutting even clean pieces much easier.
Directions
Line a 9 x 9-inch baking pan with parchment paper allowing the ends to extend over two of the sides, spray with nonstick spray, and set aside. Preheat the oven to 375 degrees Fahrenheit and position an oven rack at the top of the oven.
Make the crust and oat crumble. In a medium bowl, stir together the oats, all-purpose flour, sugar, brown sugar, almonds, baking powder, cinnamon, and salt. Add the melted butter and almond extract. Stir until crumbly.
Bake the crust. Press half of the dough into the bottom of the prepared pan and bake for 10-12 minutes or until lightly golden brown on the edges.
Prepare the peach filling. While the crust is baking, chop four large peaches into 1-inch pieces. In a large bowl coat the peaches with the cornstarch. Layer the sliced peaches in an even layer over the baked crust and sprinkle the remaining crumb topping on top of the peaches.
Bake for 30-40 minutes until the crust is light golden brown.
Cool to room temperature then refrigerate for one hour. Use the parchment paper to lift the bars from the pan and cut them into squares.
Variations
These peach bars are easily adaptable by swapping in your favorite fruit. Try strawberries, blueberries, apricots, or raspberries.
Serving Suggestions
Have one of these peach crumb bars for breakfast with a cup of coffee, serve them as an afternoon snack, or amazing after-dinner dessert.
Room temperature. Remove the bars from the refrigerator and set them out for about 30 minutes to come to room temperature.
Cold: If you prefer a firmer texture, serve the bars straight from the refrigerator.
Warm: Warm the peach bars in the microwave for about 10 seconds. Serve with a scoop of vanilla ice cream or freshly made whipped cream.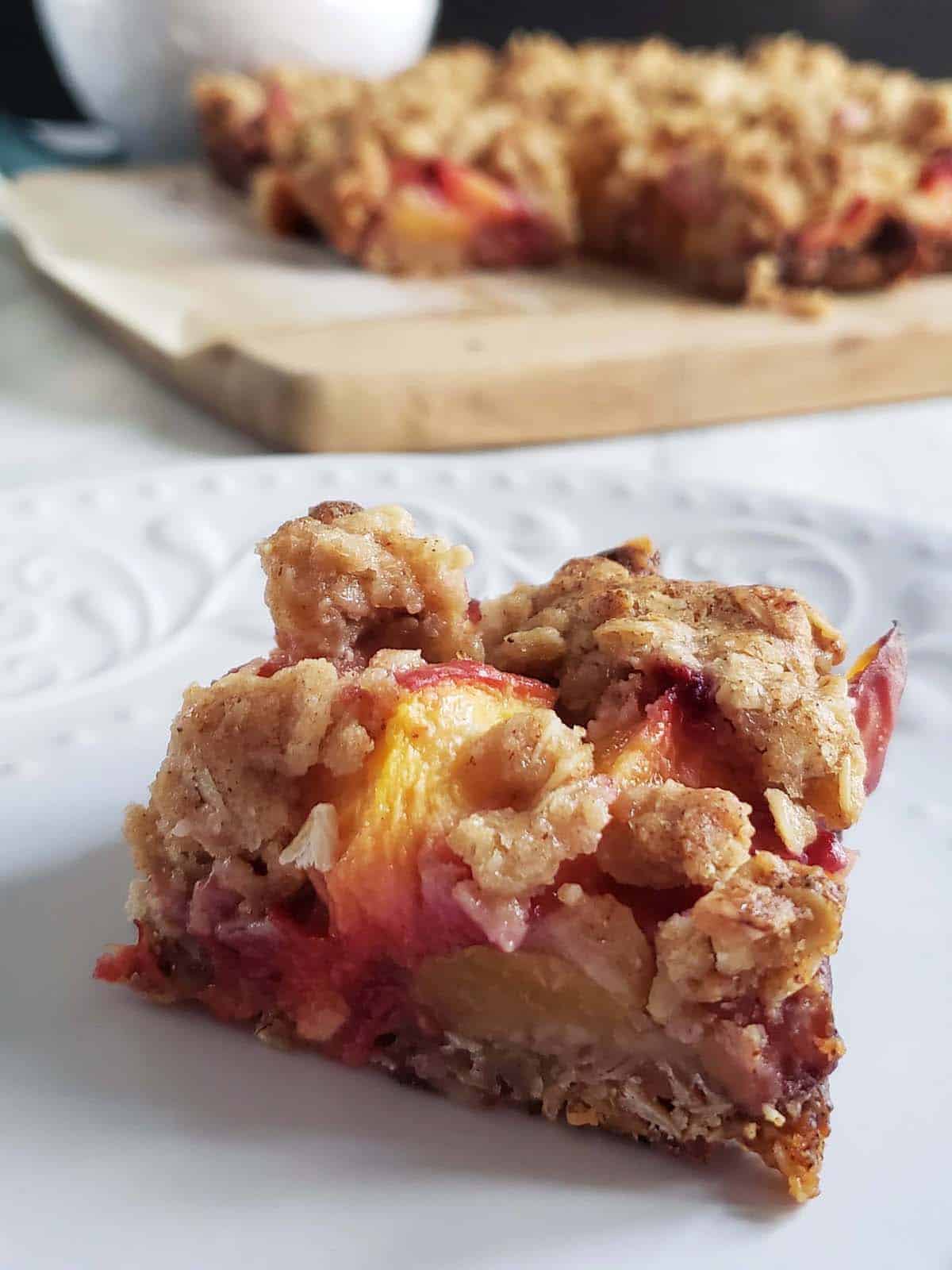 Storage
Refrigerator
Store peach bars in the refrigerator in an airtight container for up to one week.
Freezer
Cool the peach bars completely and cut them into squares.
Place the squares on a wax paper or parchment paper-lined baking sheet and freeze until solid, about 2 hours.
Layer the bars in a storage container separating each layer with sheets of wax paper or parchment paper.
Bars can be frozen for up to 3 months.
To thaw, place in the refrigerator overnight.
Frequently Asked Questions
Do you need to peel the peaches?
Peeling the peaches is optional but I prefer the texture of these bars when they are made with peeled peaches.
How do you cut peach bars smoothly?
For neater slices, allow the bars to cool for at least an hour before cutting. This will allow the peach filling to set. Use the parchment paper sling to lift the bars from the baking pan. Use a large serrated knife to easily cut even pieces.
Tips
Make the crumb base/topping ahead of time and store it in the refrigerator or freezer. You can also double the recipe and keep extra in your freezer for future use.
No fresh peaches? Substitute a good peach jam in place of the fresh peaches or try using thawed frozen or drained canned peaches.
Baking times for all recipes are only suggestions. The actual baking time will vary depending upon your oven. It is helpful to know your oven and worth purchasing an inexpensive oven thermometer. Oven temperatures can vary as much as 50 degrees plus or minus.
Refrigerating the bars for at least an hour before cutting ensures easy clean cuts.
Customize these bars by substituting your favorite stone fruit like plums, nectarines, or apricots for the peaches.
More Dessert Recipes
Thanks for Reading!
You can also follow along on Instagram, Pinterest, and Facebook for more recipe updates.
If you try this recipe, let me know! Leave a comment and rate it below! You can also snap a picture and post it on Facebook be sure to tag me @RaspberriesandKohlrabi.