This shrimp scampi flatbread pizza is so quick and easy to make.
Enjoy all of the amazing flavors of this classic dish on a pizza. Crispy flatbread is topped with succulent shrimp that are coated with a garlic-lemon sauce and smothered in gooey cheese.
Shrimp scampi isn't one of those fancy dishes that you can only have in a restaurant. Flatbread pizza is one of my favorite quick meals to serve for a weeknight dinner.
I like to make flatbread pizza using my Homemade Sourdough Flatbread or if you don't have a sourdough starter you can use this recipe for No Yeast Flatbread.
But store-bought flatbread or pre-made pizza crust will work just as well to make this yummy shrimp scampi flatbread pizza.
This page may contain affiliate links. I only recommend products that I would use myself. I may earn a small commission when you make purchases through these links at no additional cost to you. Thank you. As an Amazon Affiliate, I earn from qualifying purchases. For more information please read my Disclosure Policy.
Jump to:
Why You Will Love This Recipe
This recipe takes no time to make at all making it a great weeknight meal. Shrimp makes a great pizza topping because it cooks so quickly. If you love shrimp pizzas as much as I do you should try my recipe for Shrimp Pesto Pizza.
This flat bread pizza is full of flavor from the shrimp, garlic, and herbs to a splash of lemon juice and gooey mozzarella cheese. If you are a fan of shrimp scampi, you're going to love this pizza.
How to Thaw Frozen Shrimp
Depending on where you live frozen shrimp is cheaper and even fresher than fresh shrimp. Here are two ways to thaw frozen shrimp depending upon how much time you have.
If you have 24 hours: Place the frozen shrimp in the refrigerator overnight.
If you have less than 30 minutes: Place the frozen shrimp into a large bowl with very cold water. The shrimp should be completely thawed in about 15 minutes.
Ingredients
Shrimp: For pizza, I like to use small or medium size shrimp. If using large shrimp or jumbo shrimp cut them into smaller pieces before adding them to the pizza.
Olive Oil, Kosher Salt, and Baking Soda: Use these ingredients to quickly brine the shrimp which keeps them moist while they cook.
Butter and Olive Oil: Use butter and oil as the base for the sauce. The butter adds a rich buttery flavor. The olive oil has a higher smoke point and keeps the butter from burning.
Garlic and Red Pepper Flakes: Flavor the sauce with garlic and red pepper flakes.
Lemon Zest, Fresh Lemon Juice, and White Wine: All of these ingredients add acidic flavor to the sauce.
Oregano and Parsley
Flatbread: Use store-bought flatbread or make your own flatbread. I even have a recipe for a sourdough version as well.
Red Onion
Shredded Mozzarella Cheese and Parmesan Cheese: Use mozzarella for its melty gooeyness and parmesan for its salty umami flavor.
Directions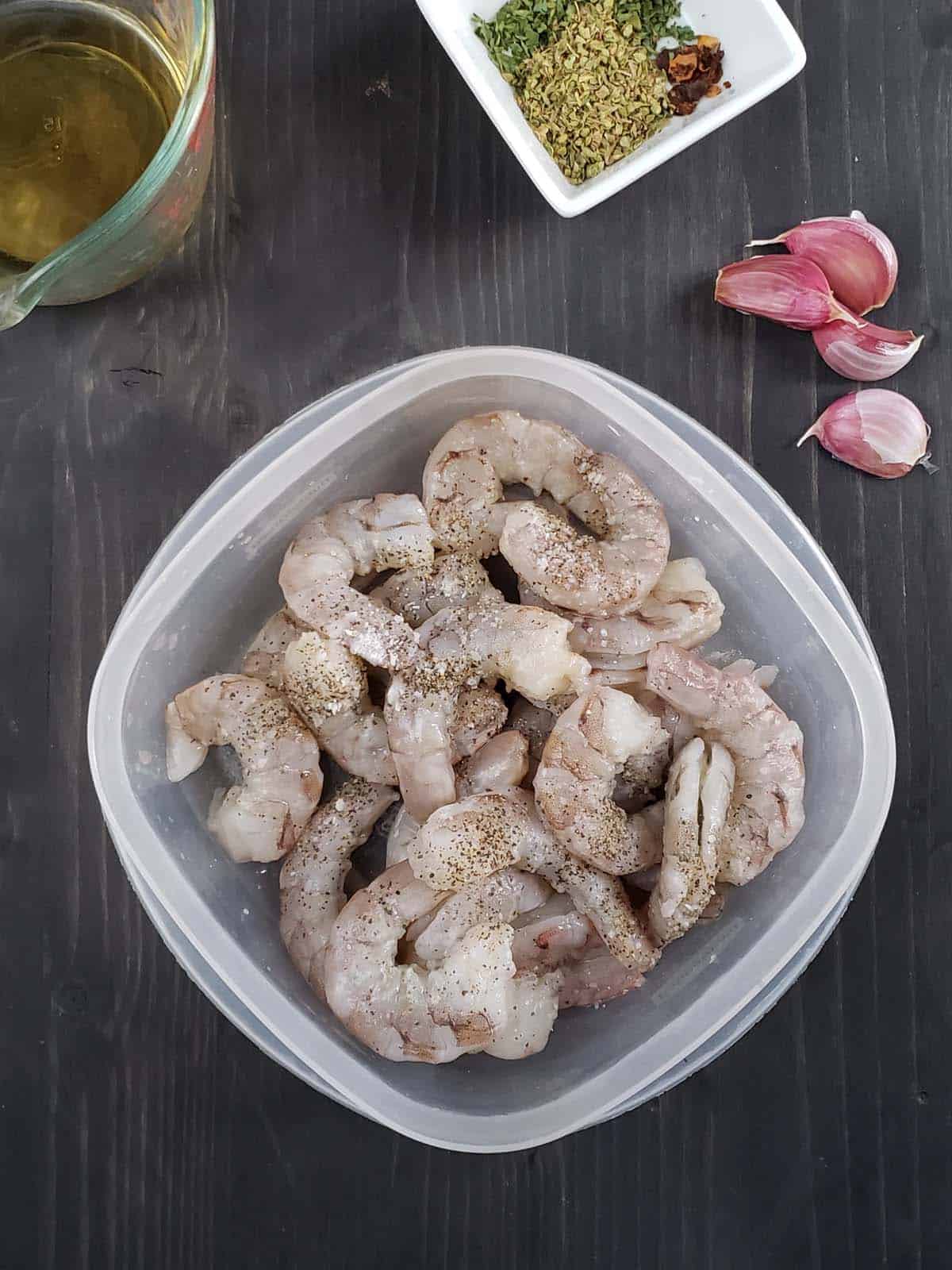 Pat the shrimp dry and toss in the olive oil, kosher salt, baking soda, and a few grinds of fresh black pepper. Chill in the refrigerator for at least 15 minutes and up to one hour.
Preheat the oven to 450 degrees Fahrenheit.
In a small skillet over medium heat, melt butter and olive oil until the butter has melted and is bubbly. Add the chopped garlic to the hot pan and cook for 2-3 minutes. Add the red pepper flakes and cook for an additional 30 seconds.
Add the lemon zest, lemon juice, white wine, oregano, and parsley. Cook until the liquid has reduced in half.
Place flatbread on a metal baking sheet and brush with the garlic butter sauce. Top with the shrimp. Sprinkle evenly with the mozzarella and Parmesan cheese.
Bake for 8 to 10 minutes until the shrimp is pink and opaque and the cheese has melted. Rotate the pan for even cooking
Garnish with chopped fresh parsley and let the pizzas cool for a few minutes before cutting.
Tips
The most time-consuming part of making this pizza is peeling the shrimp. To save time, purchase raw pre-peeled shrimp.
You can also use large or jumbo-sized shrimp. Slice them in half before placing them on the pizza so that they are thinner and will still cook quickly.
If you don't like shrimp, try substituting chicken. The chicken should be cooked before being added to the flatbread pizza.
For a vegetarian version substitute the shrimp with grilled zucchini, bell peppers, artichokes, eggplant, and/or summer squash.
Fresh herbs can be substituted for dried herbs. Increase the quantities to 1 tablespoon each.
This is my favorite pan for baking pizzas. It is perforated on the bottom to help ensure a crispy crust.
For easier cutting, allow the pizzas to cool for a few minutes before cutting.
Serving Suggestions
Really I think the best partner for this quick dinner is a salad. One of my favorites is this Kale and Apple Salad.
How to Store Leftovers
Refrigerate leftovers in an airtight container for 2-3 days. For best results, reheat in the oven. Leftovers can also be microwaved but the crust won't be as crisp.
How to Reheat
There are a couple of ways to reheat Shrimp Scampi Flatbread pizza.
Microwave: You can reheat it in the microwave at 30-second intervals but the flatbread will not be as crunchy.
Oven: Preheat the oven to 250 degrees Farenheight and bake the flatbread pizza on a sheet pan for 5-10 minutes. This is my favorite method.
Frequently Asked Questions
Why do you brine the shrimp?
The salt in the brine ensures the shrimp stays juicy as they cook. The alkaline baking soda increases the pH of the shrimp giving them a firm crisp texture. Just a short 15 minutes in a salt and baking soda brine ensures your shrimp will be juicy and succulent.
Can you put raw shrimp on pizza?
Yep! Because of its small size shrimp cooks really quickly. I use raw shrimp on this pizza to make sure it doesn't overcook. Over-cooked shrimp becomes dry and rubbery.
What can I use as a substitute for white wine in shrimp scampi?
The wine in this recipe is optional and can be omitted completely or substituted with chicken broth.
What wine is best for shrimp scampi?
If you are using wine in this recipe, try using a chardonnay or pinot grigio. A drier wine is best for shrimp scampi.
Looking for More Flatbread Pizza Recipes?
Thanks for Reading!
Please remember to Like, Share, Tweet, & Pin this Post.
I publish new recipes every week! Sign up for my email newsletter to be the first to know when new recipes are published.
If you try this recipe, let me know! Leave a comment and rate it! You can also snap a picture and post it on Facebook be sure to tag me @RaspberriesandKohlrabi.