Homemade flatbread pizza is one of my favorite emergency meals. I always keep flatbread in my freezer for those nights when it's 5 pm, everyone is hungry, and I need an easy dinner.
Flatbread makes a perfect base for delicious homemade pizza. I love using flatbread for pizza crust because unlike pizza dough it is already rolled out, shaped, and baked which saves me time in the kitchen.
I have used flatbread, naan bread, pita bread, and even tortillas as quick and easy pizza crusts.
I top them with a couple of our favorite toppings and cheese, bake them in a 425-degree Fahrenheit oven for about ten minutes, and add a quick salad for a delicious last-minute meal.
Keep reading for a list of amazing flatbread recipes for your next pizza night.
This page may contain affiliate links. I only recommend products that I would use myself. I may earn a small commission when you make purchases through these links at no additional cost to you. Thank you. As an Amazon Affiliate, I earn from qualifying purchases. For more information please read my Disclosure Policy.
Jump to:
Flatbread pizza is also a great way to use up random leftovers. A couple of nights ago we ordered gyros. Tonight I am going to make gyro pizzas.
My plan is to brush some flatbread with olive oil and top it with leftover gyro meat, caramelized onions, tomatoes, pepperoncini, and feta cheese. Once the pizzas have been baked I also have leftover tzatziki sauce for dipping.
Feel free to experiment with your homemade flatbread pizzas. You never know what delicious combination you will come up with.
What's the Difference Between a Pizza and a Flatbread Pizza?
The dough. Flatbread pizza is typically made with unleavened dough.
The shape. Pizza is usually round (or sometimes square) while flatbread pizza tends to be more oval and irregular in shape. Which to me feels like less pressure. When I make homemade flatbread pizza crust I let it roll out organically into whatever shape it wants to take.
The toppings. They also usually have less sauce, cheese, and fewer toppings than a traditional pizza.
How to Store and Reheat Leftovers
Leftovers should be stored in an airtight container in the refrigerator for up to five days. To keep the crust from becoming soggy allow the pizza to cool to room temperature before storing.
To reheat: Place the leftovers on a baking sheet and bake in a 375-degree Fahrenheit oven for 5 to 10 minutes.
Tips
Try making your own flatbread. Flatbread is incredibly easy to make. If you happen to be a sourdough baker I put together a recipe for a flatbread that uses sourdough discard. If you don't have a sourdough starter you can use this recipe for No Yeast Flatbread.
Don't add too many toppings. Because flatbread is thinner than regular pizza crust it's not going to hold up to mountains of toppings and cheese.
Pre-cook meat and hardier toppings. All meat should be pre-cooked before being used as a topping. Also, feel free to sauté your vegetables as well. I usually don't cook spinach, peppers, or mushrooms, but hardier vegetables like broccoli, cauliflower, or carrots have a better texture if they've been slightly cooked before being used as a topping.
Use a pizza stone or pizza steel. They will give you an amazingly crispy crust. You can even use it on your outside grill if you'd rather not heat up the kitchen.
Toppings to Try
Here are some traditional and non-traditional toppings to try. Pick your favorite pizza toppings this week and then try a new combination next week.
Or for a fun family night or party set up a flatbread topping bar and let everyone create their own homemade flatbread pizza.
Sauce
Meat
Seafood
Vegetables
Alfredo Sauce
Balsamic Vinegar
Barbecue Sauce
Hot Sauce
Hummus
Olive Oil
Pesto
Pizza Sauce
Ranch Dressing
Thousand Island Dressing
Tomato Sauce
Wing Sauce
Bacon
Chicken
Corned Beef
Beef
Chorizo
Duck
Ham
Lamb
Meatballs
Pancetta
Pastrami
Pepperoni
Prosciutto
Salami
Italian Sausage
Turkey
Venison
Anchovies
Crayfish
Lobster
Oysters
Salmon
Shrimp
Tuna
Artichokes
Arugula
Asparagus
Avocado
Beets
Bell Peppers
Black Beans
Broccoli
Brussels Sprouts
Butternut Squash
Cabbage
Cauliflower
Capers
Carrots
Cherry Tomatoes
Corn
Eggplant
Fennel
Garlic
Kale
Lettuce
Mushrooms
Mustard Greens
Onions
KOlives
Peas
Red Beans
Red Onion
Sauerkraut
Spinach
Sun-Dried
Sweet Potato
Tomatoes
Watercress
White Beans
Yellow Squash
Zucchini
Fruit
Herbs & Spices
Cheese
Apples
Berries
Cantaloupe
Cherries
Figs
Grapes
Honeydew
Peaches
Pears
Pineapple
Watermelon
Basil
Bay Leaf
Cardamon
Chilies
Chives
Cilantro
Coriander
Cumin
Dill
Garlic
Jalapeno Peppers
Laurel
Marjoram
Mint
Oregano
Parsley
Pepper
Rosemary
Sage
Tarragon
Blue Cheese
Brie
Camembert
Cheddar Cheese
Colby
Cream Cheese
Feta
Fontina
Goat Cheese
Gorgonzola
Gouda
Manchego
Monterey Jack
Parmesan
Mascarpone
Mozzarella
Muenster
Parmesan Cheese
Provolone
Ricotta
Romano
Swiss
If you prefer to follow an exact recipe try one of these amazing flatbread pizza recipes.
Easy Flatbread Pizzas
Buffalo Chicken Flatbread Pizza - This buffalo chicken flatbread pizza without blue cheese is perfect for a quick and easy weeknight dinner or makes a great appetizer for game day.
Spinach and Feta Flatbread - Flatbread pizza topped with fresh spinach, feta, mozzarella, and red onions.
Spinach Chicken Artichoke Flatbread Pizza - Easy Spinach Chicken Artichoke Flatbread Pizza makes such an amazing dinner topped with juicy chicken, fresh veggies, and gooey cheese.
Caramelized Onion Pesto Flatbread - Flatbread pizza topped with pesto, caramelized onions, and mozzarella.
Shrimp Pesto Flatbread - Shrimp pesto flatbread pizza is topped with succulent shrimp, juicy tomatoes, bright pesto sauce, and gooey cheese for a delicious combination of flavors.
Pepperoni Flatbread Pizza - This is a quick and easy pepperoni pizza made with three kinds of cheese.
Grilled Flatbread Pizza with Berries and Fontina - This flatbread pizza is topped with juicy sweet berries and creamy Fontina cheese.
Easy Zucchini and Corn Grilled Naan Pizza - With fresh zucchini and corn this is the perfect late summer flatbread pizza.
Flatbread Pizza - Easy 5-minute flatbread pizza that your kids will love! This pizza makes a wonderful summer meal when you don't want to spend much time in the kitchen.
Chipotle Chicken Sweet Potato and Black Bean Flatbread Pizza - Get your Mexican and pizza fix all in one healthy-ish meal.
Garlic Roasted Tomato and Spinach Flatbread - This Garlic Roasted Tomato and Spinach Flatbread is crispy, smothered in cheese with sweet garlic roasted cherry tomatoes and spinach.
Falafel-Spiced Chickpea Flatbreads - Middle Eastern spiced chickpeas, tahini, herbs, Siracha, and tzatziki sauce topped this flatbread pizza.
Easy Caprese Flatbread Pizza - This Caprese Flatbread Pizza is topped with sliced mozzarella, juicy tomatoes, fresh basil, and drizzled with a balsamic glaze. It is a super easy recipe that the whole family will love!
Grilled Flatbread with Figs, Prosciutto, and Arugula - This delicious flatbread pizza is topped with fontina cheese and a sweet balsamic glaze.
BBQ Chicken Naan Pizza - A super easy pizza recipe using store-bought naan bread, tangy bbq sauce, and tender white meat chicken. Customize the toppings for a family favorite in 20 minutes or less!
Greek Lamb Flatbread Pizza - This Greek-inspired pizza is topped with a garlic-mint sauce and fresh cucumbers.
Indian Naan Pizza Recipe - This Indian naan pizza recipe is a brilliant way to use up leftover naan. Naan bread makes an excellent base for pizza, and if you already have the naan, it comes together in 15 minutes flat! It's a very customizable, kid-friendly snack that you just can't go wrong with!
Naan Potato Pizza - This yummy potato pizza is topped with a spicy radish top pesto and smoked mozzarella.
Goat Cheese Flatbread - This amazing flatbread pizza has a mix of roasted vegetables, tangy goat cheese, and creamy mozzarella. It's easy to make and full of flavor.
Easy Steak Gorgonzola Flatbread - This flatbread pizza is topped with steak, cherry tomatoes, arugula, and gorgonzola cheese.
Peach Burrata Pizza - Peach Burrata pizza has creamy burrata, fresh basil and peaches, almonds, and a honey balsamic drizzle!
Steak, Egg, and Arugula Flatbread - Serve a traditional steak and egg breakfast for dinner on this delicious flatbread pizza.
Italian Flatbread Pizza - This Italian Flatbread Pizza is topped with pesto, dried tomatoes, fresh mozzarella, prosciutto, thyme & olive oil. So easy and perfect for an appetizer or light lunch!
Philly Cheesesteak Flatbread - All of the delicious cheesesteak ingredients are served as a flatbread pizza.
Smoked Salmon Flatbread - This smoked salmon flatbread is super quick, like 15 minutes quick, and makes a great lunch, light dinner or party appetizer.
Taco Flatbread Pizza - Start with flatbread layered with spiced tomato bean sauce, chipotle ranch chicken, and melty cheese, and top it with lettuce, tomatoes, avocado, bacon, tortilla strips, and creamy ranch dressing.
Easy Vegetable Flatbread Pizza - This individual-size flatbread pizza gets ready in under 15 minutes and is an ideal dish to incorporate more vegetables and engage kids in kitchen activities.
Grilled Mexican Pizza with Shrimp Ceviche and Avocado Hummus - A grilled flatbread (or pizza crust) smeared with creamy avocado hummus topped with crumbled, lean chorizo and cotija, and the pièce de résistance - shrimp ceviche.
Zucchini Flatbread - Make this healthy zucchini flatbread to up your veggies in the diet. It is wholesome, nutritious, and prepared using whole wheat flour and fresh zucchini.
Homemade Turkish Lahmacun - Homemade Turkish Lahmacun is a super-thin crispy flatbread topped with minced beef or lamb mixed with vegetables, herbs, and spices. You can find this popular street food everywhere in Turkey, in restaurants, cafes, and fast-food shops. Lahmacun is often called "Turkish pizza" or "Lahmacun pizza" in Western countries.
Red Wine Caramelized Onion Flatbread - This Red Wine Caramelized Onion Flatbread recipe has a beautifully balanced flavor profile and is easier to make than you might think. It's the perfect little bite to nibble on!
Pistachio Rosemary Flatbread Pizza - If you're craving pizza, but want to keep things on the lighter side, this Healthy Flatbread Pizza Recipe is the way to go! Pistachio, rosemary, and ricotta create an elegant flavor profile, but you can use the same method and customize the toppings to make it your own.
Roasted Vegetable Flatbread Pizza - Roasted Vegetable Flatbread Pizza is the perfect weeknight winter meal when tomato and basil are out of season! Loaded with roasted veggies like winter squash, onion, carrot, zucchini, and bell pepper, these pizzas are interchangeable to add the ingredients you love!
Speedy Pesto Flatbread Pizza - This speedy pesto flatbread pizza recipe combines homemade pesto with piquant sun-dried tomatoes and creamy goat's cheese for a truly decadent treat.
Chicken Mozzarella Flatbread Pizza - You will love this savory Chicken Mozzarella Flatbread Pizza. Pull it together in no time with rotisserie chicken!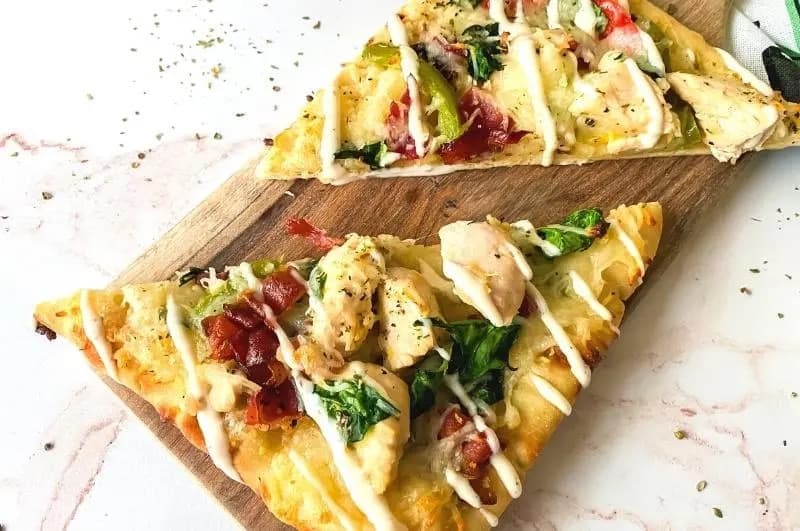 Chicken Bacon Ranch Flatbread - Chicken Bacon Ranch Flatbread is one of those dishes that will please even the pickiest eaters. Who doesn't love pizza AND they get to customize it. Even better, it's so quick and easy, it's a PERFECT weeknight meal!
Chicken Curry Flatbread - Chicken curry flatbread is a delicious way to make a weeknight dinner with lots of taste and little effort.
Thanks for Reading!
You can also follow along on Instagram, Pinterest, and Facebook for more recipe updates.
If you try this recipe, let me know! Leave a comment and rate it below! You can also snap a picture and post it on Facebook be sure to tag me @RaspberriesandKohlrabi.