Have a garden full of fresh mint? Here is a collection of fresh mint recipes to help you utilize an abundance of this bright fresh herb.
Mint is such a versatile herb, there are so many ways to prepare it! Add it to drinks, main dishes, side dishes, and desserts. Here are some of my favorite ways to use fresh mint.
Jump to:
What Does Fresh Mint Taste Like?
Mint has a sweet cool flavor making it great for the summer months. Try adding it to cocktails, cream sauces, curries, fruit salads, a glass of lemonade, marinades, and soups. The addition of mint is an amazing way to add a nice cooling flavor to spicy dishes. Spearmint has a sweeter flavor while peppermint has a much stronger flavor.
There are over 600 different types of mint including chocolate mint, orange mint, apple mint, spearmint, and peppermint.
For the best flavor only use mint leaves, not the stems which can be tough and woody.
How to Choose Fresh Mint
Look for mint sprigs with vibrant color and fresh aroma. Go ahead and open up those plastic boxes for a sniff. I won't tell anyone.
Avoid mint that is limp, yellowing, has black spots, or doesn't look and smell completely fresh. For some of the freshest herbs consider stopping by your local farmers market.
How to Store
Remove any rubber bands, trim the base of the stems with scissors or a knife, and remove any wilted leaves.
Fill a glass jar with an inch of cold water. Place the mint stem down into the water and cover the tops with a plastic bag.
Secure the bag with a rubber band and place it in the refrigerator.
Mint will last up to three weeks in the refrigerator using this storage method. You may need to add more water to the jar if stored for a long time.
How to Wash Fresh Mint
Wash mint just before you are ready to use it. Put the mint in a bowl of water and swish it around to loosen any dirt. Pat it dry using a clean cloth or spin it in a salad spinner.
This is my favorite salad spinner! I have been using it several times a week for years and it still looks brand new. It even comes apart in several pieces to make cleaning easier.
For information on how to store and cook with a variety of fresh herbs, including mint, check out my post on cooking with fresh herbs.
What Foods Pair Well With Mint?
Lamb
Carrots
Eggplant
Fruit
Mushrooms
Potatoes
Tomatoes
Zucchini
Watermelon
Beans
Lentils
What Can I Make With Fresh Mint?
Savory Dishes
Pea and Mint Soup - Full of fresh, vibrant flavors, my Pea and Mint Soup is simple to prepare and so delicious. This tasty homemade soup can be served both hot or cold and comes together quickly. Try a bowl of this tasty vegan pea soup today!
Leg of Lamb with Fresh Mint Sauce - This fresh mint sauce is perfect with lamb. A classic English sauce made with minimal ingredients.
Lemon and Mint Hazelnut Chicken - The bright flavors and aromas of lemon and mint come together with hazelnut chicken to bring you a healthy and delicious dinner recipe. Paleo and gluten-free, this chicken is not lacking in flavor and is so easy to prepare!
Shrimp Biryani- This shrimp biryani is a hearty meal made with turmeric and lime-flavored basmati rice. It's finished with a mint and cashew fry that leaves refreshing ambrosial essence.
Black Lentil Salad with Roast Carrots, Feta, and Pomegranate - A simple, healthy, and delicious black lentil salad with soft and earthy beluga lentils, honey roast carrots, pomegranate, fresh mint, and crumbled feta.
Tagliatelle with Tricolour Tomatoes, Edamame, and Mint - A light, refreshing, and very tasty springtime meal with fresh egg tagliatelle, colorful tomatoes, edamame, and mint.
Sous Vide Lamb Chops with Mint Chimichurri - These Sous Vide Lamb Chops are ultra-tender and juicy (never dry or tough) and served with the most incredible homemade mint chimichurri that you won't be able to stop eating!
Chicken Spring Rolls with Peanut Sauce - These Chicken Spring Rolls with Peanut Sauce are easy to make, healthy, and delicious! Made with fresh ingredients, shredded chicken, and dipped in a homemade peanut sauce, these spring rolls will be a go-to light meal or appetizer.
Caldo de Albondigas - Caldo de Albondigas is a hearty Mexican meatball soup. Made with fresh mint and other spices to create a truly comforting and flavorful meal.
Turkish Roasted Red Pepper and Tomato Soup - Simple, light, and satisfying, this vegan roasted red pepper soup with Turkish flavors is perfect for cold, post-holiday evenings when you want something light yet warming and filling. The red peppers add depth, the tomatoes a touch of acid brightness, and the mint a floral kick.
Thai Pork Burger - The Best Thai Pork Burger Ever is the most flavorful and unique burger that you will ever have. It has all of your favorite flavors from Thailand and is topped with extra special veggies. The burger is topped with bok choy, purple onion, and sprouts. An amazing peanut sauce is used as the condiment and everything lies between two buttery grilled buns.
Corsican Cheese Lasagne - You'll never look at a spinach and ricotta lasagna the same way after tasting this version with mint. Just don't tell the neighbors in Antoine's hilltop village in Corsica that I told you.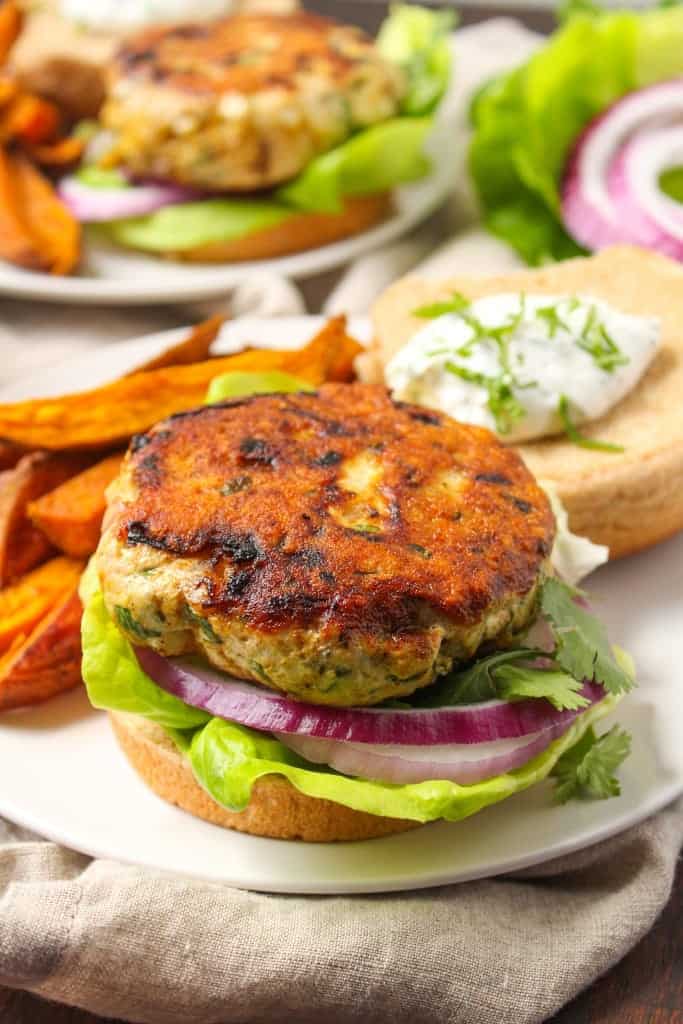 Curry Turkey Burgers with Mint Yogurt Sauce - Flavorful and juicy curry turkey burgers are topped with a yogurt mint sauce for a delicious meal! They can be made on either the stovetop or the grill.
Side Dish
Pea Shoots Pasta - Simple Pea Shoots Pasta recipe that's delicious and healthy! Farfalle pasta is mixed with pea shoots, peas, mint, and Parmesan cheese to make a 30-minute easy recipe that your family will love!
Mint Lentil Salad - This mint lentil salad recipe is super tasty and very unique. I will share my secret on how to make the lentils taste mega delicious by just adding a couple of simple ingredients.
Orange Pomegranate Salad with Mint Lime Dressing - This flavorful salad is bursting with sweet and sour flavors. The main stars here are oranges and pomegranate seeds. They are complemented by an amazing mint lime dressing, crunchy walnuts, and salty feta cheese.
Peach Arugula Salad with Basil Mint Vinaigrette - Peppery arugula leaves combine with toasted almonds and sweet juicy peaches tossed in a fresh homemade Basil Mint Vinaigrette for a refreshing salad.
Asparagus Avocado Salad - Five-ingredient Asparagus Avocado Salad combines crisp asparagus and creamy avocado with lime and fresh mint in a delightful combination of flavors and textures. It's easy to make in 15 minutes and can be enjoyed as a starter or side dish.
Summer Berry Mint Salad - This vibrant summer berry mint salad is the perfect picnic or lunch dish during the warm months. With blackberries and nectarines topped with a perfectly sweet blueberry and fresh mint dressing.
Asparagus, Ricotta, and Mint Tartlets - Crispy puff pastry is the perfect bed for a topping of asparagus, fresh ricotta, and fresh mint. Asparagus, ricotta, and mint tartlets are perfect for summer.
Watermelon Salad - A refreshing summer salad with sweet watermelon and mint, topped with creamy, tangy feta in a garlic herb dressing.
5 Ingredient Pasta Salad - This bright and colorful salad featuring mint and Cantleloupe boasts an unexpected refreshing sweet flavor.
Couscous Tabbouleh - This Couscous Tabbouleh Salad is an easy no-cook filling summer salad that's great as a side dish or a light vegan lunch. It's loaded with fresh herbs, including mint, and has a light lemony dressing.
Tomato Balsamic Mint Salad - Tomato, balsamic, and fresh mint salad is a light and healthy addition to a summer meal.
Zucchini Ribbon Salad - Zucchini ribbon salad with fresh mint, lemon, and feta is a delicious and light summer dish.
Malfouf Salad (Lebanese Cabbage Salad) - This refreshing crunchy Lebanese slaw is made with fresh herbs and olive oil and lemon dressing. Taking less than 10 minutes to make it is a delicious side to many dishes.
Goat Cheese and Blackberry Crostini - Easy and delicious, this goat cheese, blackberry, and mint crostini make the perfect party appetizer all year round!
Winter Citrus Salad - This easy, 30-minute Winter Citrus Salad is filled with arugula, 3 kinds of citrus fruit, avocado, almonds, and fresh mint. The homemade honey dressing is the perfect pairing!
Kisir - Kisir is a Turkish whole-grain salad made with bulgur wheat, fresh herbs, vegetables, and a tangy dressing. This delicious, healthy, and filling Turkish Bulgur Salad is great to enjoy on its own, but also perfect as a meze or side dish with any grilled meat, chicken, or fish.
Za'atar and Mint Butter Bean Salad - For nights when you're throwing chicken or steak on the grill and need an easy salad, or for days when you want something a little different for lunch that doesn't require cooking, Za'atar, and Mint Butter Bean Salad is perfect! The rich, creamy texture of butter beans here pairs really well with the fresh crunch of green pepper and bright-flavored herbs.
Creamy and Smoky Roasted Eggplant Dip - One of my favorite dips of all time is this mutabal. Roasted and smoked eggplants are puréed with yogurt, tahini, garlic, and finished with fresh mint and pomegranates. Absolutely amazing.
Watermelon Skewers with Feta and Mint Pesto - These take-along watermelon skewers with feta and mint pesto dressing are a quick and easy appetizer or snack for your next outdoor gathering, BBQ or picnic! Enjoy these delicious and healthy watermelon skewers on a hot summer day!
Orange Pomegranate Salad - This flavorful salad is bursting with sweet and sour flavors and is a welcome addition to any table. The main stars here are oranges and pomegranate seeds. They are complemented by an amazing mint lime dressing, crunchy walnuts, and salty feta cheese.
Mediterranean Bean Salad - Simple, flavorful ingredients combine to make this Mediterranean Bean Salad a wonderful light dinner on its own or a fresh side dish served alongside your favorite protein!
Sauces
Cilantro-Mint Chutney - Cilantro-mint chutney is a spicy, lemony Indian chutney made with a base of mint leaves and cilantro. This chutney is incredibly versatile and works with sandwiches, meat, marinades, sides, etc.
The Best Homemade Tzatziki - This is the best homemade Tzatziki recipe you will find! Creamy, fresh, and oh so delicious, it's the perfect summer condiment!
Mint Yogurt Sauce - Mint yogurt sauce is a traditional Lebanese dip for bread and veggies. It can be used for salads and for sandwich spreads as well.
Mint Extract - This homemade mint extract recipe is a great cost-effective alternative to the store-bought version. It is super easy to prepare and you will only need 2 ingredients.
Green Goddess Dressing - Green Goddess Dressing is a smooth, creamy, and bright herb sauce ready in only 10 minutes.
Mint Basil Pesto - This mint basil pesto is a fun twist on the traditional recipe, made with fresh mint and pumpkin seeds. Perfect for pesto pasta!
Mint Chimichurri - a flavor-packed no-cook sauce full of fresh herbs with a touch of chili. The perfect partner for lamb!
Roasted Salsa - This fresh, minty, and zesty roasted tomato salsa recipe is perfect for late summer parties, game days, and any day!
Drinks
Minty Green Iced Tea - This Fresh Mint Tea is a refreshing drink for any hot day!
Cucumber Agua Fresca - This easy, refreshing Cucumber Agua Fresca (Agua de Pepino) is the perfect Summer drink. This recipe has cucumber, mint and lime poured over ice.
Gin Mojito - This gin mojito is the perfect mojito recipe for anyone who loves gin. Made just like a classic mojito, but without rum. Lime juice, fresh mint leaves, sugar, and gin are muddled together, then topped with a dash of club soda for a refreshing, light summer drink.
Mint Mojito Iced Coffee - For a unique & amazing beverage, you must try this Mint Mojito Iced Coffee. It is sweet, creamy, & cool with fresh mint, for a sip that you cannot resist.
Berry Mint Smoothie - Berry mint yogurt smoothie has the perfect combination of flavors. This smoothie is a delicious healthy treat.
Moroccan Mint Lemonade - This Moroccan mint lemonade recipe is bright, refreshing, and unlike any other lemonade, you've tasted!
Honeydew Smoothie - A refreshing, frosty summer drink made with honeydew melon, fresh mint, and lemon juice.
Sparkling Watermelon Refresher - This Sparkling Watermelon Refresher is a delightful summer drink you can make in your blender with only 4 ingredients and no added sugar. Subtly flavored with fresh mint and lime juice, enjoy it with plenty of ice as the ultimate fruity thirst quencher.
Watermelon Mint Juice - Watermelon mint juice screams summer and refreshment. It is a great drink made from fresh watermelon and mint.
Raspberry Mojitos - These Raspberry Mojitos are so easy to make and the delicious flavor of fresh muddled mint goes perfectly with fresh ripe raspberries!
Coconut Mojito - Enjoy a refreshing glass of this homemade coconut mojito, perfect for hot summer days.
Citrus Herb Picnic Punch - A fresh and refreshing make-ahead cocktail everyone will enjoy. Orange and lemon juices mixed with vodka and fresh herbs make this drink perfect for any get-together.
Honey Jalapeno Mint Pineapple Spritzer - This Honey Jalapeño Mint Pineapple Spritzer is refreshing and made with fresh pineapple juice, vodka, a hint of honey, and fresh mint with a jalapeño bite.
Blueberry Mojitos - These refreshing blueberry mojitos are the perfect rum cocktail for a warm summer night. The same mint, lime, and white rum base as a regular mojito with a fruity blueberry twist.
Teheran Mule - In just 2 minutes and with just 3 ingredients you can make this deliciously refreshing ginger beer mocktail. Refreshing, sparkling and slightly sweet with lime, mint & ginger beer this is a grown-up drink - just without the alcohol.
Banana Mango Spinach Smoothie - This Mango Spinach Smoothie with Mint & Ginger is a delicious, quick, and easy breakfast or snack that both kids and adults love. Sweet and fresh with a gingery kick - and loaded with half of all the greens you need in a day.
Chocolate Mojito - This chocolate mojito is the perfect mojito for fall and winter. Made with homemade chocolate simple syrup, fresh mint, lime, rum, and club soda. Easy to make for a couple of people or a crowd in less than 5 minutes.
Limonana - This Limonana recipe (Middle Eastern Frozen Mint Lemonade) is sweet, tart, refreshing, and perfect for cooling down on a hot day!
Fresh Lemon Cucumber Mint Water - Fresh mint enhances this refreshing infused water. Cucumber and lemon combined with mint is a great way to quench your thirst this summer.
Desserts
Fresh Mint Brownies - These fresh mint brownies are made in one bowl, with creamy melted chocolate and bright freshly chopped mint leaves.
Fresh Mint Chocolate Chip Cookies - These fresh mint chocolate chip cookies are the perfect combination of crispy on the outside and soft and gooey in the middle.
Coconut Mint Ice Cream - Coconut mint ice cream with fresh mint is the perfect no-churn ice cream recipe for summertime! Fresh mint ice cream is so simple and easy!
Grilled Pineapple with Lime Mint Sauce - This grilled pineapple recipe with minted lime sauce is a gorgeous, simple dessert that makes an already delicious fresh fruit really shine.
Sugar-Free Strawberry Mint Popsicles - Cool off with strawberry popsicles made with fresh mint! The perfect, sugar-free treat, with a refreshing flavor.
Easy Strawberry Mint Sorbet - You don't need an ice cream maker to make this refreshing strawberry mint sorbet! This simple recipe is made with fresh strawberries and mint leaves and includes a vegan option, too!
Watermelon Salsa with Cinnamon Tortilla Chips - Watermelon Salsa with Cinnamon Tortilla Chips is a refreshing summer dessert or appetizer, perfect for serving at backyard parties. Packed with juicy watermelon, this salsa is a quick and easy summer appetizer the whole family will love!
Strawberry and Mint Fruit Salad - This simple strawberry and mint fruit salad recipe is fresh and healthy. It's super easy to make but it looks good enough to be served as a special occasion dessert.
No-Bake Mojito Cheesecakes - This cheesecake comes in its own jar, is no-bake, and it's got the classic flavors of a mojito with lime and fresh mint!
Chocolate Ice Cream with Fresh Mint - This chocolate mint ice cream is infused with fresh mint, and is an egg-free, extra-creamy summer treat. Inspired by Jeni's Splendid Ice Cream!
Watermelon Popsicles - These fresh watermelon popsicles require just 4 ingredients (3 are optional!) and a few minutes of prep for a super refreshing, tasty, and healthy low-calorie frozen summer treat that both kids and adults will love!
Mojito Cake - Amazing harmony of sweet and tangy flavors can be found in this Mojito Pound cake, and it´s super quick and easy to make.
Mint Coconut Ice Cream Bars - Easy vegan mint chocolate chip ice cream bars made with just 6 ingredients and real mint!
Watermelon Mojito Sorbet - This watermelon mojito sorbet is a refreshing treat for summer! This easy sorbet only requires 4 ingredients: watermelon, lime, fresh mint, and water or rum.
Thanks for Reading!
If you try this recipe, let me know! Leave a comment and rate it below! You can also snap a picture and post it on Facebook or Instagram be sure to tag me @RaspberriesandKohlrabi.