These easy healthy freezer meals for new moms are a great way to stock you freezer as you prepare for a new baby. They also make a great gift for expectant parents.
For most of my life, I never worried about having freezer meals ready to go. I enjoyed cooking and had time most evenings to do so. Then I found out I was pregnant and the panic set in.
This page may contain affiliate links. I only recommend products that I would use myself. I may earn a small commission when you make purchases through these links at no additional cost to you. Thank you. As an Amazon Affiliate I earn from qualifying purchases. For more information please read my Disclosure Policy.
I was going to be someone's MOM! How would I have time to cook while keeping a baby alive! Money was tight and I knew we couldn't afford to order in food every night.
I immediately started researching healthy freezer meals for new moms that I could make in advance for our growing family. I even convinced Tom to buy a small deep freezer so that I could fill it up with freezer meals.
By the time our son was born, I had an entire month's worth of healthy freezer meals ready to thaw and reheat. Here are a few of my favorites.
Single-serving breakfasts
After our son was born, I was only able to take five very short weeks off of work. Most mornings it was just me and Sebastian. I stocked up on easy single-serving breakfast freezer meals that I could reheat just for me. Bonus points were given for items I could eat single handily.
Two of my favorites were these freezer-friendly Crispy Waffles and Pumpkin Spice Pancakes: Mmm waffles and pancakes! I don't think anything more needs to be said.
Freezer-Friendly Breakfast Burritos: Breakfast burritos are one of our staple breakfasts. They also happen to freeze really well. Try this delicious recipe from Life Made Simple.
Muffins: Muffins are the ultimate single serving one handed breakfast. Here are a few recipes that I like to keep stocked in our freezer.
Quick Breads: I love making up a loaf of quick bread to eat for breakfast. They freeze really well and defrost quickly because I bake them in mini loaf pans. Here are a few of my favorites.
If you know me then you know I love all breakfast carbs. But some mornings I craved protein. I love having these Ham, Leek, and Hashbrown Muffins on those mornings.
Smoothies: Pre-portioned smoothie packs make a great breakfast especially in the summer months.
This Strawberry Banana Chocolate Chip Smoothie was always my go to.
Dinner
Creamy Leek, Potato, and Bacon Soup: This is one of my all-time favorite meals. I have been making this soup for years. It is so easy to make with just a few simple ingredients. Because there is no added cream it also freezes really well.
Bacon-Wrapped Smoked Meatloaf: Meatloaf is America's classic comfort food. This Bacon Wrapped Smoked Meatloaf is so good! It is tender, juicy, smokey, and is topped with a tangy-sweet glaze.
Dutch Oven Beef Stew: This recipe for Beef Stew in a Dutch Oven includes tender fall apart beef, mixed with delicious vegetables, and served in a thick beefy sauce.
Sticky Chicken with Vegetable Fried Rice: Stir-fries are a great way to increase your servings of vegetables and use up any vegetables lingering in your refrigerator. You can chop up all of the vegetables and meat in advance and make up the sauce and freeze it separately. Try this recipe from Recipetin Eats.
Sourdough Chicken Strips: These sourdough discard fried chicken strips are tender, juicy, and crispy. They have just a slight tang from the sourdough discard.
Pioneer Woman's Sloppy Joes: This is my go-to recipe for sloppy joes. A few years ago when we decided to start cutting out processed foods canned Manwich was the first to go. This was the first sloppy joe recipe I tried and it was absolutely delicious. It is incredibly easy to make and freezes really well.
Homemade Spaghetti Sauce: Spaghetti sauce is one of the ways I like to use up excess vegetables. For my spaghetti sauce, I saute whatever vegetables are in the refrigerator plus an onion in olive oil until they are tender. I then add a couple of cans of diced tomatoes, some garlic, oregano, parsley, basil, sugar, salt and pepper to taste. I let everything simmer until heated through. It tastes amazing alongside my homemade meatballs which are also freezer-friendly.
Marinated Chicken Breasts: Sweet Peas and Saffron pretty much wrote the book on marinating and freezing chicken breasts.
Homemade Chicken Noodle Soup: I follow all of the steps except adding the noodles. Pasta doesn't always freeze well and can become soft and gooey. I wait to add the noodles until I reheat the soup. Here is a wonderful recipe from The Forked Spoon.
Oven Roasted Tomato Soup: Tom has never liked tomato soup so I make a big batch of this soup and freeze it in individual portions for a quick and easy lunch.
Chicken Tortilla Soup: a great lunch or dinner idea that is full of flavor and freezes well! Add your favorite toppings for a healthy or not so healthy meal. Try this recipe from the Snappy Gourmet.
Sheet Pan Chicken Fajitas: This Chicken Fajita Freezer Meal is filled with tender juicy chicken, charred bell peppers and onions, wrapped in a warm tortilla and topped with your favorite toppings. It is delicious, so easy to make, and tastes better than any restaurant meal for a fraction of the cost.
Casseroles
Nothing is easier than removing a casserole from the freezer and placing it straight into the oven. As a general rule heat most frozen casseroles at 350 degrees Farenheight for one hour.
Four Cheese Lasagna: This four-cheese lasagna is filled with gooey cheese and homemade pasta sauce. Paired with a salad and garlic bread this is a great meal for a large group.
Classic Chicken Pot Pie: As a variation, I prepare the filling and freeze it. When I am ready to bake the chicken pot pie I place the filling in my dutch oven and then make up a quick batch of drop biscuits for the top. Here is a great recipe from Spend with Pennies.
One Pan Tuscan Chicken Pasta Bake: Another one of my favorite freezer meals from Sweet Peas and Saffron.
Easy Baked Ziti Casserole: Who can say no to a cheesy casserole? Not me. Try this yummy casserole from Tastes of Lizzy T.
Stuffed Green Pepper Casserole: This simple and delicious healthy and gluten-free Stuffed green pepper casserole, made with instant rice and lean ground beef is smothered in gooey melted cheese (low-fat), is easy to make and requires no stuffing! It can be made ahead and frozen for a quick weeknight meal. 6 Weight Watchers Freestyle Points Per serving. A delicious casserole from Food Meanderings.
Slow Cooker
I am a big fan of slow cooker meals. The slow cooker is a great way to turn a cheap cut of meat into a tender juicy meal.
Easy Slow Cooker Chili: Chili is one of my favorite freezer meals. It is so easy to make a huge batch and freeze the leftovers. Honestly I think the leftovers taste even better than the original batch of chili.
Crock-Pot Beef Barley Stew: I love packaging up and freezing the ingredients for slow cooker freezer meals. Nothing could be simpler on a busy morning than dumping ingredients in a slow cooker and turning it on. Try this stew from Crock-Pot Ladies.
Crockpot Black Bean Soup: This crockpot black bean soup is the perfect thing to serve up as the weather cools down. It's super easy to make, just chop an onion, a bell pepper and pour all of the ingredients in a slow cooker! Freezer instructions included. Find the recipe at Savor and Savvy.
Crock Pot Stuffed Peppers – These stuffed peppers from Sweet Peas and Saffron are made with just five ingredients.
Instant Pot
I am new to the instant pot world. In fact, right now I am borrowing my mother's instant pot to make sure I like it and it is worth the counter space. Here are a few instant pot freezer meals I am looking forward to trying out.
Easy Instant Pot Chicken Fajitas: Ready to make some super flavorful Instant Pot Chicken Fajitas? Making Chicken Fajitas in the Instant Pot takes no time at all and can be a healthy dinner option. Prep ahead and freeze portions till when needed. Try this recipe from Recipes from a Pantry.
Instant Pot Pumpkin Curry: This Instant Pot pumpkin curry is so rich, warming, and delicious! Made so easy in the Instant Pot, this family-friendly recipe is healthy and filling. Try this recipe from Little Sunny Kitchen.
Instant Pot Chicken and Cheese Taquitos: In just 45 minutes you can go from frozen chicken breasts to the delicious taquitos. These taquitos also freeze and reheat really well. Check out the recipe at Thriving Home.
Pressure Cooker Balsamic Ginger Chicken: This delicious chicken recipe can be made in a pressure cooker in less than 30 minutes. Visit This Old Gal for the recipe.
Vegetarian
We are experimenting with purchasing our meat from local farms. The biggest downside so far is the cost. To help us stick to our food budget we are having some meat-free days. Here are a few of our favorite vegetarian freezer meals.
Creamy Vegan Sweet Potato Lentil Soup: Gluten free, vegan sweet potato and lentil soup is a healthy and tasty meal that will satisfy both your hunger and your tastebuds. This delicious vegetable soup is smooth and filling as well as simple to make. Sweet potato and lentil soup comes out creamy, savory, and decadent thanks to ingredients that not only taste amazing, but are nourishing for your body as well. Make this recipe from Happy Kitchen.
Vegetarian Chili With Sweet Potatoes: Nutrient-dense vegetarian chili made with hearty protein from beans and lentils, and richly flavored with aromatic spices. Perfect for meatless Monday. Find the recipe at Buttered Veg.
Spring Vegetable Lasagna: Enjoy this vegetarian lasagna filled with layers of zucchini, spinach, peas, and creamy ricotta. Find the recipe at Delish Knowledge.
Desserts
Lets be honest parenting is hard, which is why I also made sure our freezer was stocked with pre-portioned balls of cookie dough. Some nights a freshly baked cookie was just the little bite of comfort I needed.
Amaretto Chocolate Chip Cookies: These amaretto chocolate chip cookies are bursting with almond/amaretto flavor, which pairs beautifully with the semi-sweet chocolate chips.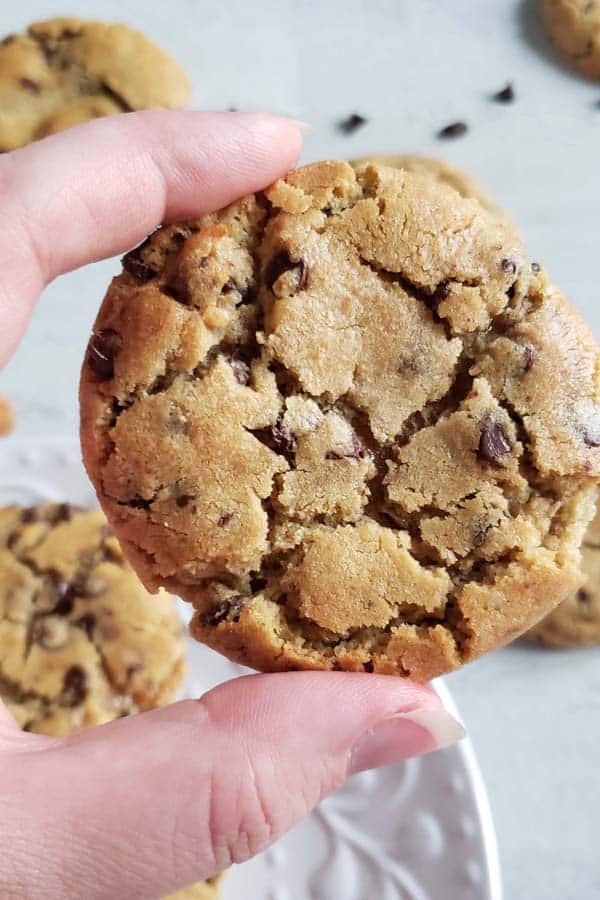 Peanut Butter Chocolate Chip Cookies: These peanut butter chocolate chip cookies have it all. They are soft and chewy in the middle with a surprise gooey caramel center and crispy edges.
Fresh Mint Chocolate Chip Cookies: These fresh mint chocolate chip cookies are the perfect combination of crispy on the outside and soft and gooey in the middle.
Thanks for Reading!
I publish new recipes every week! Sign up for my email newsletter to be the first to know when new recipes are published.
You can also follow along on Instagram, Pinterest, and Facebook for more recipe updates.
If you try this recipe, let me know! Leave a comment and rate it below! You can also snap a picture and post it on Facebook be sure to tag me @RaspberriesandKohlrabi.
Freezer meals you can make ahead