Peanut Butter + Chocolate Chips+ Caramel! They are soft and chewy in the middle with a surprise gooey caramel center and crispy edges.
This page may contain affiliate links. For more information please read my Disclosure Policy.
Chewy cookies are my favorite type of cookies. If they are yours too you will want to try these Fresh Mint Chocolate Chip cookies or the Sourdough Snickerdoodles.
I don't normally swear so you might be wondering about the cookie's nickname. It is from the TV show "How I Met Your Mother." Which is where I got the inspiration to bake these cookies. By the way, if you haven't seen this show before you should really check it out. It is one of my absolute favorites.
In the episode The Locket (S9E1), Tracy Mosby calms an agitated Lily by offering her a cookie when they meet on the train to Farhampton. Both women, unknown to each other, dubbed the cookies "sumbitches" because the combination of peanut butter, chocolate chips, and caramel was so good.
Equipment
While not completely necessary a stand mixer takes a lot of the hard work out of mixing cookie dough. I have had a Kitchen Aid stand mixer for almost 16 years and absolutely love it.
Sign up for KitchenAid's Newsletter to receive 10% off your next order!
A sturdy spatula for scraping the sides of your bowl and making sure you use every last bit of this delicious cookie dough.
Sturdy cookie sheets. My favorite are these Airbake cookie sheets.
In a medium bowl whisk together the flour, salt, and baking soda. Set aside.
In the bowl of your stand mixer, cream together the butter, peanut butter, and sugars with the paddle attachment on medium speed until smooth. Lower the mixer speed to stir and add in the egg, egg yolk, and vanilla. Mix until thoroughly combined, about 30 seconds.
Stir the dry ingredients into the wet ingredients until just combined. Fold in the chocolate chips with a spatula and wrap the dough in wax paper and refrigerate for at least 2-3 hours. The cookie dough needs this time for the flour to fully hydrate and the butter to solidify which will prevent the cookies from spreading too much.
While the dough is chilling unwrap the caramels and cut them in half. My favorite caramels for these cookies are Werther's Original Soft Caramels. You could also use other brands of soft caramels, Rolo candies, or any other caramel-filled candy bar like Snickers or Milky Way.
Preheat the oven to 375 degrees Farenheight. Remove the dough from the refrigerator and roll the dough into balls, about 2 tablespoons of dough each. You'll have about 18 balls. The dough will be a bit crumbly but will become smoother as you roll them.
Break each dough ball in half and sandwich a piece of caramel between the two haves. Smooth the two halves together by rolling the dough between your hands to make a smooth ball. Make sure the caramels are completely sealed inside. Place the balls on the baking sheet leaving at least 2 inches in between each cookie. Flatten the balls slightly with your hand to help them spread.
Bake for 10 – 12 minutes or until the edges are lightly browned. Allow the cookies to cool for at least 10 minutes before transferring them to a wire rack to cool completely.
Baking Tip: My mom's trick for evenly baked cookies is to rotate the cookies while they bake. Place the first baking sheet of cookies on the lower rack of the oven and bake until they begin to spread out (usually the same amount of time it takes me to divvy out the dough on to the second baking sheet.) Move the first baking sheet of cookies to the top rack and rotate 180-degrees to finish baking and place the second baking sheet of cookies on the bottom rack. Continue this process until all of the cookies have been baked.
Tips
Make sure all of the ingredients are at room temperature. This ensures the ingredients mix evenly and will give you the best final texture. To quickly bring the eggs to room temperature, place the whole eggs in a bowl of warm water for 10-15 minutes.
You could use regular chocolate chips or chopped semi-sweet chocolate, but I found mini chocolate chips easier to use when wrapping dough around pieces of caramel.
Refrigerate the dough for 2-3 hours to allow the flour to fully hydrate and the butter to solidify which will keep the cookies from spreading too much.
Use a cookie scoop for evenly portioned cookies. Take the guesswork out of portioning cookies by using a cookie scoop to make sure each cookie is the same size.
Alternatively, you could cut the block of cookie dough into even pieces with a knife.
My secret for perfectly baked cookies is this AirBake cookie sheet. My cookies bake evenly every time I use these pans. AirBake cookie sheets have two aluminum layers with a layer of air in between them. The layer of air decreases the temperature of the top layer of metal, preventing the bottom of the cookie from browning too quickly. These pans are also really easy to clean. Just wipe them clean with a little soap and hot water. It is not recommended to fully submerge these pans in water or place them in a dishwasher.
Baking times for all recipes are only suggestions. The actual baking time will vary depending upon your oven. It is helpful to know your oven and worth purchasing an inexpensive oven thermometer. Oven temperatures can vary as much as 50 degrees plus or minus.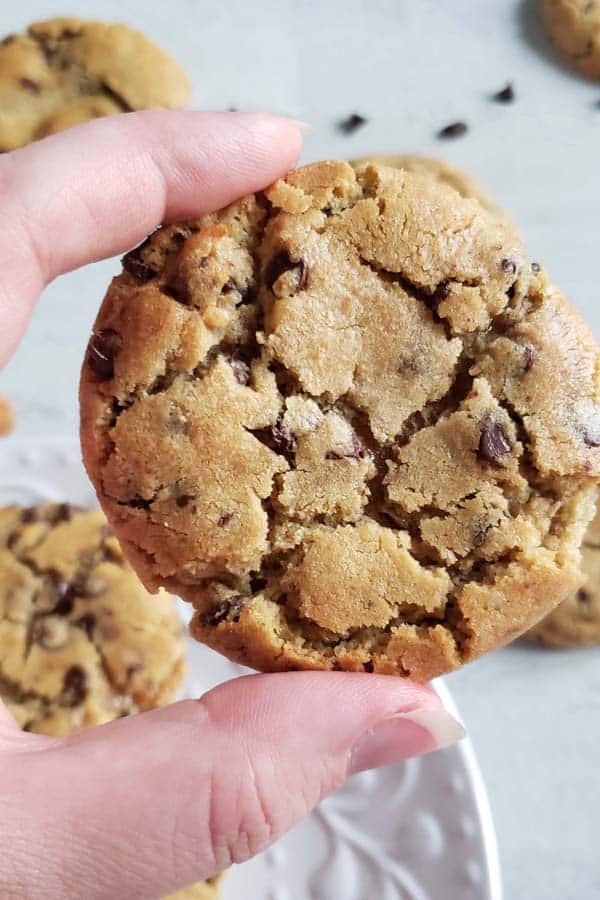 Make-ahead, storing, and freezing instructions
Make-Ahead: You can mix up the cookie dough and chill it in the refrigerator for up to 3 days.
Storing: Baked cookies can be stored in an airtight container at room temperature for up to 4 days.
Freezing Cookie Dough: Unbaked cookie dough balls can be frozen for up to 3 months.
After rolling the dough into balls and stuffing them with the caramel, place them on a parchment-lined baking sheet and freeze until solid. Once frozen, remove from the baking sheet and place in a zip-top bag. Label with the date and contents.
When you are ready to bake cookies, remove the cookie balls from the freezer, let them sit at room temperature while the oven preheats, and then bake. You may need to add a minute or two to the baking time.
Freezing Baked Cookies: Baked cookies can be frozen for up to 3 months.
Once the cookies have cooled completely, place them on a sheet pan and freeze until solid. Transfer the frozen cookies to an airtight container or zip-top bag. Label with the date and contents.
Thaw frozen cookies overnight in the refrigerator or on the counter.
Looking for more dessert recipes
Thanks for Reading!
Please remember to Like, Share, Tweet, & Pin this Post.
I publish new recipes every week! Sign up for my email newsletter to be the first to know when new recipes are published.
If you try this recipe, let me know! Leave a comment and rate it! You can also snap a picture and post it on Facebook be sure to tag me @RaspberriesandKohlrabi.