Hash brown casserole is a staple at many holiday dinners and potlucks. I thought I would spice the dish up with some freshly cracked black pepper to create a potatoey twist on the classic Italian dish Cacio e Pepe.
This simple casserole is made with hash browns, onions, and a creamy peppery cheesy mornay sauce.
Love cheesy potatoes? Try these smoked potato skins or these twice-baked potato cups.
This page may contain affiliate links. I only recommend products that I would use myself. I may earn a small commission when you make purchases through these links at no additional cost to you. Thank you. As an Amazon Affiliate, I earn from qualifying purchases. For more information please read my Disclosure Policy.
Jump to:
Why You Will Love This Recipe
Cacio e Pepe Hash Brown Casserole is easy to make with most of the cooking time taking place in the oven.
Filling a large 9x13 casserole dish makes this a great recipe for large family dinners and potlucks.
Easily make this casserole ahead of time by mixing all of the ingredients together in advance and baking it just before serving.
Ingredients
Mornay Sauce
Most hash brown casseroles rely on canned soup, but they can easily be made completely from scratch.
Flour and Butter: To make a bechamel sauce you must first begin by creating a roux. A roux is created by combining equal parts fat, in this case, butter and flour. The fat coats the starch molecules dispersing them throughout the sauce. As the starch absorbs moisture they expand and thicken the sauce.
Half and Half: You could also substitute heavy cream for a richer sauce.
Chicken Stock: Chicken stock adds additional flavor that would normally come from a can of condensed cream of chicken soup.
Freshly Cracked Black Pepper: Freshly cracked black pepper will have more flavor than preground pepper. I like coarsely ground pepper but you can use a finer grind. If using a finer grind, you will need a smaller quantity of pepper.
Dijon Mustard and Worchestershire Sauce: Both of these ingredients give the casserole an extra punch of flavor.
Grated Cheese: I've used a combination of Pecorino Romano and Gruyere cheese. Pecorino Romano cheese is made from sheep's milk and is traditionally used in cacio e pepe. Gruyere cheese melts beautifully and adds a creamy nutty flavor to the hash brown casserole.
Whenever possible grate your own cheese. Pregrated cheese often has additives to keep it from clumping together. Unfortunately, these additives can also prevent it from melting smoothly.
Hash Brown Casserole
Hash Browns: You can use cubed or shredded hash browns. It's also ok if your hash browns are still frozen.
Greek Yogurt: Do not use fat-free Greek yogurt. It may curdle as the casserole bakes.
Onion
Topping
Cornflakes: Cornflakes create a crispy topping for the hash brown casserole. If you don't have cornflakes you could also substitute crushed potato chips, fried onions, crushed crackers, or bread crumbs.
Potato chips and fried onions tend to be oilier so I would skip the additional melted butter.
See the recipe card for quantities.
Equipment
Cutting Board and a Sharp Chef's Knife
Medium Sauce Pan: Make sure you select a saucepan large enough to contain all of the mornay sauce ingredients.
Cheese Grater: Freshly grated cheese melts easier than pre-shredded cheese. For shredding lots of cheese I am partial to this box grater.
9x13 Baking Dish: My favorite baking dish for large casseroles is my Pyrex 9x13 pan. This baking dish comes with a convenient carrying case which is great for bringing this casserole to a party.
Directions
Mornay Sauce
Preheat the oven to 350 degrees Fahrenheit. Lightly spray a 9x13 pan with nonstick cooking spray and set aside.
Melt butter in a medium saucepan over medium heat. Saute garlic for 1 minute. Whisk in the flour and cook for 2 minutes.
Whisk in the heavy cream, chicken stock, dijon mustard, Worchestershire sauce, black pepper, and salt.
Bring to a simmer whisking constantly until the sauce thickens enough to coat the back of a spoon.
Remove from the heat and whisk in the Pecorino Romano and Gruyere cheese until melted.
Hash Brown Casserole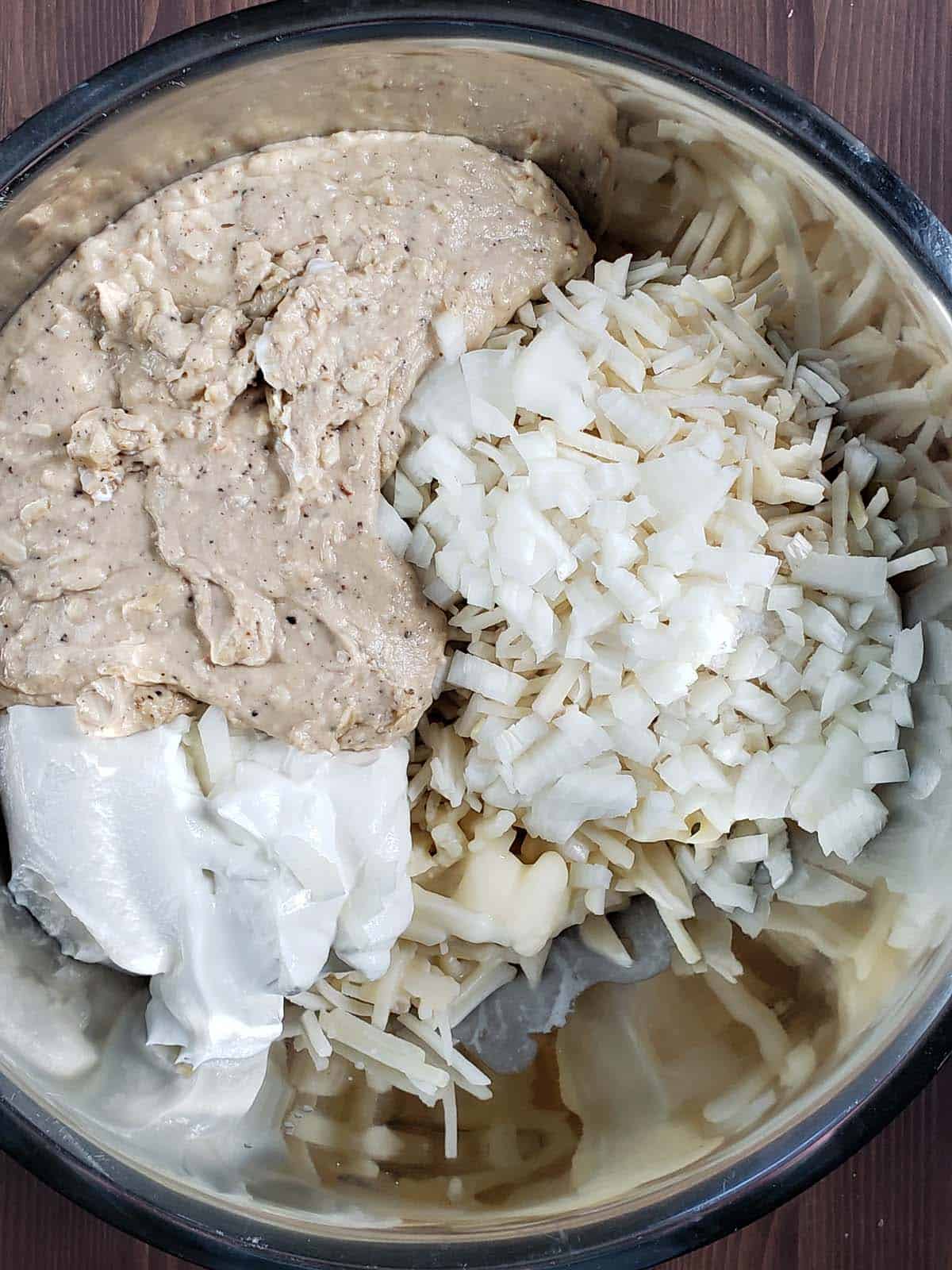 In a large bowl, stir together the frozen hash browns, melted butter, greek yogurt, onion, salt, and mornay sauce.
Pour the hash brown mixture into the prepared 9x13 pan.
Topping
In a small bowl combine the cornflakes and melted butter.
Sprinkle over the hash brown casserole.
Cover the casserole with foil and bake for 1 hour. Uncover and bake for an additional 15 minutes until it is hot and bubbly.
Top with chopped fresh parsley and serve.
Make-Ahead Directions
Prepare the casserole but don't add the topping. Cover with aluminum foil and refrigerate for up to two days.
When you are ready to bake, add the topping and reduce the bake time to 45 minutes covered and 5 minutes uncovered since the hash browns will have thawed in the refrigerator.
To freeze an entire casserole: Prepare the casserole as directed but don't add the topping. Cover with plastic wrap and a layer of foil. Label with the contents and date. Freeze casserole for up to three months.
To bake a frozen casserole: Allow the casserole to thaw in the refrigerator overnight. Remove the plastic wrap and recover it with the foil. Reduce the bake time to 45 minutes covered and 5 minutes uncovered since the hash browns will have thawed in the refrigerator.
Variations
Toppings
I prefer a cornflake topping for this hash brown casserole. But you could substitute:
Crushed Potato Chips: Crumble 2 cups of potato chips over the casserole and bake as directed.
Crispy Fried Onions: Sprinkle 2 cups of crispy fried onions over the casserole and bake as directed.
Crushed Crackers: Melt 3 tablespoons of butter in a medium saucepan. Add 1 sleeve of crushed crackers and stir to combine. Sprinkle mixture over the casserole and bake as directed.
Panko Bread Crumbs: Melt 3 tablespoons of butter in a medium saucepan. Add 2 cups of Panko bread crumbs and stir to combine. Continue cooking until the crumbs become golden brown. Sprinkle mixture over the casserole and bake as directed.
Additions
Turn this hash brown casserole into a meal by adding some chopped chicken, sausage, ham, and your favorite vegetables. A few veggies to try include blanched broccoli, diced bell peppers, green beans, asparagus, or peas.
Storage
Refrigerate any leftovers in an air-tight container for up to three days.
To Reheat: Cover with foil and bake at 350 degrees Fahrenheit for 45 minutes or until hot and bubbly.
Individual servings can also be reheated in the microwave, but the topping may lose some of its crunch.
To Freeze: Divide into individual portions and freeze in an airtight container for up to three months.
Tips
Cook the roux for two minutes to remove any raw flour flavor.
If your sauce seems too thick, thin it out with a little chicken stock.
Need a smaller amount? Easily halve the recipe and bake it in an 8-inch or 9-inch square pan.
Frequently Asked Questions
Do the hash browns need to be thawed before cooking?
Nope. Save yourself some time and use the hashbrowns straight from the freezer.
Can I use fresh potatoes instead of frozen hash browns?
Yes, the potatoes will need to be shredded, soaked in water, and then dried thoroughly.

To make hash browns: Shred the potatoes and place the shredded potatoes in a large bowl of cold water. Let them soak for 5 minutes. Soaking the potatoes helps to remove any excess starch.

Remove the potatoes from the water onto a clean tea towel. Use the towel to squeeze out any excess water using a second towel if necessary. Make sure the potatoes are completely dry to avoid having a soggy casserole.

Use the shredded potatoes as directed in the recipe.
More Easy Side Dishes
Thanks for Reading!
You can also follow along on Instagram, Pinterest, and Facebook for more recipe updates.
If you try this recipe, let me know! Leave a comment and rate it below! You can also snap a picture and post it on Facebook be sure to tag me @RaspberriesandKohlrabi.