These crispy twice-baked potato cups are loaded with flavor and are the perfect combination of crispy on the outside and creamy on the inside. Plus they are easily portioned by baking them in a muffin tin.
These twice-baked potato cups are also a great way to use up leftover mashed potatoes.
This page may contain affiliate links. I only recommend products that I would use myself. I may earn a small commission when you make purchases through these links at no additional cost to you. Thank you. As an Amazon Affiliate, I earn from qualifying purchases. For more information please read my Disclosure Policy.
Jump to:
Twice-baked potatoes are one of my favorite foods. I love to eat the entire potato skin and all. But several members of my family don't like the skin so I created these twice-baked potato cups for them.
Why You Will Love This Recipe
These mashed potato cups are loaded with EVERYTHING: Garlic, Butter, Sour Cream, Bacon, Green Onion, Cheese, and Herbs. They are then topped with a delicious and crunchy combination of bread crumbs and potato chips.
Bake them in a mini muffin pan to serve as a cute appetizer at your next Thanksgiving or Christmas party.
This potato recipe is the perfect comfort food for cold winter nights.
Ingredients
Potato Cups
Potatoes: Russet potatoes are traditional when making twice-baked potatoes so that you have the baked potato skins to stuff with the delicious filling.
Because these potato cups are baked in a muffin tin you aren't restricted to just russet potatoes. You could also use Yukon gold or red potatoes. If using one of these smaller potatoes it will probably be easier to boil rather than bake them.
Another easy substitution would be to use leftover mashed potatoes. If you don't have a full two cups, you can also cut this recipe in half with just one cup. Or make some instant mashed potatoes to round out the batch.
Save the crispy skin and make these loaded smoked potato skins or these bbq pulled pork potato skins.
Garlic: Easily roast a full head of garlic alongside your potatoes.
Dairy: Sour cream, milk, butter, and sharp cheddar cheese all add rich flavor to the creamy mashed potatoes.
Bacon: I think bacon and potatoes were made for each other. They are a perfect pairing.
Green Onions: Sliced green onions add a crisp bite to the potatoes.
Eggs: Eggs give the potato cups structure so they don't turn into a pile of mush on your plate.
Crunchy Topping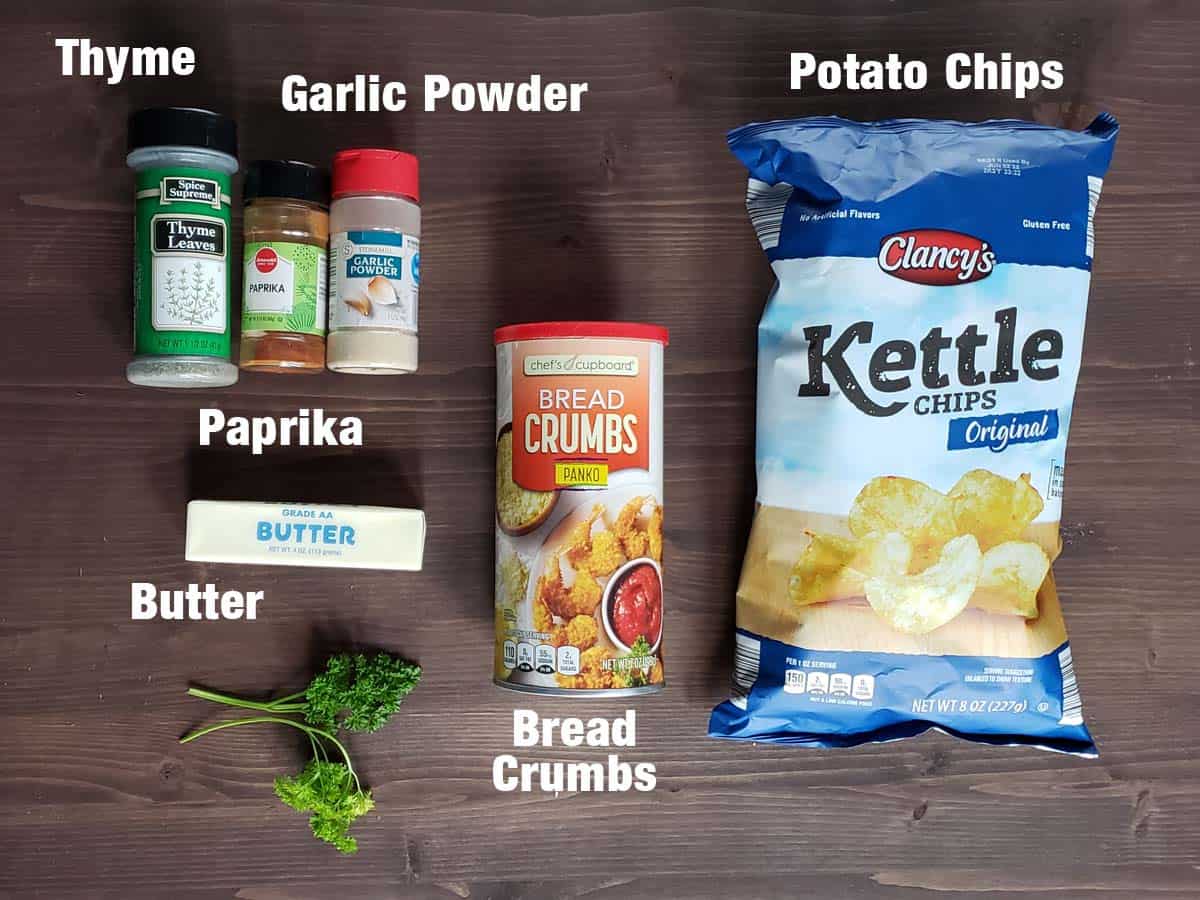 Potato Chips and Bread Crumbs: While bread crumbs are used in traditional crunchy toppings, Kettle style potato chips add even more crunch and flavor.
Unsalted Butter: Toasting the potato chips and bread crumbs in the butter turns them a beautiful golden brown color.
Seasoning: Thyme, paprika, garlic powder, and fresh parsley add even more delicious flavor.
Equipment
Sheet Pan: Easily roast both the potatoes and head of garlic on a sheet pan. I like these sheet pans because they come with their own metal racks.
Potato Masher: Easily and quickly mash potatoes.
Muffin Tins: Most recipes require you to have two muffin tins if you want to bake the entire recipe at the same time. Muffin tins are great for so much more than just baking muffins and cupcakes.
Mixing Bowl: These are some of my favorite mixing bowls. They come in a huge range of sizes, nest together for easy storage, and are easy to clean.
Directions
Potatoes
Preheat the oven to 400 degrees Fahrenheit.
Wash and dry the potatoes. Using a fork poke holes in the skin of the potatoes in several places. This allows steam to escape and keeps your baked potatoes from exploding in the oven.
Trust me I have seen it happen and it wasn't a fun mess to clean up.
Brush potatoes with olive oil and sprinkle with salt.
Peel and discard the papery outer layers of a whole garlic bulb, leaving intact the skins of the individual cloves of garlic. Cut approximately ¼ to ½ inch off the top of the bulb exposing the individual cloves of garlic. Drizzle the garlic bulb with olive oil covering all of the exposed garlic cloves.
Bake potatoes and garlic on a wire cooling rack placed inside a rimmed baking sheet for about 30 to 40 minutes until the garlic is lightly browned and soft. Remove the garlic from the pan and continue to bake the potatoes until they are easily pierced with a fork for about 30 additional minutes.
Cool potatoes until they are cool enough to handle. Remove the roasted garlic cloves from their skins and slice the potatoes in half. Scoop the flesh of the potatoes out of the potato shells and add it to the bowl with the garlic. Mash the potatoes and garlic in a large bowl with a potato masher.
Add the milk, butter, sour cream, shredded cheddar, bacon, green onion, parmesan, and thyme. Stir to combine. Add salt and black pepper to taste.
Mix in the eggs.
Topping
Combine the potato chips, breadcrumbs, butter, thyme, paprika, and garlic powder in a small saucepan. Cook over medium heat until the butter is melted and the potato chip-breadcrumb mixture is coated.
Assembly
Grease a 12-cup muffin pan and portion the potato mixture into each cup.
Top with the potato chip-breadcrumb mixture.
Bake for about 30 to 40 minutes at 400 degrees Fahrenheit until they are golden brown.
Remove the potatoes from the oven and allow them to cool for 5 minutes. Top potato cups with parsley and a dollop of sour cream before serving.
Serving Suggestions
Pair these potato cups with one of these delicious recipes.
Frequently Asked Questions
Should potatoes be wrapped in foil to bake?

Nope. Wrapping potatoes in foil holds the steam in resulting in steamed potatoes rather than baked potatoes changing the texture and flavor.
Should I flip baked potatoes?
Nope, not necessary. Baking the potatoes on a wire rack allows the hot air to circulate around the potato ensuring even cooking without flipping the potatoes.
Why is my baked potato hard in the middle?
A potato with a hard center is not fully cooked. Try cooking the potato for a little longer.
How do you tell if a baked potato is done?
A fully baked will have wrinkly papery skin on the outside and have some give when you squeeze it. You can also insert a knife or fork into the potato. If there is little to no resistance the baked potato is done.
At what temperature is a baked potato done?

Using an instant-read thermometer is also a great way to see if a baked potato is done. The internal temperature of a fully baked potato should be at least 210 degrees Fahrenheit.
Can you overcook a baked potato?
Yes, an overcooked potato will be dry.
Variations
Change up the flavor of these potato muffins by adding one of the ingredient suggestions listed below.
Dijon Mustard
Cooked Chopped Broccoli
Hot Sauce
Cream Cheese
Storage
Store leftovers in an airtight container and refrigerate for up to 3 days.
To reheat, arrange the mashed potato cups on a baking sheet and bake at 400°F for about 15 minutes.
Freezing
To freeze twice baked potato cups, place them in a zip-top bag or airtight container. Label with the date and contents. Freeze for up to three months.
To reheat, remove the potato cups from the freezer and place them on a baking sheet. Bake at 400°F for about 20 minutes.
Tips
Choose similar-sized potatoes so they will have similar baking times.
If your potatoes do bake unevenly, remove the fully baked potatoes and leave the undercooked ones in the oven for a few minutes longer.
Reduce the final baking time to 20 minutes and use a mini muffin pan to make cute little mashed potato cup appetizers.
Both the potatoes and topping can be made up to two days in advance and stored separately in airtight containers.
Looking for something new to serve with dinner? Try one of these great recipes.
I publish new recipes every week! Sign up for my email newsletter to be the first to know when new recipes are published.
If you try this recipe, let us know! Leave a comment and rate it! You can also snap a picture and post it on Facebook be sure to tag me @RaspberriesandKohlrabi.