This fresh mango creme brulee recipe is sure to impress your guests. Plus it is so easy to make!
These creme brulees come with a secret surprise, a layer of juicy mangoes hidden under the crunchy sugar and rich cream.
This page may contain affiliate links. I only recommend products that I would use myself. I may earn a small commission when you make purchases through these links at no additional cost to you. Thank you. As an Amazon Affiliate, I earn from qualifying purchases. For more information please read my Disclosure Policy.
Jump to:
Why You Will Love This Recipe
Delish vanilla custard is poured over fresh chunks of mango and topped with caramalized sugar.
Creme brulee is a perfect make-ahead dessert. Simply bake the custards and store in the refrigerator until you are ready to enjoy.
Creme brulee is one of my all-time favorite desserts. It tastes so fancy and decadent but is so easy to make. In fact, I wrote an entire guide on how to make the perfect creme brulee.
If you love creme brulee and chocolate you will also want to check out my recipe for Nutella creme brulee, horchata creme brulee, sweet corn creme brulee, rhubarb creme brulee, or blueberry creme brulee.
How do You Know When a Mango is Ripe?
Mangos should yield to gentle pressure and be without blemishes or dark spots. They should also have a sweet fragrant aroma. Color has little to do with ripeness and can vary depending on the type of mango.
Once purchased, mangoes can be refrigerated for up to 3 days. Place mangos in a paper bag to speed ripening. Freeze chopped and peeled fruit in a plastic bag with the air squeezed out for up to 3 months.
Never cut up a fresh mango before? Watch this video from Alton Brown.
Warning: His examples of the wrong way to cut up a mango are a little graphic for a food blog so I have the video set to start playing at about a minute in. If you would like to see his examples of the dangerous ways to cut up a mango feel free to rewind.
Ingredients
Because there are so few ingredients, now is the time to spring for the best quality ingredients you can afford.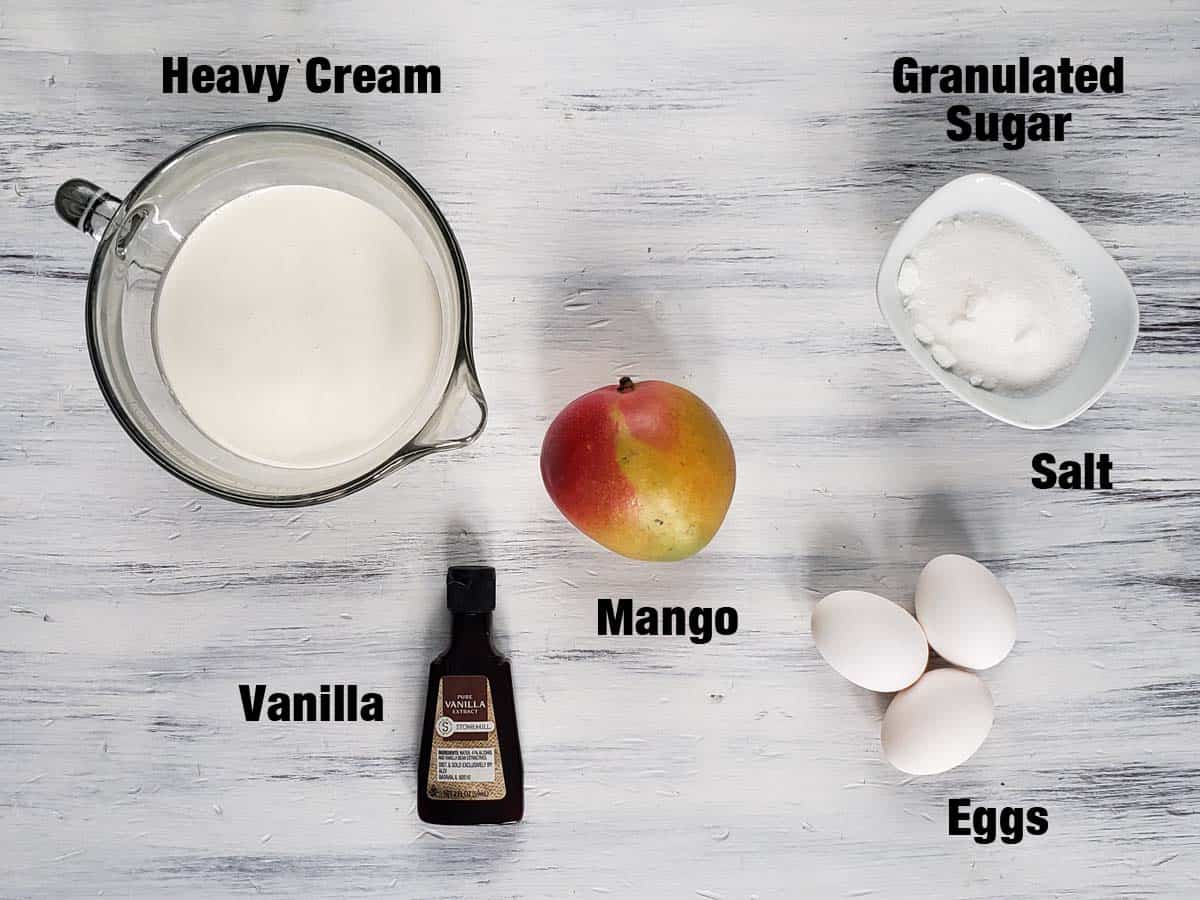 Fresh Mango: You can also substitute thawed frozen mango. I prefer to dice the mango pretty small before adding it to the creme brulee.
Heavy Whipping Cream: Some recipes use a combination of both heavy whipping cream and milk to make the custard lighter. In my opinion, creme brûlée is meant to be rich so this recipe uses only heavy whipping cream.
If you want to substitute milk for some of the heavy whipping cream I would stick with a 1:1 ratio. Use one cup of heavy whipping cream and one cup of milk.
Egg Yolks: For creme brûlée, you want to use just the egg yolks. Egg whites would set too firmly giving the creme brûlée a rubbery texture.
If you have never separated eggs before, check out this post from Sugar Hero where she shares four methods for separating eggs.
Save the egg whites for another recipe. My favorite way to use egg whites is in this Angel Food Cake from Alton Brown.
Vanilla Extract: Use pure vanilla extract not imitation vanilla. It may be a little more expensive but the flavor is so much better.
Kosher Salt: As always salt is included to enhance the flavor of the other ingredients.
Equipment
Creme brûlée does require a couple of pieces of specialized equipment.
Fine Mesh Strainer: Straining the custard removes any eggy bits and creates a smooth texture.
Large Measuring Cup: I like to strain my custard into a large measuring cup to make pouring the custard into the ramekins easier. If you are planning to wait to bake your creme brûlée, you can use this large glass measuring cup that comes with a lid for easy storage.
Ramekins: These wide shallow ramekins work best. Deeper ramekins take longer to bake, allowing the edges to be overcooked before the center has set.
The wider ramekins also allow for a higher ratio of crunchy sugar crust to creamy custard.
Cake Pan: Like most cheesecakes creme brûlée is baked in a bain-marie or water bath. Surrounding the creme brûlées with water allows them to cook gently and will help keep them from cracking.
Kitchen Torch: Butane torches have a number of uses in the kitchen. They can char peppers, toast meringue, melt cheese, and brown bread crumbs. The kitchen torches from EurKitchen and Sondiko have consistently rated high in top kitchen torch lists.
A few months ago my brûlée torch died. So I used my boyfriend's propane torch that has a detachable torch head instead. Those were the fastest brûlées I have ever made.
Directions
Prepare the oven. Move an oven rack to the middle position and preheat the oven to 325ºF.
Heat the cream. In a medium-sized saucepan heat the cream over medium-high heat until it begins to simmer. Remove the saucepan from the heat and stir in the vanilla.
Whisk the egg yolks, sugar, and salt together. In a medium-sized bowl whisk together the egg yolks, sugar, and salt until smooth and the egg yolks start to lighten in color.
Temper the eggs with the cream. When adding the hot cream to the eggs, you need to do so slowly to prevent the eggs from curdling. This is called tempering.
To do this, continuously whisk the yolks while you slowly pour in the warm cream. If the mixture starts to look like scrambled eggs, the hot cream has started to cook the eggs. Unfortunately you will need to start over.
For more information about tempering eggs and why it is necessary for some recipes, watch this video from Serious Eats.
Strain the custard. I like to strain my custard into a large measuring cup to make pouring the custard into the ramekins easier. Place a fine-mesh strainer over a large measuring cup and carefully pour the custard through. Straining the custard removes any eggy bits and creates a smooth texture.
For perfectly smooth custard use a spoon to skim off any foam.
Quick Tip: Immediately rinse the strainer with cold water to remove any egg particles before they become stuck.
Cook the custard. Creme brulee needs to cook slowly and gently. This is why we will use a bain-marie or water bath.
The size of pan you use will depend upon the size of ramekins you have. I have used cake pans, roasting pans, and jelly roll pans. No need to purchase a special pan just use whatever you already own.
Lay a towel across the bottom of the pan and arrange your ramekins on top. The towel will keep the ramekins from sliding around.
Evenly divide the diced mango between six ramekins.
Pour the custard into the ramekins. If you want perfectly smooth creme brulee, use a spoon to skim off any bubbles from the top, or don't worry about it any imperfections will be covered by the burnt sugar crust.
Place the pan in the oven and then pour hot water into the pan being careful to not splash water into the ramekins. The water should come about halfway up the ramekins.
Bake for 20 to 30 minutes until the edges are set but the centers are still slightly jiggly. The baking time will vary widely depending upon the size and shape of your ramekins.
Cool the custard. Remove the baking dish from the oven and allow the custards to cool for approximately 15 minutes until you can safely pick up the ramekins and remove them from the water. Allow the custards to cool on the counter for an additional 15 minutes.
Cover each ramekin with plastic wrap and chill them in the refrigerator for at least four hours and up to four days.
Brûlée the sugar topping. Remove the custards from the refrigerator and evenly sprinkle each custard with 1 teaspoon of granulated sugar.
Ignite your torch and hold the flame about 4 inches from the surface of the custard. Using a circular motion heat the sugar until it browns and forms a crust.
If you want a really thick crust sprinkle a second teaspoon of sugar evenly across each custard and brûlée a second time.
The longer you brulee the sugar, the darker, more caramelized, and bitter it will become. The bitterness contrasts nicely with the sweetness of the custard.
Variations
Add ¼ teaspoon of ground cardamom when you add the vanilla for a delicious mango cardamom twist.
Try different varieties of fruit like blueberries, blackberries, raspberries, strawberries, and cherries to change the flavor of this creme brulee.
Tips
Be careful to not overheat the cream. Bring it just to a simmer, not necessarily a full boil.
Slowly pour the hot cream into the egg and sugar mixture while whisking constantly. Adding the cream too quickly will cause the eggs to curdle turning them into scrambled eggs.
Use a water bath when baking the creme brulees. The water helps to insulate the custard to prevent the outside from cooking too quickly before the centers have had time to set.
Chill for at least 4 hours in the refrigerator before serving. Creme brulee is meant to be served chilled with a warm topping.
Serve immediately after caramelizing the sugar. If allowed to sit the sugar topping will become soggy instead of crunchy.
Additional Information
For more tips and tricks and frequently asked questions check out this post: How to Make Perfect Creme Brûlée.
More Dessert Recipes
Thanks for Reading!
You can also follow along on Instagram, Pinterest, and Facebook for more recipe updates.
If you try this recipe, let me know! Leave a comment and rate it below! You can also snap a picture and post it on Facebook be sure to tag me @RaspberriesandKohlrabi.