Indulge your sweet tooth with this handpicked collection of delectable dessert recipes featuring the magic ingredient – sweetened condensed milk!
Discover how this pantry essential can transform ordinary treats into extraordinary delights.
In this post, we'll explore 40+ mouthwatering recipes that are not only quick and easy but also guaranteed to satisfy your dessert cravings. Get ready to elevate your baking game and create desserts that will leave everyone asking for seconds!
Jump to:
What is Sweetened Condensed Milk?
Sweetened condensed milk is milk that has been heated to remove the water from the milk. Sweetener is also added to the milk. This thickens the milk and extends its shelf life.
What is the Difference Between Sweetened Condensed Milk and Evaporated Milk?
You might also have cans of evaporated milk in your pantry. Don't try to substitute evaporated milk for sweetened condensed milk. They are not the same and your desserts probably won't turn out very well.
The biggest difference between sweetened condensed milk and evaporated milk is the sugar content. Sweetened condensed milk has been sweetened evaporated milk has not been sweetened.
Condensed milk also has a lower water content which helps to thicken these dessert recipes.
Because of this, they do not make good substitutes for each other.
Easy Dessert Recipes with Sweetened Condensed Milk
My secret for ultra-rich and fudgy brownies is sweetened condensed milk. They are moist and super chocolatey making them the perfect dessert for a special occasion.
These condensed milk chocolate chip cookies are eggless and filled with puddles of melty gooey chocolate.
Sweet and creamy Condensed Milk Bread Pudding is incredibly easy to make. Customize the bread pudding by adding your favorite mix-ins.
These easy cookies combine the crumbly texture of shortbread cookies with the sweetness of jam.
Condensed milk fudge is super easy to make. Sweet, smooth, and creamy rich chocolate fudge gets a boozy kick from spicy whiskey in this homemade whiskey fudge recipe.
This pound cake is sweetened with sweetened condensed milk and topped with fresh berries and whipped cream making it a perfect summer dessert.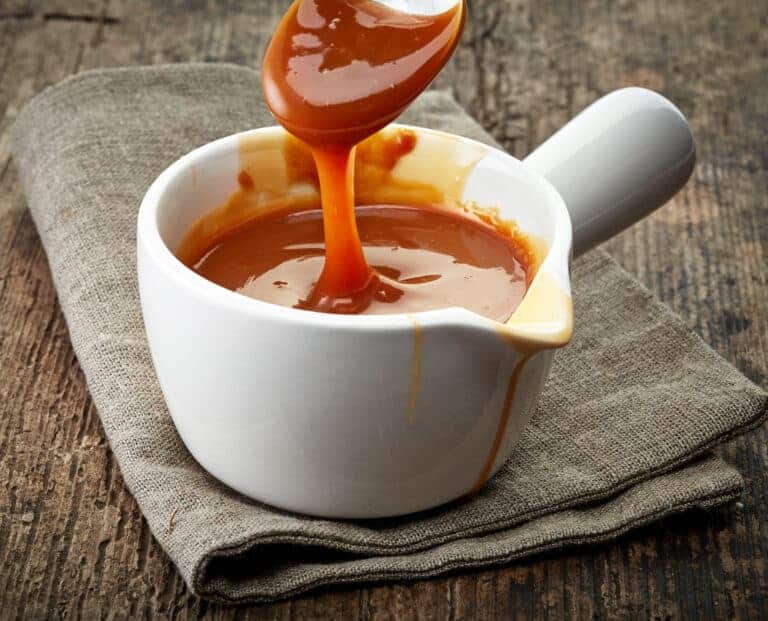 This delicious crockpot slow cooker caramel dip with only four ingredients is a perfect addition to your Halloween, Thanksgiving, and Christmas parties! Using a slow cooker is a great way to make your own caramel sauce.
Strawberry cake is poked and filled with delicious sweetened condensed milk creating a creamy sweet cake. Topped with fresh strawberries and whipped cream this cake is perfect for summer strawberry season.
This homemade ice cream is super easy, no-churn kulfi, and full of pistachio and cardamom flavor! No ice cream maker is needed! No churn!
This recipe uses sweetened condensed milk to make a sweet, smooth, and creamy pumpkin pie.
Make this festive and easy, gluten-free Cranberry Gingerbread Stovetop Rice Pudding in under 15 minutes, with condensed milk, cranberries, leftover cooked rice, and no egg!
This no-bake cheesecake is an easy one-bowl recipe made with just five ingredients. It is creamy and sweet with just a bit of tang.
Serve this beautiful Jelly cake at your next summer BBQ. This dessert is easy to make and all you need are a couple of boxes of Jello, sweetened condensed milk, and gelatin.
This simple three-ingredient chocolate mousse is quick and easy to make in just 10 minutes.
This light and fluffy tres leches cake recipe uses four types of milk and is topped off with whipped cream. Adding milk to this cake creates a deliciously moist cake.
Millionaire pie is a rich creamy no-bake pie that is loaded with pecans, coconut, pineapple, and cherries.
This classic southern pie is so easy to make, taking just 5 minutes to whip together! It is creamy and delicious!
Quick and easy Nutella popsicles are better than any store-bought fudgesicle.
This old-fashioned peanut butter fudge recipe is truly decadent. This is the best recipe if you're short on time in the kitchen and still want a delicious dessert with a rich and creamy peanut butter flavor.
Rum balls are fudgy delights filled with a delicious rum flavor.
The simple homemade fudge recipe for chocolate mint fudge is easy to follow and requires little effort on the part of the chef! It simply tastes delicious and might remind you of Andes mints or mint chocolate chip ice cream.
This fruit salad is sweet, rich, and creamy the perfect dessert for a party.
Peanut Butter Fudge Cookies - all the chewiness of fudge wrapped up in the crunchiness of a delicious cookie, rolled in Christmas sugar, and baked to perfection!
Russian buttercream is made with just two simple ingredients butter and condensed milk.
These 3-Ingredient Coconut Macaroons are made with sweetened flakey coconut, creamy condensed milk, and a drizzle of melted chocolate. Coconut macaroons with condensed milk are some of the easiest cookies in existence which make them perfect for the busy holidays.
This custard pudding is made with sweetened condensed milk and is coated with caramel and sugary syrup.
Who knew homemade peppermint patties were this easy? These babies are soft and minty in the middle and covered in a crispy chocolate coating to make the most perfect holiday treat or gift.
Made just like a key lime pie but with lemons instead. This simple pie goes from the mixing bowl to the oven in just 20 minutes.
Learn how to make Toffee Pecan Bars with this classic midwestern recipe.
This no-bake frozen margarita pie is made with tequila and triple sec. It also has a salty pretzel crust.
Love Oreo balls and sweetened condensed milk?! Try this fabulous recipe with just 4 ingredients!
Flan is a straightforward, easy-to-make, sweet egg custard topped with a caramel sauce of two simple ingredients made right inside the pan.
Easy Toffee Candy is impossible to resist and is guaranteed to be one of your most requested holiday treats. Just six ingredients and no candy thermometers are required!
Calling all lemon lovers! Lemon curd ice cream, with rich, smooth, no-churn vanilla ice cream, and ribbons of sunshiny lemon curd, is a creamy dreamy treat!
This key lime pie is so refreshing and has the perfect balance of tart and sweet. Supported by a graham cracker crust and topped with a dollop of whipped cream – it's really all you need on a hot summer day.
Delicious strawberry-swirled vanilla ice cream encased in a strawberry white chocolate magic shell.
This no-bake Strawberry milkshake pie is packed with fresh strawberries. It's the perfect dessert for special occasions.
The best eggless chocolate cake recipe with condensed milk! It's a soft, moist, velvety cake brimming with chocolate and finished with shiny, rich chocolate ganache. A cake without eggs that fit for any celebration and is sure to impress!
This Hedgehog Slice is the ideal no-bake chocolate dessert. It is quick to make and easily adapted to be gluten-free. Crushed biscuits, coconut, and chocolate combine for one of the most simple yet delicious sweet treats!
This Rum Balls recipe is a great no-bake treat that is quick to make and perfect for a crowd. Perfect for holiday gift-giving and an easy year-round treat!!
These Twix cookies are rounds of shortbread topped with caramel and milk chocolate.
Dessert doesn't get any better than this Blueberry Lemon Pie recipe. Swirled with scratch-made blueberry sauce, this bright and creamy lemon pie sits atop a buttery shortbread crust. Citrusy and sweet, this pie is a summertime classic.
Hello Dollies Bars, or sometimes called "magic bars" or "7 layer bars", this easy recipe is made using butterscotch chips, graham cracker crumbs, sweetened condensed milk, melted butter, almonds, semi-sweet chocolate chips, and coconut flakes!
How Long Does Condensed Milk Last After Opening?
If you have a partial can of sweetened condensed milk left over it can be stored in an airtight container in the refrigerator for 4 to 6 days.
Can You Freeze Condensed Milk?
Yes. Sweetened condensed milk can be stored in an airtight container in the freezer for up to 3 months. Because of its high sugar content, condensed milk will not freeze completely solid.

Thaw the condensed milk in the fridge overnight. If it separates after thawing, whisk or give it a vigorous shake in a tightly sealed container until it has a smooth consistency again.
What if You Don't Have Sweetened Condensed Milk?
You can make your own at home with just sugar and milk. Follow this recipe for sweetened condensed milk from Bigger Bolder Baking.
Sweetened condensed milk has the power to turn ordinary desserts into extraordinary treats. I hope you enjoy trying out these delicious recipes that showcase the versatility and deliciousness of this pantry staple.
Have a favorite dessert recipe using sweetened condensed milk? Share it with us in the comments below and let's keep the sweet inspiration flowing! Happy baking!
Thanks for Reading!
If you try this recipe, let me know! Leave a comment and rate it below! You can also snap a picture and post it on Facebook or Instagram be sure to tag me @RaspberriesandKohlrabi.