Rich chocolate and sharp whiskey pair perfectly together in this Easy Whiskey Fudge with Sweetened Condensed Milk.
The easiest way to make homemade fudge is to combine a can of sweetened condensed milk with chocolate chips. You don't need any fancy tools like a candy thermometer or a double boiler.
While this fudge is quick and easy to mix together you will need to allow some time for it to chill in the refrigerator.
As a child, I used to make homemade candy with my aunt all the time. I've really enjoyed exploring homemade candy recipes. Try my recipes for hazelnut brittle or honeycomb candy.
This page may contain affiliate links. I only recommend products that I would use myself. I may earn a small commission when you make purchases through these links at no additional cost to you. Thank you. As an Amazon Affiliate, I earn from qualifying purchases. For more information please read my Disclosure Policy.
Why you will love this recipe
This smooth and creamy chocolate fudge gets a boozy kick from spicy whiskey.
No fancy tools necessary. All you need is one bowl and a little muscle power for stiring.
Homemade whiskey fudge is so quick to make. All you need is 5 minutes of active time and a little patience while you wait for it to set up in the refrigerator.
When I say whiskey fudge, I mean whiskey fudge. This recipe uses ½ cup of whiskey.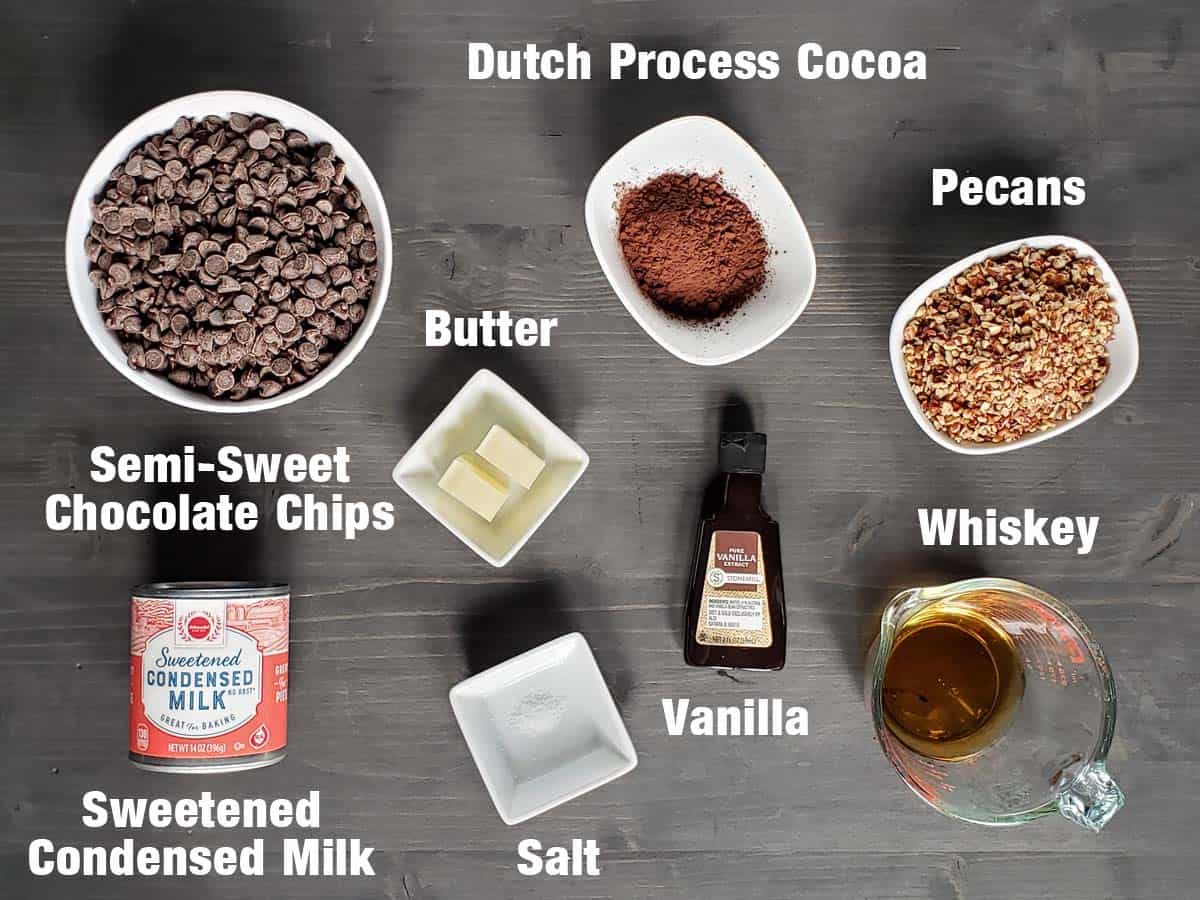 Ingredients
Because there are so few ingredients in this recipe it is important to use the best quality ingredients you can.
Chocolate Chips: I prefer to use semi-sweet chocolate. If you would like a sweeter fudge use milk chocolate. You can also substitute chopped chocolate bars for the chocolate chips.
Sweetened Condensed Milk: Don't confuse sweetened condensed milk with evaporated milk. They come in very similar-looking cans. If you use evaporated milk the fudge will not set properly.
Dutch Process Cocoa Powder: Cocoa powder will give the fudge a rich dark chocolate color and help to stiffen the fudge.
Unsalted Butter: The additional fat from the butter will give the fudge an attractive glossy sheen.
Whiskey: Choose a whiskey you enjoy drinking. The whiskey flavor is prominent in this fudge recipe so you don't want to use the cheapest whiskey you can find.
Vanilla Extract: For the best flavor use pure vanilla extract not imitation vanilla extract.
Salt: My rule is to always add at least a pinch of salt to every dessert. Salt brings out the flavor of the other ingredients.
Nuts: Nuts are completely optional but I like the contrasting crunch they add to the smooth fudge. Use either walnuts or pecans.
Equipment
Microwave-Safe Mixing Bowl: I like this Pyrex glass mixing bowl.
8 x 8 Baking Pan or Casserole Dish: I bought my Pyrex mixing bowl as a set that included two 8x8 Pyrex pans.
Aluminum Foil: Lining your pan with aluminum foil makes it easy to lift the fudge from the pan and cut it into evenly sized pieces.
Rubber spatula: For folding batters together, I prefer a stiffer spatula like this one from OXO. It fits comfortably in my hand, is dishwasher safe, and is heat-resistant up to 600 degrees Fahrenheit. Both the handle and head are silicone coated which makes it easy to clean and safe to use with my non-stick cookware and bakeware.
Directions
Line an 8x8 pan with foil making sure to cover the sides of the pan.
Place the chocolate chips, sweetened condensed milk, cocoa powder, and butter in a large microwave-safe bowl.
Microwave for one minute. Stir well to combine and allow the residual heat to melt the chocolate chips.
If the mixture isn't smooth, microwave for an additional 30 seconds and stir until the mixture is completely smooth.
The mixture will be VERY thick, similar to cookie dough. Once the whiskey has been added the mixture will change to a pourable consistency.
Stir in the whiskey, vanilla extract, salt, and chopped nuts (if using) into the fudge.
Pour the fudge into the prepared pan, smoothing it into an even layer.
Top with additional nuts and mini chocolate chips.
Chill the fudge in the refrigerator for 4 hours, or until firm.
Remove the fudge from the pan and cut it into squares.
Storage
Store fudge in an airtight container. Use wax paper to seperate each layer of fudge to prevent the pieces from sticking together. It can be stored at room temperature but I prefer to keep mine in the refrigerator so that it doesn't get too warm and melt. Fudge can be stored for 2 to 3 weeks
Fudge can also be stored in the freezer. Wrap it in plastic wrap and place in an airtight container. Freezing as a whole block rather than as individual pieces will keep it from drying out.
Thaw in the refrigerator overnight. Once thawed it should be enjoy within a week.
Frequently asked questions
Can I use a different type of chocolate?
I prefer to use semi-sweet chocolate I think it provides just the right amount of sweetness. If you would like a sweeter fudge use milk chocolate. You can also substitute chopped chocolate bars for the chocolate chips.
What kind of whiskey should I use?
Use a whiskey you enjoy drinking, not the cheapest one you can find. The whiskey flavor is really strong in this fudge so you don't want to ruin it by using harsh cheap whiskey.
Can I add other mix-ins?
Sure! My favorite mix in is walnuts but you could add a different type of nut, marshmallows, or even dried fruit.
Can I use a different type of liquor?
Absolutely! Choose your favorite. Try Bailey's, Amaretto, or even Tequila.
Do I have to refrigerate fudge?
Yes, refrigerating fudge allows the chocolate to resolidify. Hardened fudge will give you cleaner cuts.
Tips
Line your pan with foil or parchment paper. This makes lifting the fudge out of the pan to cut it so much easier.
Make sure you use sweetened condensed milk not evaporated milk. Sweetened condensed milk is much thicker and necessary for the fudge to be set up properly.
If you double the recipe use a 9x13 pan instead of an 8x8 pan.
I have found the easiest way to cut fudge is to use this rocker pizza cutter instead of a knife.
More delicious dessert recipes
Thanks for Reading!
You can also follow along on Instagram, Pinterest, and Facebook for more recipe updates.
If you try this recipe, let me know! Leave a comment and rate it below! You can also snap a picture and post it on Facebook be sure to tag me @RaspberriesandKohlrabi.