What produce should you buy in March?
Spring is on its way! This means there are new items in season this month. What is in season in March? Produce peaks at different times throughout the US so there will be some variances. But here is a general guide.
To make it easier for you to plan your meals and make a grocery list, I have created produce guides for every month letting you know what is in season along with a few recipe suggestions.
Why buy fruits and vegetables when they are in season?
Cost: Produce prices are subject to supply and demand. When produce is in abundance because it is in season the prices go down.
Eco-Friendly: In-season produce is more likely to be grown locally meaning it doesn't have to travel as far to get to you reducing its carbon footprint. Stop by your local farmers market to purchase some of the freshest produce available.
Taste: In-season produce is fresher and tastes better. It is grown during its optimal conditions and because it can be grown more locally it usually has a chance to fully ripen before it is picked
Nutrition: Fully ripened produce is more nutritious because it has had time to fully develop before being picked.
What's in season in March?
Jump to:
Artichokes
A cooked, unseasoned artichoke has a light delicate flavor. The leaves are often removed one at a time, and the fleshy base is eaten. The fibrous upper part of each leaf is usually discarded. The heart is eaten when the inedible choke has been peeled away from the base and discarded. The thin leaves covering the choke are also edible.
Buying
Choose artichokes that feel heavy for their size and have firm, tightly packed leaves that are green. Avoid artichokes that feel soft or have dry, split, or brown leaves.
Storing
Do not rinse or cut the artichoke prior to storing. Sprinkle the artichokes with a little water, and place them in a plastic bag in the refrigerator. Fresh artichokes will keep for 3-5 days.
Preparing
Rinse the artichoke in cold water, using a soft brush or cloth to remove any film from the exterior. Trim one inch from the top (pointed end) of the artichoke. Cut a quarter-inch off the stem. Use your fingers to slightly separate the petals, opening the artichoke so that seasonings can be better distributed. Cook as desired.
To prepare the heart, trim the leaves and cut off the top so the fuzzy purple choke is exposed. Use a spoon or melon baller to remove all of the choke, which is not edible. Use a paring knife to remove the outer leaves and base of the stem, leaving only the tender inner stem, or the heart.
Once cut artichokes can begin to turn brown. Placing them in water slightly acidified with vinegar or lemon juice can prevent discoloration.
Recipes
Anchovy Parsley Pesto Stuffed Artichoke - Tasting Page
Slow Cooker Garlic Artichokes Recipe - Christina's Cucina
Spinach Chicken Artichoke Flatbread
Broccoli
Broccoli is part of the cabbage family and is a good source of vitamin C and vitamin K.
Buying
Choose broccoli that has closed florets and deep green color. Avoid broccoli with yellowing or that is soft.
Storing
Refrigerated broccoli will keep for up to five days. Broccoli should be loosely wrapped in plastic or a dishtowel.
Preparing
Wash and then cut into appropriately sized pieces. All but the very end of the stock can be used.
Recipes
Baked Broccoli and Cauliflower Balls with Cheese - Where is my Spoon
Garlic Parmesan Roasted Broccoli - To Simply Inspire
Brussel Sprouts
Brussels sprouts are delicious and can be boiled, steamed, sauteed, grilled, roasted, and even fried. They are even great when served raw and shredded into a slaw. They are part of the cabbage family and are most commonly green but there are a few varieties that are purple in color. They are high in vitamin C and vitamin K.
Buying
If possible choose brussels sprouts that are still on the stalk. Look for brussels sprouts with bright, firm, and compact heads. Avoid sprouts with pinholes, which can be a sign of insect damage.
Storing
Brussels sprouts can be refrigerated in a plastic bag for up to a week.
Preparing
Remove brussels sprouts from the stalk and cut off the stem. You can also remove any of the loose outer leaves.
Recipes
Brussel Sprout Salad - Fresh Coast Eats
Roasted Brussels Sprout Soup with Bacon - Low Carb Yum
Cauliflower
Cauliflower is super popular right now. Masquerading as a pizza crust, mashed potatoes, and rice. Cauliflower comes in several varieties including white, orange, green, and purple. Cauliflower can be roasted, grilled, boiled, fried, steamed, pickled, or eaten raw. It is high in vitamin C and vitamin K.
Buying
Look for cauliflower that is compact with firmly attached bright green leaves. Avoid cauliflower with brown spots or spread-out sections.
Storing
Cauliflower can be refrigerated for up to five days.
Preparing
Wash cauliflower just before use. Remove the outer leaves, stem, and core. Then break or cut it into smaller pieces.
Recipes
Tropical Cauliflower Smoothie - The Recipe Well
Roasted Cauliflower Leek Potato Soup
Roasted Cauliflower Steaks - Everyday Delicious
Leeks
Leeks have a mild onion-like flavor. Leeks are a good source of fiber, vitamin B6, iron, and magnesium. They are also a very good source of folate as well as vitamins A, C, and K.
Buying
Look for leeks that are firm and have as much white and light green parts as possible.
Storing
Leeks can be refrigerated for up to two weeks.
Preparing
The dark green leaves are usually tough. Most dishes use just the white and light green portions. Leeks grow in sandy soil and need to be washed thoroughly. Cut off the root and then slice the leek in half vertically. Chop and place in a bowl of cold water. Agitate the leeks well, then drain and use.
Recipes
Leek and Potato Soup - Raspberries and Kohlrabi
Smoked Salmon Quiche with Leeks - A Baking Journey
Ham and Leek Pie
Ham, Leek, and Hash Brown Muffins
Lettuce
Lettuce is most often used raw in salads and sandwiches but it can also be grilled. Lettuce is an excellent source of vitamin K, vitamin A, folate, and iron.
Buying
Look for fresh crisp leaves that are tightly bunched. Avoid lettuce with wilted or brown leaves.
Storing
Lettuce should be loosely covered and can be refrigerated for up to one week.
Preparing
Rinse lettuce under cold water. Use a salad spinner or pat the leaves dry to remove excess moisture. Slice, chop or tear as needed.
Recipes
Healthy Greek Mason Jar Salad - Easy Budget Recipes
Grilled Romaine Hearts with Pancetta, Pecorino and Pine Nuts - Pina Bresciani
Mushrooms
Mushrooms are an excellent source of B vitamins, selenium, and copper.
Buying
Mushrooms should look fresh and smell good. Avoid mushrooms that smell of mildew or mold. Also avoid mushrooms that look shriveled, desiccated, darkened, wet, or moldy.
Storing
Mushrooms should be stored in a paper bag in the refrigerator or wrapped in paper towels and then loosely wrapped with plastic. Enclosing mushrooms in a plastic bag will cause them to sweat and spoil more quickly. Wild mushrooms will last for a few days stored this way; cultivated mushrooms will last up to a week or two.
Preparing
Mushrooms are like sponges and will soak up any liquid they get near. Relatively clean mushrooms can be brushed clean with a pastry brush or dry paper towel. For more cleaning power, use a damp paper towel.
Recipes
Four Cheese Stuffed Shells with Mushrooms and Pesto
Chunky Garden Vegetable Pasta Sauce
Dutch Oven Beef Stew
Easy Pierogi Stuffed Mushrooms - Food Meanderings
Delicious Savoury Vegan Mushroom and Leek Pie Recipe - Attachment Mummy
Parsnips
Parsnips are a root vegetable closely related to the carrot. Parsnips are high in potassium and fiber.
Buying
Choose parsnips that are firm and smooth. Smaller parsnips may be more flavorful and tender.
Storing
Parsnips can be refrigerated for up to two weeks.
Preparing
Wash parsnips in cold water and cut off both ends. Trim any major rootlets or knobs before cooking. Parsnips can be cooked into savory stews, boiled, mashed, or roasted.
Recipes
Artichoke Spinach Chicken Burgers & Fennel Beet Parsnip Puree - Strength & Sunshine
Parsnip Soup with Celery Root - Pickled Plum
Pineapples
Pineapples grow as a small shrub. Pineapple is rich in manganese and vitamin C and is very sweet but low in calories.
Buying
Look for pineapples with dark green compact leaves that are heavy for their size. Pineapples are ripe once a majority of the base has turned yellow with very little green left. Avoid pineapples with soft or dark spots and dry yellow leaves.
Storing
Store pineapples at room temperature for up to 2 days or refrigerate for up to 5 days. Refrigerate cut pineapple in an airtight container for up to 1 week.
Preparing
Use a sharp knife to remove rind and leaves, then cut as desired, removing the core as needed.
Recipes
Pineapple Cream Cheese Pie
Baked Chicken Teriyaki Meatballs
Brown Sugar Pineapple Pork Chops - Kitchen Gone Rogue
One-Pot Vegan Pineapple Fried Rice - Rhian's Recipes
Radishes
Radishes are root vegetables and are often eaten raw on salads. Radishes have a sharp spicy flavor.
Buying
Look for radishes that are smooth and brightly colored. The leaves should be green and fresh-looking. Avoid radishes that are soft or dull-looking.
Storing
Remove the radish greens, which are edible, before storing in a plastic bag. Refrigerate for up to one week.
Preparing
Slice off the roots and leaves, wash and pat dry. Radishes can be served whole, sliced, diced, minced, and/or grated, depending on the recipe. Cook radishes to temper their bitter flavor.
Recipes
Daikon Salad with Green Apple and Pepitas - Fearless Dining
Salpicón de Res: Beef and Mint Salad - A Taste for Travel
Rutabaga
The rutabaga is a root vegetable that is a cross between the cabbage and the turnip. It has a slightly spicier flavor than the turnip. Rutabagas can reach three to five pounds in weight. Rutabagas contain a small amount of vitamins A and C.
Buying
Rutabagas should be smooth, firm, without blemishes, and heavy for their size. Avoid large roots, they tend to be more fibrous. If you smell a rutabaga, the more pronounced the odor, the more pungent the flavor.
Storing
Rutabagas can be stored unwashed in a plastic bag in the refrigerator for up to 2 weeks. The leaves should be removed to prevent the root from drying out.
Preparing
Scrub rutabagas under cold running water before using. Cut into pieces and remove the core if it is brownish. Rutabagas can be boiled, steamed, mashed, roasted, baked, and fried.
Recipes
Brown Sugar Roasted Rutabaga - Spend with Pennies
Instant Pot Rutabaga Mash - Recipes from a Pantry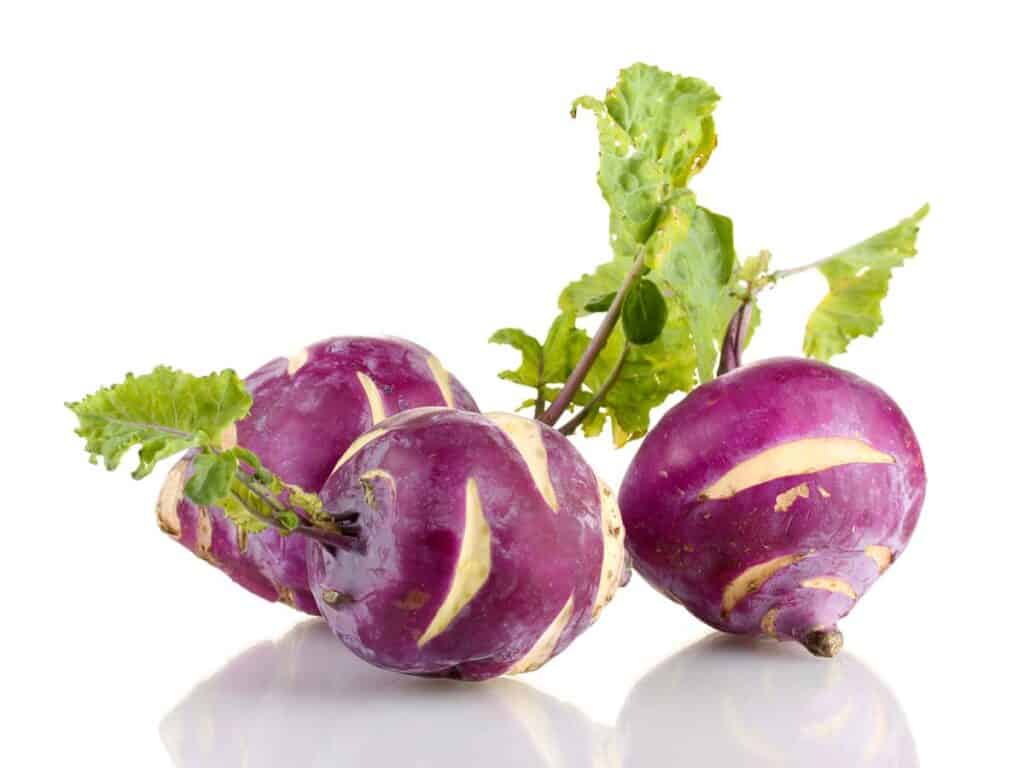 Turnips
Both the turnip root and turnip greens are edible.
Buying
Look for turnips that are heavy for their size and still have their leaves attached. Small to medium-sized turnips tend to be sweeter.
Storing
The longer a turnip is stored the more bitter it becomes. Turnips can be refrigerated for up to three days.
Preparing
Before cooking turnips, wash and peel the skin with a vegetable peeler. Next, trim off the roots and greens.
Recipes
Spring Turnips with Herbed Chicken - Twists & Zests
Turnip Fries & Peanut Dipping Sauce Recipe - Powered by Mom