You will love this delicious Kale Apple Salad with Honey Dressing. It is dressed with a sweet honey vinaigrette and topped with crisp apple, pickled onions, salty pepitas, and bacon.
The vinaigrette dressing is lightly sweetened with honey and pairs beautifully with the other salad ingredients. Because kale is so sturdy it holds up well to this sweet dressing.
This page may contain affiliate links. I only recommend products that I would use myself. I may earn a small commission when you make purchases through these links at no additional cost to you. Thank you. As an Amazon Affiliate, I earn from qualifying purchases. For more information please read my Disclosure Policy.
Why You Will Love This Recipe
This crunch salad is easy to make and filled with flavor.
Because kale is a hardier green this salad can be made in advanced without becoming too soggy.
Kale and apples are available year round so they are always easy to find in the grocery store.
What are the types of kale?
Below are three of the most common varieties of kale.
Curly Leaf Kale: Curly leaf kale is one of the most common types of kale sold in grocery stores. It can range in color from pale to dark green and has long stems with frilly-edge leaves.
Lacinato Kale: Lacinato kale is sometimes known as dinosaur kale. It is dark blue-green in color and has long slender flat rather than curly leaves.
Red Russian Kale: Red Russian kale has large oak-shaped leaves that range in color from blue-green to purple-red. It is slightly sweeter and more tender than other varieties of kale.
How do you make kale less bitter for salads?
Kale may not be everyone's favorite vegetable. It can be bitter and tough to chew. Preparing it properly can help to make it more palatable.
Wash the kale in cool water then remove the leaves from the tough stem. I like to fold the leaf in half along the stem and use my knife to cut both sides of the leaf from the stem. Roll the leaves together and slice them into small pieces. Here's a video of my favorite technique for cutting kale.
Pour half of the dressing over the kale. Massage the kale by grabbing handfuls scrunching them in your fingers and releasing. As you massage it the kale will turn darker green in color. Massaging the kale with the dressing starts to break down the cell walls and helps to tenderize it and reduce its bitterness. Adding a little honey to the dressing will also help to mask any remaining bitterness.
Ingredients
Kale: Kale is one of my favorite greens. It is a great sturdy base for a salad and holds up well to lots of dressing and extended storage in the refrigerator.
Raw kale can be pretty tough. I always remove the leafy parts from the tough chewy ribs.
Apple: I like to pair this recipe with a sweet and firm apple. Some of my favorites are gala, fuji, and honey crisp.
Pickled Onion: I love pickled onions! Lately, I have been adding them to everything, burgers, tacos, pizza, and this salad. Here is my favorite recipe for pickled onions. Simple mix the brine together and add the onions. The onions will pickle while you prepare the rest of the salad.
While I love the briny flavor pickled red onions bring to this salad you can also use diced raw red onion for a sharper flavor.
Pepitas: Pepitas are harvested from specific varieties of pumpkins that produce hull-less seeds. They are usually sold roasted and salted.
Bacon: I love the salty crunch that crisp bacon brings to this salad. My favorite way to cook bacon is in the oven. Simply preheat your oven to 425 degrees Fahrenheit, place the bacon on a foil-lined baking sheet and bake for 10-15 minutes depending upon the thickness of your bacon.
If like me you like to save your bacon grease the foil makes it easy to funnel the bacon grease into a container for storage. To use some of this leftover bacon grease I recommend making these bacon bourbon chocolate chip cookies.
Gruyere Cheese: Gruyere cheese adds a hint of creaminess to this crunchy salad. Gruyere is a softer cheese and can be a bit tricky to grate. Try popping it in the freezer for 15 minutes to make it firmer and easier to grate.
Dressing
Extra Virgin Olive Oil: Extra virgin olive oil is extracted using a cold-press method without additional heat or chemicals. It has a lower acidity content compared to other varieties of olive oil. Because of its lower acidity, it is typically used in salad dressings rather than regular olive oil that you might use for sauteeing.
Apple Cider Vinegar: Apple cider vinegar is sweet and tangy and echos the flavor of the chopped apples in the salad.
Honey: Honey lightly sweetens the dressing and helps to tone down the bitterness of the kale.
Thyme: Thyme adds an herby freshness and pairs beautifully with the apples and bacon.
Equipment
Rimmed Baking Sheet: Baking bacon on a rimmed baking sheet is my favorite low-mess way to cook bacon.
Cutting Board: When choosing a cutting board you want to select one that is large enough so that you don't feel cramped while chopping food. One of my favorites is this wooden cutting board from Teakhaus. Wooden cutting boards do require a bit of maintenance. You should wipe the cutting board down with some mineral oil regularly to keep it from drying out.
Chef Knife: There is a decent amount of chopping needed to make this salad. A sharp good quality chef knife will make this task much easier and safer. I just bought a new Miyabi Kaizen Chef's Knife which I absolutely love.
Salad Bowl: Often I use the bowl of my salad spinner to serve salads in. It's large and I'm already using it to clean most greens.
Directions
Preheat your oven to 425 degrees Fahrenheit, place the bacon on a foil-lined baking sheet and bake for 10-15 minutes depending upon the thickness of your bacon.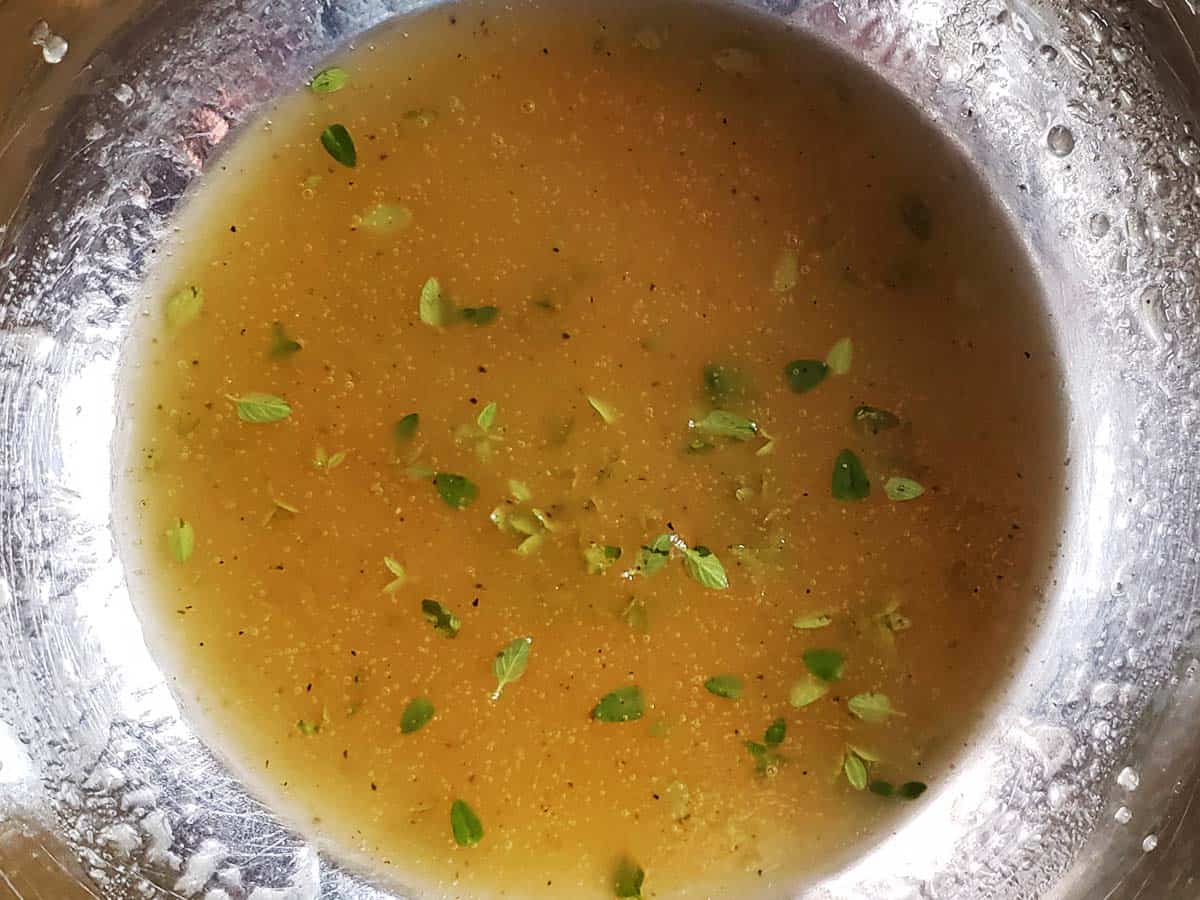 In a small whisk the dressing ingredients together.
Wash and remove the kale leaves from their stems. Chop the kale leaves and massage them with half the dressing. The acid in the dressing will start to break down the leaves making them more tender and easier to chew.
Add the remaining ingredients to the bowl. Toss the salad to combine. Drizzle to taste with the remaining dressing.
Storage
This hearty kale salad can be made up to five days in advance. For the best quality, I suggest storing the dressing separately and waiting to cut up the apple until just before serving.
Once the salad has been dressed refrigerate for up to 2 days. Any longer and the salad will become soggy.
Serving Suggestions
Because life is all about balance I love to serve this healthy kale salad alongside fried chicken.
This salad is also delicious topped with grilled chicken and served for dinner.
Variations
The best thing about salads is that they are extremely customizable. You can leave out any ingredients you don't like and easily make substitutions. Try substituting your favorite nut for the pepitas or substitute a pear for the apple. Not a fan of gruyere cheese easily substitute some shredded cheddar or parmesan.
You can also try using white wine or white balsamic vinegar instead of apple cider vinegar.
More Side Dish Ideas
Thanks for Reading!
You can also follow along on Instagram, Pinterest, and Facebook for more recipe updates.
If you try this recipe, let me know! Leave a comment and rate it below! You can also snap a picture and post it on Facebook be sure to tag me @RaspberriesandKohlrabi.